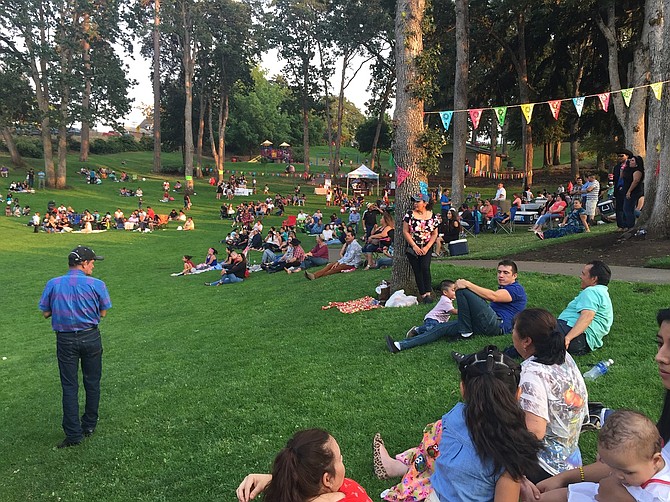 A tumultuous year seems to have reached a crescendo these last few weeks. The intensity of emotions generated by catastrophic violence, threat of war, acts of terrorism and racism, and nature at its finest as well as at its most destructive has a strangle hold on our senses. Natural and man-made phenomena have spread like the wildfires of the west across our country, leading to a pervasive aura of fear and hopelessness among many at the maelstrom's epicenter.

I look to the many acts of kindness amongst disparate people to bring moments of peace and sanity to the unbridled emotions swirling around us. I feel like Dorothy from the Wizard of Oz in a world where actions are unfathomable. With many searching for direction in an unpredictable environment, it appears that our leaders have left us to fend for ourselves. Perhaps it is best that we use our own compass, given the Wizard of this land called Oz is just a figment of smoke and mirrors.

We are blessed to live in a community where most people have their internal compass grounded in true north. We seek to appreciate the diversity of others, their beliefs and their culture. It is remarkable that so many of the people who call this place home work hard towards making this the very best place for diverse people to live, work and play. Volunteerism abounds. I recently hosted a group of Jesuit volunteers. Their youthful energy and enthusiastic optimism was the breath of fresh air I sorely needed to push out the stench left in my consciousness of torch carrying KKK fueling the violence in Charlottesville's streets. The Jesuits are much like so many generous souls in our community. They epitomize kindness. A hand up, not a hand out. A hand offered in comfort and in friendship. Facing crisis with strength, sadness with hope, poverty with the opportunity. Our communities are not perfect, neither a Garden of Eden nor a utopian society. Nonetheless, the comfort of having so many within immediate reach who support and comfort you in time of need — acquaintances who nurture you, artists who inspire you, activists who believe in you — is priceless in its ability to sooth the soul.
•
For eons humanity has looked to the universe for inspiration. This last week, millions were moved by the awe of a solar eclipse, for most a once in a lifetime experience. Yet inspiration can be witnessed at any moment in your own neighborhood. Everyday people extending their hands in friendship, comfort and kindness. You need only look out your window, without the need for protective eye wear, to see the fire of compassion burning brightly.

The universe inspired us with the spectacular display of the solar eclipse. We are now terrified by the sheer power of tropical storm Harvey and the catastrophic devastation that it can inflict. We seek the stories of compassion and heroism in the face of this inalterable power to ease the terror. I have nephews in Texas in Harvey's ever widening cyclonic path. They look out for themselves, but in a heart-beat they are there for others in need.
My sister in Sisters opened her home to evacuees, making it a refuge from the fire storms, a place to sleep, store priceless possessions and breath air less filled with smoke and falling ash. The signs of thanks to the wild fire fighters line the roads and embellish the walls of almost every school, business or art gallery. It is difficult to appreciate the fiery red glow of the sun knowing the devastation that lies beneath the ever-thickening haze.

In Brookings, I see real time pictures of the wildfires encroaching on homes, businesses, and families. Although the horror stories riddle the news, it is the Facebook picture posted by friends, fear etched in soot on furrowed brows, their homes' existence dangling by the thread of unpredictable prevailing winds. It is heartbreaking to hear the plaintiff cough of an elderly family member facing the smoke-thickened elements already in a state of significantly compromised health. It is personal. The response is personal.
I am embarrassed to have complained about the smoke and deteriorating air quality that has settled periodically in the Gorge. That too shall pass. But in the face of massive wildfires and tropical storms, political strife, war and apartheid, racism and bigotry, lives are inalterably changed.

•
Recently, the City of Hood River began the long journey of amending its treatment of Native Americans. It started with an apology. But that movement, just like other movements that began before, amending the treatment of Japanese and African Americans, LGBTQ, Muslim and Buddhist must be sustained over time. Change comes from the hearts of individuals, local everyday heroes rising on the shoulders of those that came before them. Susan Hess and Jane Kirkpatrick, Martha McKeown and Chief Tommy Thompson.

On Sunday, I slipped away from home and harvest to watch the crowd gathered on the lawn at Jackson Park. There were hundreds enjoying the warm evening, traditional mariachi music and food from local vendors. It was the first celebration of farm workers and their contribution to our community in this century. Farmworkers were called to the stage to receive their certificate of appreciation for their many years of work, fellowship, and volunteerism in our community. It was one small way to reach out and repair the hurt of exclusion, the fear of retribution. The young faces of optimistic organizers with names like Nubia, Juan, and Martin stood on the shoulders of those who came before, Joel and Tona, Dr. Tina and Colin, Jovil and Noel.

Somos Uno. We are one.