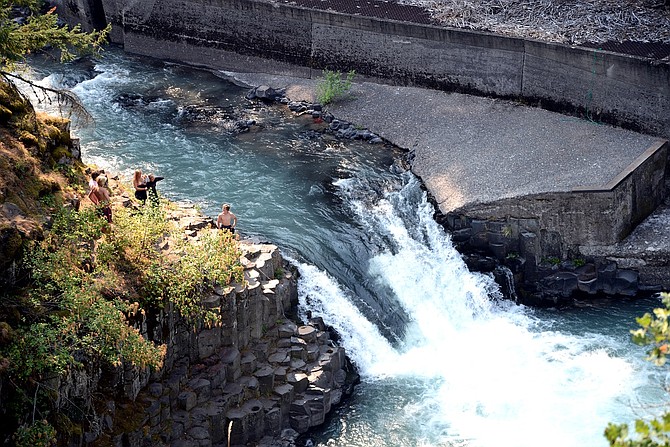 Waterfall views and shady paths await hikers at Punchbowl Falls Nature Park.
Two volunteer-built trails — one finished last year, and one slated for completion this fall — run through the forested recreation spot near Dee.
Punchbowl went down in the books as a Hood River County park in spring 2016, spurring on local efforts to build improved hiking trails. Previously shaggy forest stretches at Punchbowl have been transformed.
Last year, volunteers with Trailkeepers of Oregon and Hood River Valley Residents Committee crafted the West Fork Trail, which overlooks the Hood River.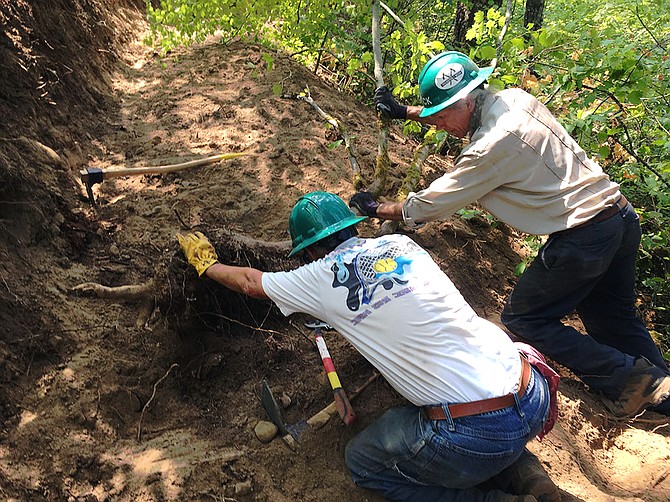 This summer, trail work parties dug in on a second foot path — the roughly mile-long Dogwood Trail — which loops away from the river through the woods and re-connects with the park's trailhead off Punchbowl Road.
Heather Staten, HRVRC executive director, said the new trail got its name from the dogwood and maple trees in the vicinity.
Staten took part in the sometimes grueling — but rewarding — trail creation process.
"It is pretty cool because you start in the morning (with flags) … by the end of the day it's a trail you can walk on," Staten said. "Trailkeepers of Oregon does an exceptional job of creating a really curated route."
The trails are built safe and durable, but also with scenic highlights, she explained. The riverside walk, for instance, offers periodic glimpses of the West Fork and Punchbowl Falls.
A small, uneven gravel lot leads to Punchbowl's entry — but its appearance and function may change in the coming years.
Mikel Diwan, county public works director, said the concept development and management plan for Punchbowl Falls discussed improving the parking lot by grading it and managing it as a one-way in, one-way out lot. As a concept plan, such ideas often change, he noted.
"We had anticipated making the improvements in spring 2017, but unfortunately last year's heavy winter pushed a lot of our projects behind schedule," Diwan explained. "Currently we're hoping to get the lot constructed sometime in 2018. However, that will again depend on how the coming winter treats us."
Specifics aren't clear, but early concepts have emerged for what a new parking lot might look like.
Robin Wilcox, a landscape architect with a Portland-based firm, PLACE, drafted several alternatives this summer for a park entryway.
The project renderings show a similar aesthetic to the existing craftsman-style Punchbowl park sign, with a two-way driveway and park elements like a restroom and kiosk.
Staten said of PLACE in an email, "They are a big deal landscape architecture firm — they did the new Elephant Lands at the Oregon Zoo along with the Nike campus, a bunch of universities, parks and natural areas — so it's really generous of them to do this project pro bono for little Hood River County."
Meanwhile, work picks up again on Dogwood Trail later this month.
Volunteers are welcome to register for the next trail work party on Saturday, Sept. 23 from 9 a.m. to 2:30 p.m. For more information, visit www.trailkeepersof oregon.org/ and www. hrvrc.org.
Vista Ridge
The Mt. Hood National Forest and Trailkeepers of Oregon teamed up to finish another hiking trail in the outer Hood River Ranger District this summer.
The two-mile route, known as the Old Vista Ridge Trail, traces the northern edge of the Mt. Hood Wilderness, leading hikers to Owl Point, and a scenic view of the mountain and the upper Hood River Valley.
"Our mission as trail advocates is not only care for the trails we already have, but also to build new trails that help meet growing demand in Oregon for places to hike and explore our amazing state," Steve Kruger, TKO executive director, said in a news release.
"Bringing a beautiful old trail like this back to life helps us do that."