Blair Holman and Deylan Gudiel, both Hood River Valley High School seniors, have been selected as the January Students of the Month. Both were presented checks for $100 in recognition of their volunteer efforts in the community and their achievements at school during last week's lodge meeting.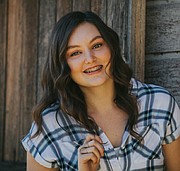 Holman is a student at Hood River Valley High School, where she is active in school activities and maintains a 4.0 GPA while taking a number of honors and AP classes, including Writing 121, AP Spanish, AP Calculus, and Honors Medical Biology. Her work has earned her a spot in the school's National Honor Society. She was also invited to serve as a student ambassador at HRVHS, and has served as a peer tutor for middle school college-bound AVID students. She completed the school's Leaders for Tomorrow course, in which students learn about their own community, and how to be a leader. Holman's extra-curricular activities include helping at Link Day, a day for freshman orientation, participating in the Biology Book Club, and her favorite service activity, Youth Heart of Hospice, commonly known as the YoHos. She spends time visiting with hospice patients and finds this time especially rewarding.

Holman is active beyond the school day. She is a serious dancer, and has earned a spot as a Company Dancer at Columbia Gorge Dance Academy; she recently performed in the halftime show at the Orange Bowl this year. She also volunteers for CGDA events. She is a talented actor as well, performing in the local musicals "Catch Me If You Can," "Grease," "Oklahoma!" and "Reach For It." She is a self-taught pianist, and sometimes performs at local fundraisers. She has also volunteered for the Waterfront Adopt-A-Plot gardening project, the local Helping Hands organization, and the Westside Skate Club. Holman is an athlete as well as an artist: she has played varsity Lacrosse for two years, and served as team captain several times. Holman is also employed as an assistant wedding planner.
Holman is the daughter of Kevin and Jill Holman. She hopes to attend the University of Washington. She has two siblings: Brooklyn, who also attends HRV, and Brynne, who attends Hood River Middle School. Holman is a citizen scholar who beautifully balances academics, art, athletics, and service on a very full plate. She is an excellent student and an involved and caring community member.

•
Gudiel is the son of Pamela and Gary Leavenworth and Patricio Gudiel. Gudiel has two older brothers, Patrick and Bryson Gudiel, both of Tremonton, Utah. Gudiel is a senior at Hood River Valley High School and maintains a rigorous schedule of academics, volunteer activities, and employment.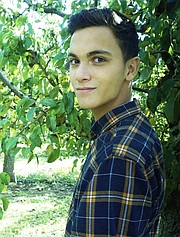 Gudiel is a student in Honors Physical Science, AP Studio Art, AP Drawing, Honors English and Writing 121. He is a member of the National Honor Society and the National Honor Arts Society. He completed six mural projects and has been the recipient of first place prizes in drawing, painting, and ceramics. He was freshman and sophomore class president; he participated in Speech and Debate where he qualified for State his freshman year; he is a member of Borealis, a boys contemporary music group, and he plays flute, clarinet, piano, guitar, tabla, bansuri and is a member of an African Marimba group.

His Junior year, he was a Rotary Youth Exchange Student in Nashik, India, where he experienced the Indian culture, including the practice of Bollywood and yoga and teaching art at the Adharashram Orphanage four days a week for four months. Gudiel found volunteering at the orphanage to be the most meaningful community service he has done so far because he witnessed the positive influence that art can have on children experiencing hardship. In Gudiel's words, "It showed me the potential everyone has to make a significant change by sharing their passions."

Gudiel has worked hard as a volunteer in our own Hood River Valley community through his work with Boy Scouts of America where he maintained lawns, cleared trails and cleaned campsites. He is a member of International LEOS Club and has participated in Bowl for Kids' Sake, Soles for Souls, bottle and can collections, toy drives, food drives, and the International Convention. He has also helped at the FISH Food Bank, stocking shelves and helping customers. He is a member of the HRVHS Fight Club and participated in the Relay for Life. He has visited the Veteran's Home, nursing homes, and the hospital with Youth Heart of Hospice and is a Youth Advocate for Helping Hands Against Violence.

Gudiel has an impressive resume of employment as well. He was a babysitter for four children ages 2-8 for two years; he has worked at Brian's Pourhouse as a busser, server and host; he does garden maintenance and planting at Good News Gardening; and he does plane and building maintenance at Hood River Airport.

Gudiel is a talented, intelligent, well-rounded, well-traveled student whose artistic and leadership qualities and social consciousness will lead him to do great things at the university level and beyond. He has applied to Brigham Young University-Provo, Portland State University, Los Angeles Film School, MacDaniel College, and the University of Southern California.
The Elks Lodge would like to congratulate these two outstanding students. It is an honor to recognize them for their contributions to the community.