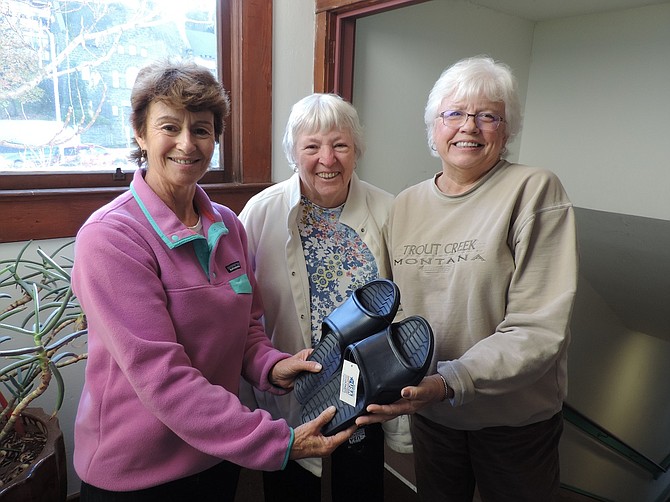 Hood River Shelter Services — perhaps better known as the warming shelter — is now in its eighth season, with a mission to provide a warm, safe place to sleep during the winter months, generally from November through early March.
It's a volunteer coalition of community members committed to providing shelter in the Gorge, representing service providers, nonprofits, faith communities and local government "who have come together to ensure that people experiencing homelessness have safe shelter during the winter," according to the shelter's website, hoodrivercares.org.
The shelter operates from 6 p.m. to 7 a.m. nightly at rotating sites, and guests are provided with a mattress, sleeping bag and two meals. Guests must arrive by 9 p.m.
Guests also have access to laundry, a shower, fresh socks and other winter needs, in addition to medical checkups, resource and referral to mental health and dental care, counseling, job search assistance, and more.
This winter, the shelter opened later than usual because of siting issues. A permanent location had been found downtown, but was rescinded the day before volunteers were to move in because of tenant concerns. It sent the organization scrambling to find another location, and they've been moving from site to site ever since.
Not having a permanent location, as has been available in years' past, is a real issue, said Carole Dearholt, who co-directs the Hood River Shelter Services steering committee with Jan Miller. All supplies must be moved from site to site, sometimes daily, and includes mattresses, cots, sleeping bags, a microwave, utensils, coffee makers, spare clothing, food and other items.
"Moving from church to church has put a tremendous load on the volunteers each week," Dearholt said. "In some locations, we have to load our van with supplies every morning and unload them every night again.
"Volunteers are getting exhausted. A permanent location is desperately needed to prevent this moving operation weekly," she said.
She noted that the board has tried numerous property owners in search of a fixed location, but "nobody is willing or able to rent to us," despite being able to pay for accommodations.
"We have approximately 10 to 15 guests most nights, many of whom have grown up here in Hood River and for many reasons are needing shelter for a night, or a few months, to help them through a difficult period, or help them along to another stage in their lives," she said.
And so the search for a permanent location continues in general area of the city. Specifically, they need about 2,000 square feet with two toilets, heat and electrical outlets.
A kitchen isn't necessary because meals are prepared by Fresh Start Culinary Institute in the commercial kitchen at Riverside Community Church and transported to the site.
In addition, Best Western Plus Hood River Inn has donated at least two dinners per week, and Pelinti's Pizza provides pizza every Wednesday evening.
In January, Covenant Christian offered three weeks of shelter "which was wonderful," Dearholt said. Guests have been staying at St. Mark's since Jan. 29; the shelter moves to Immanuel Lutheran Feb. 5 through Feb. 18, then goes to the Rockford Grange.
Volunteers are key to the success of the shelter, and Dearholt said more are always needed. Times and days are flexible, she said — volunteers don't have to come regularly, but can serve "as many times or as few times per month" as they wish. There are three shifts — 6-10:15 p.m., 10:15 p.m. to 5 a.m., and 5-7 a.m. The overnight shifts — the hardest to fill — do not have to be "all-nighters," as each shift has two volunteers who can take turns sleeping.
No drugs, alcohol, tobacco or weapons are allowed on site.
Donations of supplies are also needed — Dearholt says cots, sleeping bags, size large waterproof gloves and men's waterproof boots in sizes 10, 11 or 12 are a particular need — and the shelter has an online "store" set up so community members can purchase various items (including showers, socks and soup) with a click.
Monetary donations are also appreciated, she said, as Shelter Services pays rent for sites and provides breakfast, dinner and supplies.
There's no question that the guests appreciate the service, whatever their reason for seeking shelter.
"It is a privilege to be in a special environment, to self-regulate and be treated as adults. We try to be respectful," said Jason.
"I like structure and order," said Cathy. "Warmth is from the heart, giving and using your intelligence to help others."
And from Gordy: "There is a lot of good in the world — more good than bad."
Paid staff help in each night's shelter, and in 2016, Hood River Shelter Services added not only a Sunday afternoon "cooling shelter" in the summer and fall months, but acquired a wheelchair accessible van to transport guests to and from locations outside the city.
The vehicle got plenty of use last summer, driving guests to the cooling shelter at Mid-Columbia Center for Living, a reflection of the continual fine-tuning of the shelter system.
•
Anyone with tips about a permanent location or who would like further information should call Dearholt at 541-490-1920.
More information can additionally be found at the Hood River Shelter Services website, hoodrivercares.org.
The following organizations were instrumental in creating, planning, and implementing the Hood River Shelter Services program:
Local churches:
Asbury United Methodist
Hope and Life Hispanic Church
Hood River Christian and Missionary Alliance
Hood River Church of the Nazarene
Hood River Valley Christian
Immanuel Lutheran
Riverside Community Church
Shepherd of the Valley Bible Church
St. Mark's Episcopal church
St. Mary's Catholic Church
Unitarian Universalist
The Vineyard
Organizations:
FISH Food Bank
Faith Connection
Give Them Wings, Inc.
Gorge Ecumenical Ministries
Hood River Commission on Children and Families
Hood River County School District
Hood River County Sheriff's Department
Hood River Police
KBNO Hispanic Radio
Leos
Providence Hood River Memorial Hospital
Hood River Safeway
Soroptimist
United Way
Walmart