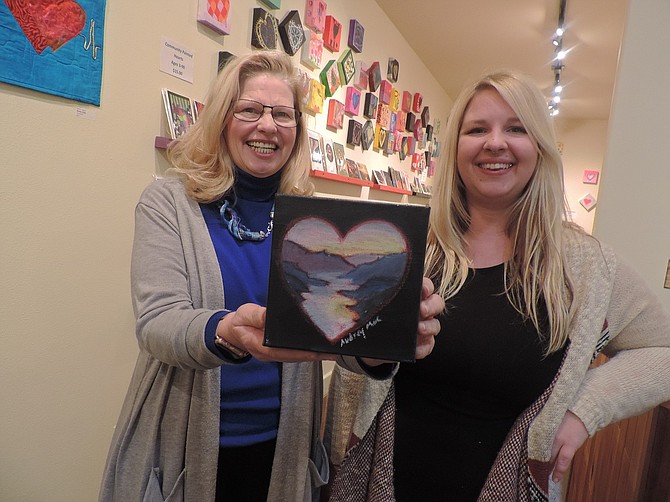 Local artist Charlene Rivers curates "Heart & Soul," a show of heart-themed art by female artists from the Gorge and beyond. The work features artists expressing the heart and soul of their creativity through a wide variety of media and includes paintings, pastels, jewelry, wearable art, sculpture, collage, found art, fiber, and more.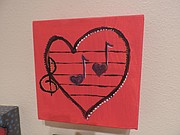 Gallery hours are 11 a.m. to 5 p.m. Sunday through Wednesday. Opening reception was Feb. 3.
In the lobby gallery, several large (and some smaller) original works by the late Ellen Dittebrandt will be on display and for sale. Most of these pieces have never been shown before in the Gorge. Giclee prints, cards, jewelry, and one original piece by Dittebrandt's partner, Judith Cunningham, will also be a part of the lobby gallery exhibition.
In the Nook gallery, 100 powerful small canvas paintings of hearts created through a community paint out by local kids, adults, and seniors will grace the walls — and be for sale as part of a fundraiser for Columbia Center for the Arts. This exhibition is sponsored by Mary Haskins.
Participating artsits are Caitlynn Abdow, Julie Abowitt, Janet Amundson-Splidsboel, Laurie Balmuth, Casey Caruso, Sandra Choate, Marbe Cook, Ashleigh Coyner, Judith Cunningham, Maia Desfosses-Yang, Ellen Dittebrandt, Jerry Ann Fenter, Jinx Griswold, Rachel Harvey, Judy Larsen, Pamela Larsen, Kim Lindemyer, Amirra Malak, Abigail Merickel, Janel Pahl, Yvonne Pepin-Wakefield, Shelly Peterson, Claire Remsberg, Charlene Rivers, Serena Smith, and Kelly Thiel.