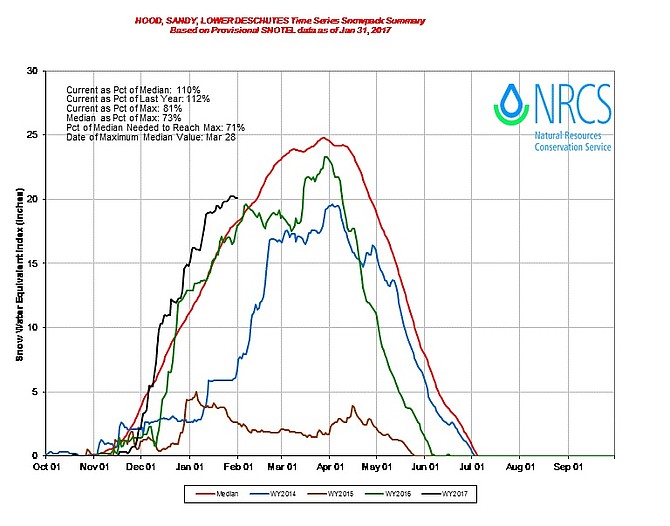 Amid vigorous snow storms, the Hood basin is enjoying more snowpack than it's seen in recent years.
Monitoring sites on Mount Hood registered about 110 percent of usual levels for snow water equivalent on Feb. 1.
Julie Koeberle, snow hydrologist for the Natural Resources Conservation Service (NRCS) in Portland, said Wednesday the snowpack "is in slightly better shape than last year."
That's mostly because the lower elevation in the Hood, Sandy and Deschutes basins are holding onto a "well above normal" amount of snow, she explained. Those figures represent the actual amount of liquid water stored in the snowpack, not the depth.
Snowpack was 98 percent on Feb. 1, 2016 — slightly lower than conditions at the same date this year.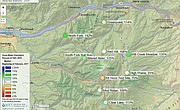 NRCS operates eight "SNOTEL" sites and two snow courses in the Mount Hood area, in headwaters of the Hood, Sandy and Lower Deschutes River drainage basins. The SNOTEL sites provide daily automated data, while the courses get used for manual measurements once per month.
The Mill Creek Summit monitoring site, at 8,800 feet elevation on the north side of the mountain, showed 135 percent of normal levels.
Mt. Hood Test Site, on the south side at 5,370 feet elevation, had the lowest count at 75 percent.
The agency's overall snowpack data comes from grouping SNOTEL data together. Its median is based on data from 1981 to 2010.
Snowpack makes up an important part of the water supply that fuels the valley's fruit growing industry.
Compared to the notorious drought year of 2015 — when Hood River County declared a drought emergency and irrigation districts urged their users to cut back on water use — the last two years have proved more fortunate.
Steve Castagnoli, Oregon State University extension office hydrologist, expects local farms will meet their annual water needs, but that's certainly not an infinite supply.
"In general the snowpack is shaping up to be very favorable for providing irrigation water at 100 percent of normal in the coming season. That doesn't mean there will be unlimited water available," Castagnoli said.
"It means the irrigation districts and other users should be able to deliver or access the full amount allowed under their water rights."
Water rights allow people to use water from sources like streams. The valley's three major irrigation districts supply water to thousands of customers, agricultural and residential.
Castagnoli noted that a Jan. 1 NRCS report also showed "above average" streamflow forecasts in the basin. As for ground moisture, generous rains in fall 2016 helped "recharge moisture content of soil profiles, which is helpful but has a much shorter impact" than snowpack.
The long winter and heavy snow has been a boon for the winter sports industry, including Mt. Hood Meadows ski resort. Meadows posted a celebratory Facebook message about the snow conditions Thursday.
"With a season that goes into May and over 13-feet at mid-mountain, it's going to be a long season at Meadows and we love it," a company spokesperson said.