Eagle boys get ugly, but important, victory
By Ben Mitchell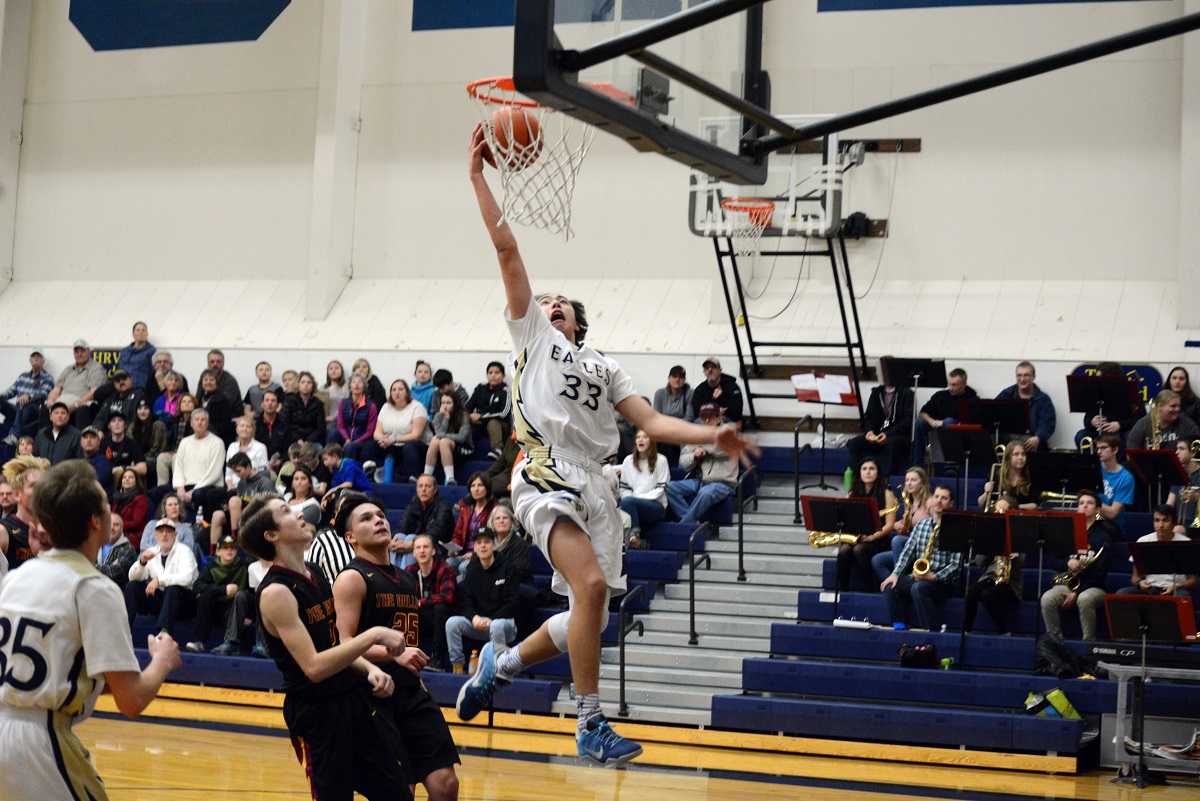 After coming out on the wrong side of a handful of close contests this season, the HRV boys basketball team finally learned how to close out a game Tuesday evening, and it couldn't have come at a better time.
Vannet Court was electric as the Eagles (6-9, 1-2 Columbia River Conference) hung on for dear life and repelled a rallying Riverhawks team (3-11, 0-3), defeating The Dalles 66-63 and getting their first league win of the season.
It was an ugly, sloppy, contentious, and frenetic game as both teams are fighting — and judging by the way Hermiston and Pendleton are playing, will continue to fight — for the final play-in spot in the CRC, which HRV currently holds thanks to Tuesday's win.
HRV Head Coach Christopher Dirks did not feel like his team showed off their best basketball, but he acknowledged that his players got the job done, picking up a crucial league victory.
"I think we played well enough to get the win, but I know this team has even more potential. We only met one of the three goals we set for ourselves going in to the game (outrebounding The Dalles), and thankfully, that was enough to come away with the win, which we really needed going forward in league play," he noted. "Earlier in the season, we led in the fourth quarter of games and weren't able to seal the victory. I think Tuesday night shows that we are growing, as we closed out that game."
Both teams had an abundance of energy, slamming on the gas from the opening tip. But that energy often led to sloppy ball handling, which in turn led to turnovers and fast-break opportunities for both teams. Dirks said HRV had a goal of 15 turnovers or fewer in the game, but racked up 28.
The student sections for both teams cheered and jeered with unbridled enthusiasm and Dirks said players fed off the crowd's reactions — for better or for worse.
"The first quarter shows that we are not used to that atmosphere just yet. The support from the crowd was amazing and it made us a little frantic at times," he admitted. "As we continue to get that kind of support, we will learn to play with it and not let it get us out of control."
Despite the mistake, HRV grabbed an early lead in the fourth quarter and with the exception of a brief moment in the third quarter when The Dalles went up by a point, the Eagles held the lead for the entire game.
HRV's lead grew as large as 13 midway through the fourth quarter, but The Dalles chipped away at the deficit thanks to a string of three-pointers, some of which were scored by Riverhawk junior Dakota Murr, who scored an absurd 32 points in the second half. With a couple minutes remaining, The Dalles got within three, but HRV players stepped it up, repelling every Riverhawks rally, whether it was due to a timely three-pointer by Trenton Hough (12 points on 4-for-7 shooting from three, nine rebounds), a key rebound or free throw by Dakota Kurahara (12 rebounds, team-high 21 points, 13-for-15 free-throw shooting), or a crucial jumper from bench player Jonah Tactay, who had his best game of the season Tuesday, scoring 20 points on 9-for-12 shooting and tallying six rebounds, three steals, and an assist. Carson Orr (five), JJ Mears (five) and Morgan Williams (three) also put up points.
"Jonah is one of the most athletic players on the floor most games and Tuesday night, he was just able to put it on display," Dirks said. "He looked very confident and aggressive attacking the rim."
HRV was scheduled to host Pendleton (8-4, 3-0) Friday at 7 p.m., but that was rescheduled to Feb. 23 due to bad weather. The Eagles will then host Hermiston (12-5, 2-1) Tuesday at 7 p.m. HRV will be without Hough for that game, as he was ejected and will serve a two-game suspension after he and The Dalles' Dominique Seufalemua got into an altercation in the waning seconds of Tuesday's contest (Seufalemua was also ejected). The Eagles next play The Dalles on the road Feb. 10.
"We need to settle in earlier next time we take on The Dalles. They always come ready to compete against us in the rivalry game, so I expect a similar atmosphere in their gym," Dirks said. "We will be ready."