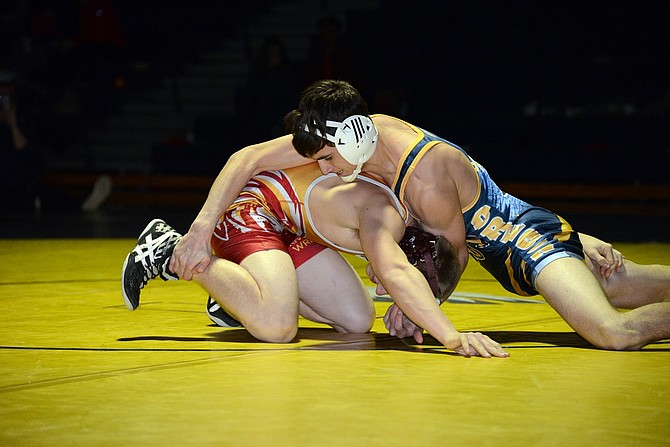 The HRV girls wrestling team beat 70 teams at the Oregon Girls Wrestling state qualifier tournament last weekend at Thurston High School in Eugene, but failed to defend their title in what would have been a three-peat at the team event.
The girls placed second out of 72 teams, scoring 107 points, but couldn't catch up to host Thurston, who took the title with a score of 168. The two teams met the previous weekend at the Elks Tournament in Hood River, where Thurston edged HRV for the tourney title by 14.5 points.
Despite the rising numbers in the tournament, HRV has continued to remain competitive. In 2015, HRV placed first out of 37 teams. In 2016, they took first out of 63. This year, they took second out of 72.
The Eagles entered eight wrestlers in the tournament and four found the podium. Sophomore Grace Miller was the lone champion for the Eagles, taking first in the 128-pound weight class in an impressive tournament appearance that saw Miller pin all five of her opponents. Other placers include juniors Monique Verduzco (second), Christine Marquez (third), and Samantha Morley (fifth). Notable matches included Verduzco's battle with last year's returning champion, Olivia DeMars, of Grants Pass, in the championship match of the 140-pound weight class, and Marquez's defeat of All-American Kyla Keen, of Sutherlin, by pin less than two minutes into the third-place match of the 172-pound bracket.
"All of the girls competed at 120 percent and I am proud of their efforts," said Head Coach Trent Kroll.
Miller, Verduzco, and Marquez head to an individual finals exhibition match that will take place during the boys state championship Feb. 24-25 at the Veterans Memorial Coliseum in Portland.
State Qualifier results
115 pounds: Lexie McCafferty, 0-2 (Bye, lose by fall, LBF)
122: Elena Kroll, 2-2 (Win by fall, WBF, 5-3 loss in sudden victory round, LBF)
128: Grace Miller, 5-0, 1st (WBF, WBF, WBF, WBF, WBF)
134: Samantha Morley, 4-2, 5th (WBF, WBF, WBF, LBF, LBF, WBF)
140: Monique Verduzco, 3-1, 2nd (Bye, WBF, WBF, WBF, LBF)
147: Emily Mitchell, 0-2 (Bye, LBF, LBF)
154: Anna Galbraith, 0-2 (Bye, LBF, bye, LBF)
172: Christine Marquez, 3-1, 3rd (Bye, WBF, LBF, WBF, WBF)
Boys
The boys team wrapped up regular season competition last week with back-to-back home dual meets against St. Helens and The Dalles on Wednesday and Thursday, respectively.
The match against St. Helens was originally supposed to be the "Pin Cancer" event on Dec. 7, but that was pushed back due to the weather. HRV did well in the lower weight classes, but had less success as the night went on and the Lions snuck away with the 36-30 win, thanks to having an extra forfeit over HRV.
Justin Lane, Ryan Zeller, and Chad Muenzer started off strong, pinning all their opponents (Joseph Austin, Haroldo Salvador, and Tyler Neubaum, respectively) and giving the Eagles an 18-0 lead. HRV then gave up the 126-pound weight class in a forfeit, But HRV's Jason Shaner narrowly defeated his opponent, Haidon Allen, 14-12 in the 132-pound class and Cade Parker came out on the right side of a 6-2 decision against Dylan Lane to restore the Eagles' 18-point advantage.
Unfortunately, other than a forfeit that went to Patrick Estes in the 195-pound class, HRV didn't win another match for the rest of the night. Maverick Geller lost a 5-2 decision to Chase Nelson, while Angel Jones, Nathaniel Quintanilla, and Alberto Rojas all lost by fall to Nicholas Richardson, Rachawn Lee, and Colton Beisley, respectively.
Down 33-30, the Eagles needed a win by Justin Wilson in the 285-pound match. Wilson fought hard, but couldn't get past St. Helens' Miguel Olmedo, losing 3-2.
It was a much different situation the following evening when HRV defeated The Dalles 61-12, with the majority of the Eagles' points coming from forfeits. In fact, there were only four varsity matches that evening for HRV's senior night match (none of which were wrestled by HRV seniors): Cade Parker defeated Andrew Richman 3-1 in the 138 class, Geller defeated Cope in a 12-2 major decision during the 145 match, Jones pinned Opath Silapath 3 minutes, 11 seconds into the 152 match, and Quintanilla lost by Fall to Maricio Carrera 4:55 into the 160 match.
The boys will travel to Hermiston on Friday for a two-day Special District 4 championship tournament. The top four in each weight class will move on to the state tournament.
"The men's team is peaked and ready to go for this weekend's state qualifying tournament," Kroll said. "We can't wait to compete. Hard work will pay off."