Hood River photographer Peter Marbach will share stories and imagery from his current project documenting the landscapes and culture of the entire 1,250-mile Columbia River, from its humble beginnings in Canal Flats, British Columbia, to the two-mile-wide confluence with the Pacific. Marbach will discuss the importance of the current Columbia River Treaty re-negotiations and its implications that may lead to the eventual return of Pacific Salmon all the way to the headwaters.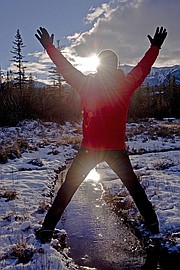 The Feb. 15 event is from 7-8:30 p.m. at Oregon Historical Society in Portland and features a talk and question-answer session; the doors and the exhibit open at 6 p.m.
It is free and open to the public.
Marbach's "Source to Sea" exhibit will be at Oregon Historical Society through April 1.
The Columbia River flowed for thousands of years in a natural state of beauty and was the place of an ancient migration of Pacific salmon that came all the way home to the headwaters. The era of dams brought great contributions including clean hydropower, flood control, and irrigation that created a rich agricultural bounty for the Northwest. In 1964, the U.S. and Canada enacted a 50-year treaty that focused on these benefits but did not address the restoration of ecosystems and the impact on tribal nations. The Columbia River Treaty is now being re-negotiated. Thanks to efforts lead by First Nations in Canada and numerous tribes in the United States as well as other key stakeholders, there is now a once in a generation opportunity available to ensure that language is adopted to include ecosystem restoration and the eventual return of pacific salmon into Canada.
•
Peter Marbach's landscapes reflect time spent working with light at the edges of day. He has produced six photo essay book projects and has had a diverse list of clients, from National Geographic to Travel Oregon. His work is part of a permanent collection at Oregon State University.
Marbach, who has published several books on Mount Hood and the Gorge with Janet Cook, editor of The Gorge magazine, also writes a regular column, "The Daily Bread," for the Hood River News, scheduled for return in mid-2017.