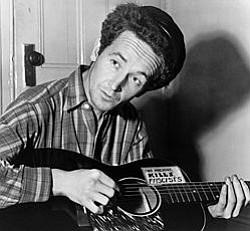 As a commissioned songwriter for the Portland's Bonneville Power Administration in 1941, Woody Guthrie wrote 26 songs, including classics like "Roll On, Columbia," "Hard Travelin'," and "Pastures of Plenty," extolling the benefits of public power, hydroelectricity, irrigation, and the Grand Coulee Dam.
On the 75th anniversary of this productive song cycle, Gorge Owned welcomes Columbia Riverkeeper's Director Brett VandenHeuvel and KEXP DJ Greg Vandy, author of "26 Songs In 30 Days: Woody Guthrie's Columbia River Songs & The Planned Promised Land In The Pacific Northwest," for a conversation about the unusual partnership between America's famed folk artist and the federal government.
This is a never told before story of how the first American folk revival of the 1930s was a response to hard times, and how Guthrie championed a new Social Democracy in Portland..
Vandy will speak on Wednesday, Feb. 15, at Columbia Center for the Arts. Doors open at 6:30 p.m., and the event begins at 7 p.m. Come early to enjoy a glass of wine or beer and meet others in the community. Gorge Owned's (GO!) Sense of Place is an annual lecture series that seeks to foster a deeper understanding of and connection to our landscape and to one another.
Vandy is host of "The Roadhouse," a weekly radio show on KEXP-Seattle and the publisher of American Standard Time, a blog dedicated to American music and vintage lifestyle. He also curates for the Pickathon music festival. VandenHeuvel is an environmental attorney and Executive Director of Columbia Riverkeeper. He likes folk music and can play three chords on the guitar.
There is a suggested donation of $5-$10 at the door.