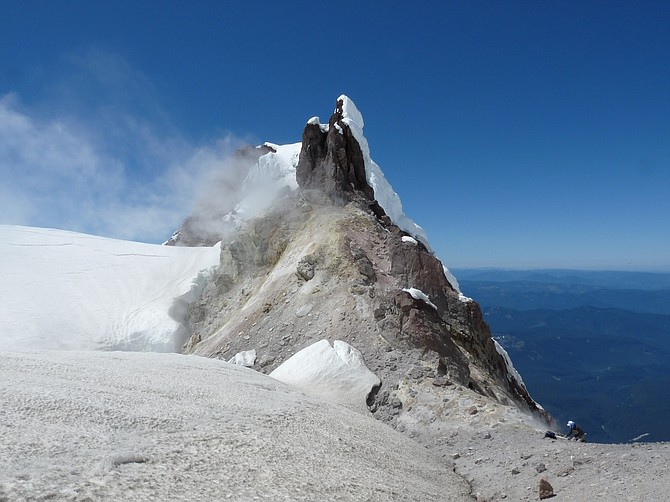 Mount Hood's volcanic activity will be getting a closer look.
The U.S. Geological Survey plans to install four new volcanic monitoring sites on the mountain's upper flanks — in the Hood River Ranger District and Zigzag district.
New stations near the summit would better prepare scientists to detect subtle signals, such as quakes, beneath the volcano that indicate unrest, officials say.
It would also help USGS give early and accurate warnings to the land owner — the U.S. Forest Service — of impending eruptions.
"We want to play a pro-active role in monitoring volcanic activity at Mount Hood and not a reactive volcano strategy," Ben Pauk, geophysicist for USGS Cascades Volcano Observatory, said.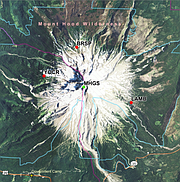 The project would "fill gaps" in the monitoring equipment geologists use in the Mount Hood National Forest. (USGS and partner agencies have 10 such monitoring sites in the area).
Though dormant, Mount Hood gives off signs that it's a potentially active volcano.
The National Volcano Early Warning System identifies Hood as a "very high threat" volcano, Pauk said, based on the number of recent eruptions in the past 10,000 years and the impact another eruption would have on the communities and infrastructure surrounding the mountain.
Pauk said there hasn't been any noticeable increase in quakes lately, though new technology would give the agency better data on smaller earthquakes. "We're talking in the magnitude of .5 to 2 — too small to be felt," he said.
The project at hand involves a quartet of new monitoring sites in Hood River and Clackamas counties:
• A combined seismic and GPS station — a fiberglass hut with an antenna — near Barrett Spur on the north side of the mountain (6,800-foot elevation).
• A similar site close to Lamberson Butte, on the southeast side (6,600-foot elevation).
• A third site by Yocum Ridge, on the west slope (6,300-foot elevation).
• A smaller gas monitoring station west of Crater Rock, in the high alpine zone (10,500-foot elevation).
To reduce the stations' visual impact, they would be tucked away from trails and painted to blend in with their surroundings.
Mount Hood's Volcanic history
Mount Hood's last major eruptions struck in the late 1700s and about 1,500 years ago, according to a historical webpage by USGS.
Unlike its northern neighbor, Mount St. Helens, Hood does not have a history of violent explosive eruptions. Instead, the eruptions involved lava flows or built up lava domes. The lahars (mudflow and debris landslides) slid down Hood's steep slopes, into valleys and waterways.
It isn't clear when the volcano will erupt again, Pauk said. Seismic activity hasn't shown any noticeable upticks in recent years.
Mount Hood is Oregon's tallest peak, with an elevation of approximately 11,240 feet. The volcano is about 35 miles south of the city of Hood River, measuring from the Hood River Meadows ski resort parking lot.
For the project to move forward, the Forest Service would need to issue the USGS a permit.
Mary Ellen Fitzgerald, MHNF special uses specialist, said the agency is reviewing an environmental analysis and minimum (tools) requirements study — part of the required process. The project falls within the federally designated Mt. Hood Wilderness, which carries special protections.
Reports about the new monitoring technology were released in spring 2015. The Forest Service received a flood of more than 2,000 comments by August 2016, with mixed reactions.
Several natural resource and rescue officials who submitted written comments lauded the geological data and emergency preparedness the sites could glean.
Mark Simmons, president of Portland Mountain Rescue, said his group in particular "would be interested in the data gathered and analyzed by scientists to better understand the fumarole (volcanic opening) environment as we adapt our rescue response protocols when requested by the sheriff for emergency assistance on Mount Hood."
In contrast, members of Wilderness Watch, a Midwest-based environmental group, raised concerns that the monitoring sites would hamper "wilderness character" and scenic views.
"The Forest Service and USGS should develop and analyze alternatives that don't rely on permanent structures and installations, motorized uses, and helicopter landings as part of the environmental review process," wrote Kevin Proescholdt, Wilderness Watch conservation director.
Fitzgerald acknowledged the concerns from commenters, and indicated that the Forest Service has seriously considered alternatives, as well as federal requirements, in carrying out their review process.
The Forest Service hasn't arrived at a final proposal, or adopted any strategy. The matter remains in the review phase.
Pauk expects if plans are approved — possibly in spring or summer — crews will install the new monitoring stations in fall, after Labor Day. The goal will be doing the work after the bustling summer recreation season has wrapped up.
Project details regarding the new monitoring sites, and a database of public comments, are posted online at www.fs.usda.gov/ project/?project=46254.