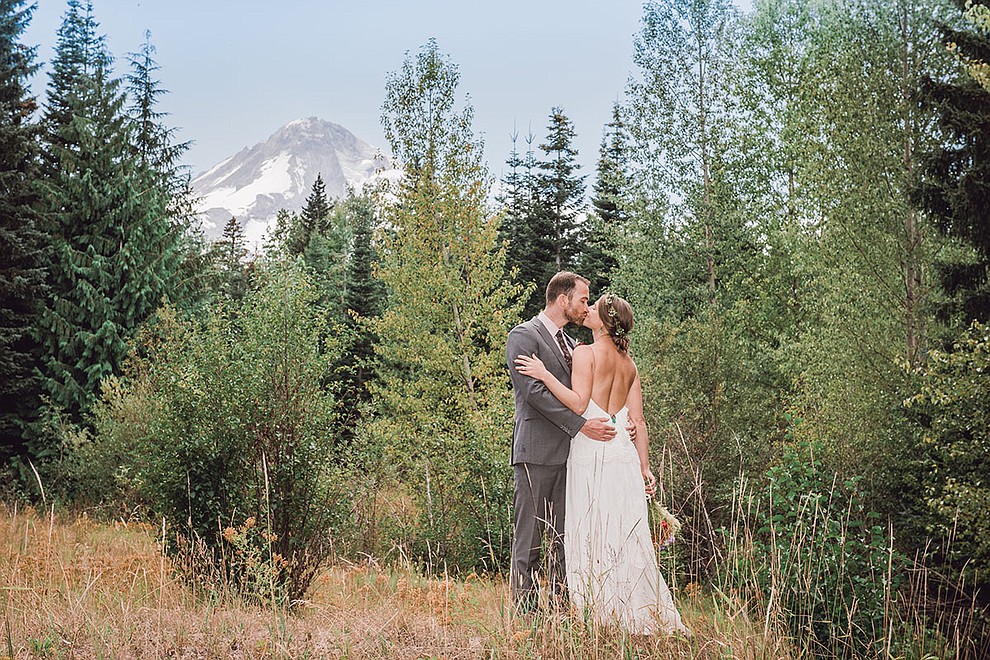 Why they got married in the Gorge
The couple spent a lot of time in the Gorge while dating — hiking, camping, skiing and doing other outdoor activities together. Along with that, "the area is a visually stunning pastoral mecca," said Alex. But the biggest reason they chose the area was that Andrew proposed on Mount Hood at a site on the Pacific Crest Trail, which the couple had previously thru-hiked together. "It was such a visceral and transformative experience for us and our relationship," Alex said. "We felt it was only natural that we would take our vows in the environment which showed us what our relationship was made of and what we were capable of together.
All images by JENNIFER ALYSE WEDDINGS © 2016
DETAILS
Wedding venue: Cooper Spur Mountain Resort
Where they live: Hood River, OR
Occupations: Andrew is an ER Nurse; Alex is a licensed massage therapist
How they met: In Portland at the Crystal Ballroom during a New Year's Eve concert. "Railroad Earth (our favorite band) came into town for three nights," said Alex. "Andrew and I met briefly the first night. Later I would learn that he saw me dancing from across the room and it was love at first sight. On New Year's Eve, we found each other again and shared our first kiss at midnight. The rest is history."
How they got engaged: While hiking the Timberline Trail around Mount Hood. After a rough first day, which included freezing fog, soaked gear and a tantrum by Alex, things improved the second day. Six miles from Timberline Lodge, they stopped at a beautiful lookout of Mount Hood for a rest and to reminisce about their time on the Pacific Crest Trail the year before. "Just as we were preparing to leave, Andrew gave me a big hug and said, 'Babe, can I ask you a question?'" Alex said. "It was such a special moment and those last six miles went by as if we were floating on air."
Why they chose their venue: It accommodated the kind of event they wanted to have. "It was very important to us to create a sense of community and togetherness," Alex said. "We knew we would have some of our most treasured friends and family in one place and it was important to us to cultivate a sense of belonging and togetherness among those people." They felt Cooper Spur had everything they needed to make that happen, including group lodging for all their guests to stay onsite, a beautiful and intimate spot with views of Mount Hood for the ceremony and an expansive lawn for the reception.
Number of guests:100
Favorite detail: "A few hours before the wedding, my mother organized a women's gathering where we sang songs, my cousin massaged my feet, I heard pearls of wisdom from the matriarchs and ladies adorned themselves with flowers," Alex said. It was an incredible way to honor the rite of passage I was entering.
Unexpected moment: The stage set up for the band ended up being way too small so they improvised and set up on the lawn.
"They were able to play out into the field while people were playing games, and then as it got dark, they turned around and played under the tent," Alex said. "It turned out to be the perfect improvisation." Also, as the sun set, the sky turned into an "amazing mélange of fire-orange swirling clouds," she added. "It was magical."
Advice for other couples: Take your time planning. Make sure to have a budget and a vision. Get organized, utilize your resources, and say yes when people offer to help. Get comfortable with delegating tasks and know that you won't always get to have your hand in everything. You have to trust that the people who want to help are going to do their best for you. Make lists. And don't forget to have fun doing it!
The day, in a sentence: The most magical gathering of love and support, my heart was exploding with joy, love and gratitude (Alex). Having people come together from all aspects of our lives to celebrate us forging this special bond (Andrew).
Honeymoon: Tofino, B.C.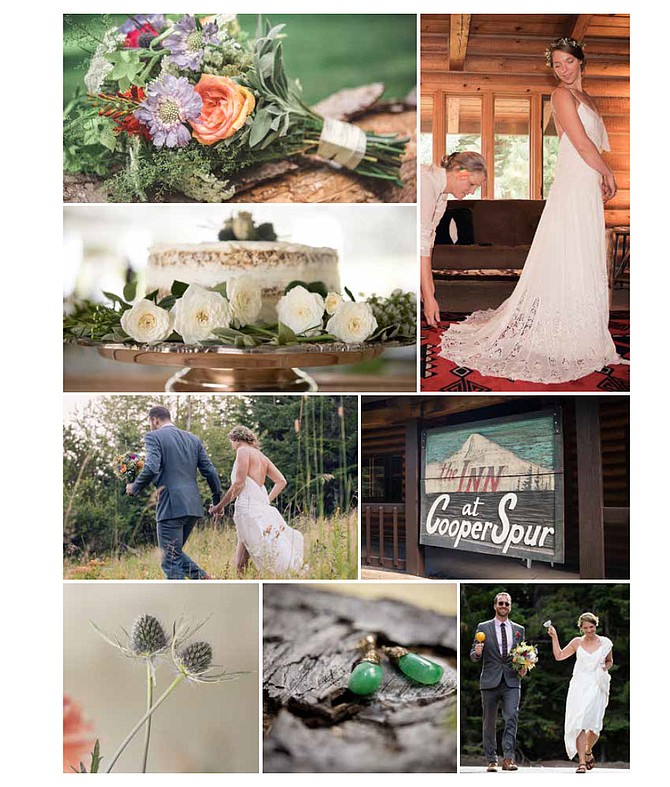 VENDORS
Ceremony & Reception: Cooper Spur Mountain Resort (cooperspur.com).
Rentals: Riverhood Rentals (riverhoodrentals.com)
Music: The Groove Cabin (thegroovecabin.com)
Catering: Cooper Spur Mountain Resort (cooperspur.com)
Photography: Jennifer Alyse Weddings (jenniferalyse.com)
Novelty photos: Fotobus (thefotobus.com)
Hair: Chelsea Taylor, Clutch Hair Co. (clutchhairco.com)
Flowers: Suzanne Workman (bontonchic.com)
Cake: Windflower Cakes (windflowercakes.com)