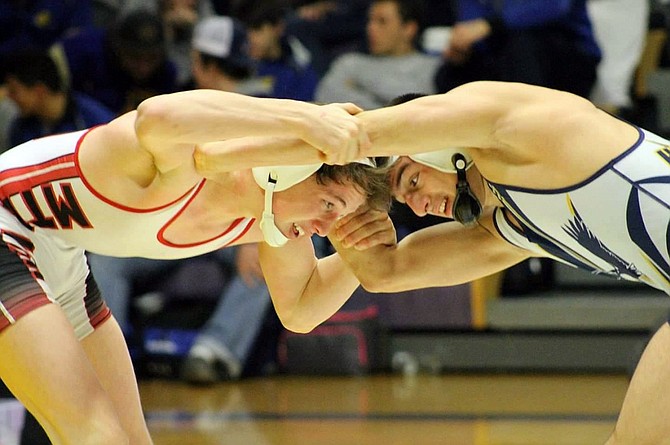 The Hood River Valley wrestling team didn't have its best team finish at last weekend's district meet, but on an individual level, it was the best meet in several years for the Eagles.
Jason Shaner, Ryan Zeller, and Justin Wilson took first place at the Special District 4 championship tournament in Hermiston — the most district titles won by HRV in eight years. Shaner, who has only lost one of his 44 matches this year and is ranked first in the state in the 126-pound weight class, also took home the Outstanding Wrestler award for the lower weight classes. Shaner defeated Caleb Duhn of Mountain View — last year's state champion in the 120-pound bracket — by a 16-7 major decision for the honor. It was the second time he defeated Duhn this season. Zeller took the 106-pound title by defeating Redmond's Landon Robinson in a 12-3 major decision, and Justin Wilson grabbed the gold in the heavyweight bracket by pinning Hermiston's Beau Blake 4 minutes, 18 seconds into the championship match.
Chad Meuzner and Adrian Ramirez will also be going to the state meet: Muenzer took second place in the 113 bracket, pinned by top-ranked Beau Ohlson of Mountain View 3:32 into the title match; Ramirez took third place in the 285 class, defeating Summit's Jonah Yunker 6-2 in the third-place match.
As a team, HRV scored 140.5 points to place sixth out of ninth teams, after placing fourth at the district tournament last year. Redmond scored 333 points, edging Hermiston by a single point for the title. Next was Mountain View (264), Pendleton (185.5), Bend (159), HRV, Summit (117.5), Ridgeview (51), and The Dalles/Dufur (14).
The Eagles will have some time to prepare for the 5A state championships, which will occur Feb. 24-25 at the Veterans Memorial Coliseum in Portland.
HRV results
106 pounds: Justin Lane, 1-2 (12-0 loss by major decision, bye, win by fall, 11-2 LBMD); Ryan Zeller, 4-0, 1st (WBF, 12-0 win by major decision, WBF, 12-3 WBMD)
113: Chad Muenzer, 2-1, 2nd (Bye, WBF, 10-4 win, loss by fall)
126: Jason Shaner, 4-0, 1st (WBF, win by 22-6 technical fall, WBF, 16-7 WBMD)
132: Cade Parker, 3-3, 6th (8-6 win by sudden victory, 6-1 loss, WBF, 10-8 win, 10-5 loss, 9-2 loss)
132: Jonathan Garcia, 1-2 (LBF, WBF, LBF)
138: Maverick Geller, 0-2 (LBF, LBF); Tristan Keely, 1-2 (WBF, LBF, 19-2 loss by technical fall)
145: Angel Jones, 0-2 (9-2 loss, LBF)
152: Nathaniel Quintanilla, 0-2 (LBF, LBF)
170: Alberto Rojas, 0-2 (Bye, LBF, LBF)
285: Justin Wilson, 4-0, 1st (WBF, WBF, 4-1 win, WBF); Adrian Ramirez, 3-1, 3rd (Bye, WBF, LBF, 7-3 win, 6-2 win)