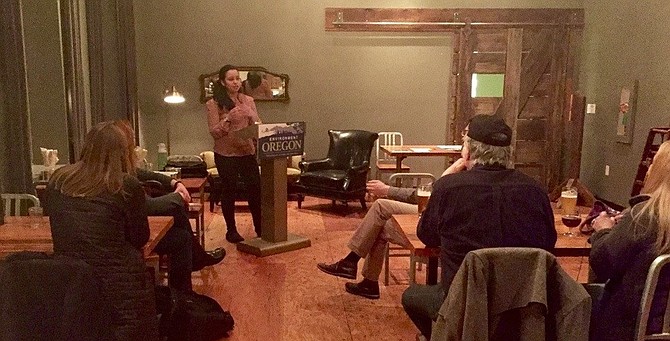 Environment Oregon hosted a happy hour event Feb. 1 to address the importance of continuing the Residential Energy Tax Credits for solar energy in Oregon. At the launching of their spring campaign, Stand up for Solar, Environment Oregon had speakers from the Hood River City Council to speak about solar energy's future in Oregon.
"Here in Oregon, a big incentive for many people to get solar energy for their homes is the solar tax credits given through the Oregon Department of Energy, that are known as the Residential Energy Tax Credits (RETC). The RETC — a critical solar incentive for Oregonian homeowners — is expiring at the end of this year in December 2017, and there isn't much momentum to get them renewed," said Environment Oregon Campaign Organizer Carlina Arango.
"We want to make sure solar moves forward in Oregon by making sure a bill for the extension of the RETC is passed in the current state legislative session to keep increasing the number of people incentivized to invest in solar energy systems," she said.
Becky Brun, Hood River City councilwoman and board president of Gorge Owned, among other roles in the Hood River community, also spoke at the event on the great successes for solar energy in the Columbia Gorge region so far. Brun talked about the solar projects — currently over 50 — done through Gorge Owned and how these projects rely on incentives, such as the RETC. Hood River and the Columbia Gorge region are leading the charge in Oregon on solar and rely on the RETC for their solar efforts.
Environment Oregon's solar energy campaign aims to convince Hood River and The Dalles state legislators that moving forward with solar energy by investing in solar tax credits is a priority for Oregonians in these communities. Getting all state legislators on board, Democrat and Republican, will show solar energy is something all Oregonians care about. Arango plans to stay active in the Columbia Gorge and work with various groups this spring to make sure the communities' voices are heard in the upcoming state legislative session.
"Solar energy has provided a plethora of benefits for Oregon's communities — cleaner air, local jobs and increased resiliency of the electric grid. I'm really excited to work on advancing solar with people in the Columbia Gorge region for a clean energy future," said Arango.
•
Environment Oregon is a non-profit committed to protecting the places they love, advancing the environmental values they share and winning real results for the environment.