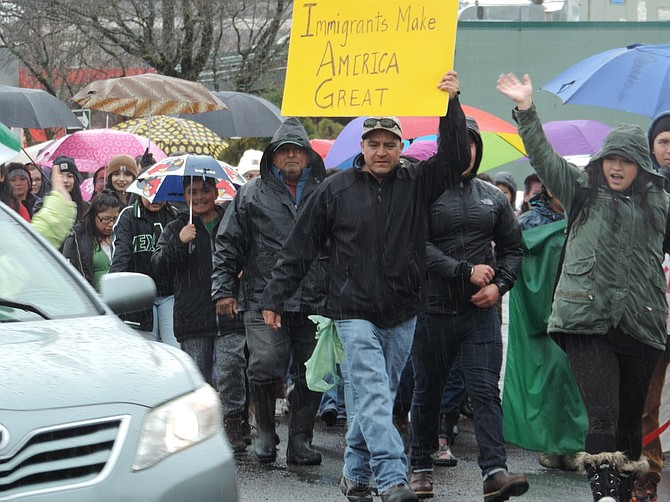 The march was both for and against.
A total of 240 people took to Hood River streets Thursday as part of the "Day Without Immigrants" events held across the U.S. in response to federal policies on immigrants.
"I am here for the movement — and change," said Obaldo Solis, a Hood River farm laborer. He held a sign reading "Vine por trabajo" — "I came for work."
They marched for immigration reform and support of immigrants, and against discrimination and exclusion, with about 150 starting at Marco Sports on Tucker Road, one of a number of businesses closed for the day.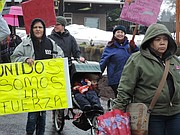 The march continued in the rain downtown to Overlook Memorial Park. People joined the walk after parking at other locations on the Heights. Among the marchers was Mayor Paul Blackburn, who said, "I'm here because they need allies."
A total of 735 students were not in attendance at Hood River County School District buildings on Thursday. Absenteeism at the nine school sites was approximately 400 percent greater than typical, according to Superintendent Dan Goldman.
On the Heights and toward downtown, a long line of drivers patiently waited as the marchers filled one lane of 13th, holding signs and calling out to passing motorists, many of whom honked in support.
Bilingual chants included "Si se puede — yes we can" and "Somos uno — we are one."
"We want immigration reform. We all deserve to have that," organizer Jose Bibian told the crowd at Overlook.
They chanted, "We all make America great," but no chant or sign overtly mentioned President Trump, ICE enforcement actions, or the plan to build a wall on the Mexican border, though these factors were present in peoples' minds.
Carrying a sign reading, "My parents cross give me a better future," Jackie Hernandez, 17, of The Dalles, said,"My parents are both Mexican and my grandparents crossed the border for them and now I'm here and I couldn't be happier, or else I couldn't go to school. I'm just so grateful. I have a lot of family members who are undocumented and now that ICE is coming for them, we are terrified, and this is why I'm here, because I'm a citizen and I'm the voice for them."
Carlos Quezada of Hood River said, "I do feel we have a very large group of Hispanics here, and we need to be together to support the immigration reform we need. We are definitely a big drive in the economy here. We need more people and it seems like we are the main work force, in all sorts of aspects, be it out in the fields or in the restaurants, just in general, jobs other people don't want to do."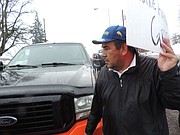 Organizers reported two instances of aggressive behavior toward marchers, including a pickup truck driver from Washington who edged into the middle of the march, driving slightly faster than people were walking and forcing them aside, ignoring requests to stop or leave the route.
March organizers had not taken out a parade permit, which Police Chief Neal Holste said technically was needed since the march did impede traffic. He spoke with Bibian at Overlook and Bibian repeated Holste's instruction to remain on the sidewalks, to which marchers complied. Holste said no citations were issued, and he looked upon it as an educational opportunity for his officers and citizens.
In keeping with similar demonstrations across the U.S., multiple Hood River businesses closed for the day, including Marketa Guadalajara, Lake Taco, Novedades el Potrillo, Puerto de Los Angeles, Chicken Teriyaki, Hood River Taqueria, El Botanero, and Marco Sports.
Goldman issued a statement Thursday saying, "As a part of the greatest country on the planet, we support the democratic process and the rights of people to express themselves freely, to be represented, and to be safe in one's beliefs; our country will simply cease to function as a free and democratic society without the protection of these rights. Thank you for creating the conditions for tolerance and understanding in our community."