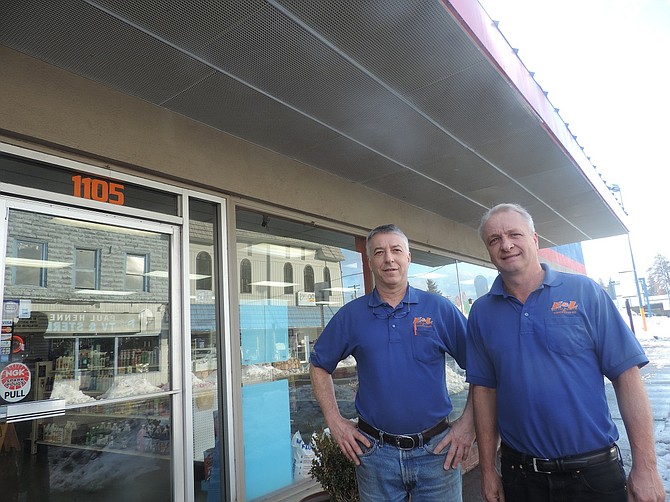 Hood River says goodbye to a family business dating to 1955 — though not completely,
E & L Auto on the Heights closed Feb. 13, to re-open this week as O'Reilly Auto Parts, the business's new owner. The Hay brothers and owners, Kevin and Keith, will continue a connection. Keith will manage the O'Reilly store, with the added benefit of more time working with customers at the counter and less in the office over a computer.
Kevin, meanwhile, will manage the family's E &L Machine Shop – which they still own. The Hays maintain ownership of the E & L name, and are leasing the building to O'Reilly.
The deal has been in negotiation for over a year, and E & L tendered offers from several sources over the past three years.
The business started as Allen-Hay Motor Co., downtown at 4th and Cascade streets (now Logsdon Farms taproom/Crazy Pepper/Moth Lounge). Ed and Len were in business together until 1972, Ed running the dealership until 1982.
Len and Ed started E & L in 1968, but therein lies a quirk in the story of E & L that no one appreciates more than Keith Hay.
O'Reilly took over a day before the Hays' 50th business anniversary, or so they thought.
"We did a 50th anniversary last August, and then I looked back, always thought it was '67, but it was '68. I guess I should have looked," Keith joked. They still own an invitation card from Ed and Len: it reads, "here's a special invitation to you from Ed Allen and Len Hay to attend the Grand opening of their new E & L Auto Parts, February 16 and 17, 1968, at 921 Twelfth Street. We hope to see you here."
A dying American automotive tradition faded just a bit more with the change from E & L. Until last week, the northeast corner of the showroom held a display car. Exhibiting a well-preserved vehicle took up retail and merchandise space, but it gave the store unique curb appeal and the Hays the chance to show off cars owned by themselves, or their customers.
The final show car was Kevin's 1966 Pontiac Hard Top LeMans Coupe (Palmetto green, rally wheels, Soft-Ray-all around, bucket seats, black vinyl, Safe-T-Track L-S 3.55 axle, thank you very much.)
•
Keith, 57, said the sale was a difficult decision, largely because it came three years earlier than they had planned
"I've lost a lot of sleep over it the past year," he said. "Your mind saying, 'it's the right thing' and your heart saying it's not. It's been very difficult to me." Kevin, who is 60, had said he always wanted to retire at 63, and Keith might go another couple of years.
"We had talked about an exit strategy, and then O'Reilly called us," Kevin said. "We said, 'it's a little bit early, but let's look at it. We told them we'd like to do it in 2-3 years and they said, 'we'd like to do it now,' and we talked with them for about a year working out a deal."
Keith said, "it's the way things are going in the industry, with Mom and Pop type deals, with three of five top chains sold in recent years. There's more competition. We knew the big boys were going to be coming to town."
Added Kevin, "We were two or three years away (from retiring) and didn't want to be left holding the bag.
'We know there is that feeling of 'they sold out to the corporation,' but they (O'Reilly) have been really good to work with, and they are looking forward to connecting with our existing customer base.
It's the familiar faces the Hays always enjoyed.
"It was always nice to see familiar people coming in, and talking with them. You're going to miss that. Selling parts is kind of fun. It has its challenges," Kevin said. "For us, it's more challenging now than it was before because you have to hunt for parts. You got all these different warehouses and they don't always have what you need."
"It's kind of an evolution. You just can't not be affiliated with one of the big corporations," he said. "And even then, it's hard because you got a three-step system: manufacturing, warehouse and the retail. It's a complete different business model. It's one of those things that was going to happen sooner or later, but it turned out to be the right time to do it because of the circumstances."
Kevin is looking forward to working with his machine shop customers, and Keith likes the flexibility he arranged with O'Reilly.
The Hays will still be on hand at 12th and Pine streets, and for Keith it will be a kind of return to 1968.
"When my dad ran the business, I used to do outside sales, and with (O'Reilly) I'll still be doing a little management, but they want me working an hour or two hours doing management, but the rest of the time they want me working with customers. Right now, I'm working behind a desk eight hours day.
"Once it starts rolling, I've had people tell me, 'wait, three or four months, you'll enjoy it.' I think I might be enjoying it sooner."
EPILOGUE
The Hays' father, Leonard Hay (1922-2003), served the Hood River fire department for 32 years including a stint as fire chief. The meeting room at the new fire hall was dedicated in 2012 in Leonard's name. His wife, Iris, lives in Hood River.
Fittingly, the old E & L shop owned by the Hay family, at 12th and June streets, was used for fire and law enforcement drills before demolition in 2014. In November 2010 had E & L moved two blocks south to its current location at 12th and Pine streets.
The lot is now owned by Providence Health Services, and is a public open space. The old building pad remains, and on it is a sculpture that is part of the Art of Community outdoor gallery — Odell artist Laurel Marie Hagner's 12-foot "Gerry's Angel."