With a new location and a familiar set of faces, the SMART Tongue Twister Tournament returns Feb. 24 for its seventh year.
The 7 p.m. event at Elks Lodge, Third and Cascade, is a fundraiser for the non-profit literacy program Start Making A Reader Today (SMART).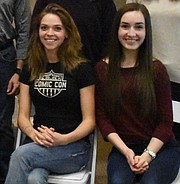 Admission is $10 per person, all ages. In addition to the spelling bee-style competition among community members, the audience can try doing tongue twisters during open mic for prizes. A no-host bar will be available, and along with food from Broder Ost.
Contestants include Hood River Valley High School speech and debate team member Samuel Bertrand, Humberto Calderon of Radio Tierra, David Dye of Klahre House and two former "TTT" champions: Kim Vogel and Morgan Graves.
A "chance" raffle for local prizes will also be held; prizes include an overnight stay at Hood River Hotel and breakfast at Broder Ost, a basket from The Fruit Company, preserves from Oregon Growers, books from Waucoma Bookstore, toys from G. Willikers, and a package of beer and swag from pFriem Family Brewing.
SMART fosters reading and a love of books. In SMART, adult volunteers sit down once a week to read books with kids grades K-3 in Hood River County School District elementary schools, and Parkdale Head Start. Each month, the youngsters take home two new books to keep. The program works in the schools but receives no public funding and relies totally on community donations.
Westside Elementary Volunteer Coordinator Teresa Earle will talk on the impacts of the program, and other information on SMART will be made available, including how to purchase book packs for the schools.