Four swimmers from the Hood River Valley Swim Team (HRVST) qualified and competed at the Arena Oregon Swimming 10 & Under Championships held in Springfield this past weekend. The fastest swimmers from all over the state of Oregon and southwest Washington compete at this championship meet. The team performed extremely well, with nearly every race representing a personal best for each swimmer, and some by large margins.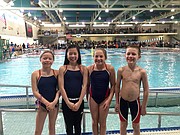 "Our Osprey swam very fast, and they all contributed greatly to our team's success," said HRVST Coach Shelly Rawding. "Special congratulations to Michelle Graves for qualifying for Age Group Regionals, to be held in Federal Way, Wash., in March." She qualified in the 200-yard Individual Medley (IM) and 100 breaststroke events.
The next swim meet for the Osprey is the Arena Oregon Swimming 11-14 Swimming Championships held in Tualatin Hills next weekend.
HRVST results
Max Graves (8 years old): 7th place, 50-yard breaststroke, 48.68 seconds (-3.8 seconds off previous best time); 8th place, 25 breaststroke, 22.89 (-1.3); 26th place, 25 freestyle, 19.77
Michelle Graves (10): 8th, 50 breaststroke, 40.02 (-3.6); 6th, 100 butterfly, 1:20.99 (-9.98); 3rd, 100 Individual Medley, 1:16.79 (-6.55); 4th, 200 IM, 2:44.63 (-9.82); 5th, 50 butterfly, 34.68 (-.99); 3rd, 100 breaststroke, 1:26.21 (-17.48)
Delaney Hackett (8): 11th, 100 freestyle, 1:23.81 (-4.75); 9th, 50 butterfly, 42.85 (-7.49); 10th, 50 backstroke, 43.08 (-3.82); 10th, 100 IM, 1:33.30 (-4.87); 6th, 25 backstroke, 19.90 (-3.12); 10th, 25 butterfly, 18.38 (-3.53)
Willow Hollowell (10): 23rd, 50 backstroke, 37.90 (-.27); 19th, 50 butterfly, 37.41