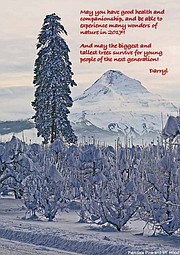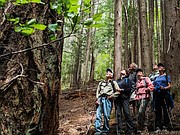 Hood River photographers sent holiday greetings in image form on the same day last week. Darryl Lloyd found inspiration, left, in Mount Hood and the famed Parkdale pine, while below, Jurgen and Susan Hess passed along the caption, "Oohing and ahhing at 500 year old Douglas fir. Warming Shelter fundraising hike into Washington's Trapper Creek Wilderness," and the message: "We wish you and yours the best in 2017. While we are worried about the future of nature, wilderness, non-human creatures and plants, people less fortunate and newer immigrants to our country … we will be out there both fighting hard and enjoying special places … never giving up. We hope 2017 is good to you, your loved ones and your sacred places."
Sour grapes
Now that the election is over, you don't want to miss the tour bus ride through the Hollywood Hills where you just might see saddened celebrities doing swan dives into their private pools now filled with Nov. 8 vintage sour grape whine. Bless their all-knowing swollen heads … they thought that the east coast / west coast entertainment industry, plus the mainstream media, plus the Clinton millions and the army of low information voters would, without a doubt, destroy President-elect Trump … but they failed miserably. They even tried to order the Electoral College to deny Donald's diploma. But the All-American constituents said no. This was the 2016 version of David and Go-Lie-Ith.
Bill Davis
Hood River
Free parking, snow removal
The City of Hood River recently offered free parking downtown in an effort to lure shoppers, help local businesses, and generate revenue for the city. This holiday gesture was greatly appreciated. But was it really free? I don't believe the pickup truck that was parked at Second and Oak thought so. The truck looked like it had been sideswiped because they couldn't park next to the curb due to an accumulation of snow and ice and was partially parked in the street. Nowhere downtown could you park next to the curb. The path between the parked cars was so narrow that an oncoming semi-truck nearly hit my small vehicle as we passed each other.
Once I was parked, I found that the sidewalks were covered with packed snow and ice. Kudos to the few businesses that cleared the walks in front of their businesses.
Apparently, the City of Hood River is trying to get snow removal for free by allowing Mother Nature to do it for them. But is it free if vehicles get damaged or someone gets hurt?
Maybe the City of Hood River could learn how to keep their streets and sidewalks clear of hazardous snow and ice by calling the cities of Cascade Locks and Stevenson. Their sidewalks are clear and you can park next to the curbs. I will wait for the thaw before I return downtown.
Jay Webber
Hood River
Rested case
In reference to the Dec. 28 Hood River News "Our Readers Write" letter, titled "Where's Walden," by Nan Noteboom (for whom I have great respect), HRVHS yearbook editor, is puzzling to me.
First: I'm not familiar with the abbreviation, DACA.
Second: Why ask now? The election was over a month ago!
Third: Ten years ago Native American legal citizens (my kids) were required to maintain a low profile at the "fast food" service where they worked to avoid being accused of "racial prejudice" (now the shoe is on the other foot).
To answer Mrs. Noteboom's question: please read the Walden article on page A10 of the Dec. 31 edition, titled, "Walden wins powerful seat on House Energy, Commerce Committee."
I rest my case.
Alan Winans
Hood River
Editor's note: DACA is Deferred Action for Childhood Arrivals, an immigration policy started by the Obama administration in June 2012 that allows certain undocumented immigrants to the United States who entered the country as minors to receive a renewable two-year period of deferred action from deportation and eligibility for a work permit.