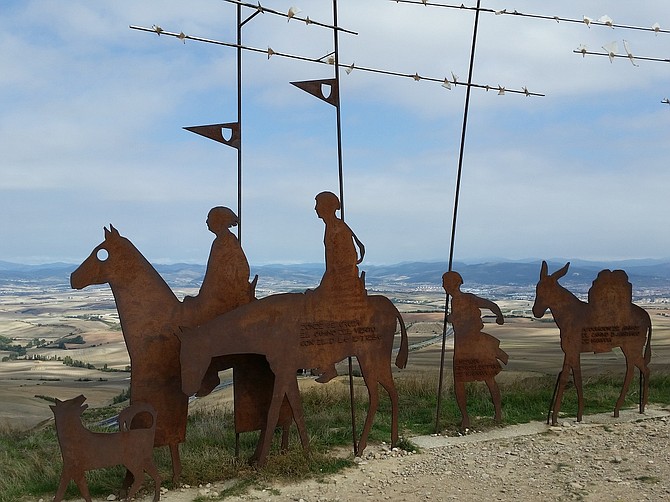 As I round the year of my 80th birthday, we still occasionally have a wild hair or two of yesteryear. Maybe it is like Robert Redford and Nick Nolte in "Walk in the Woods," where the two of them take off trying to walk the 2,200-mile Appalachian Trail (AT) back East.
My escapade started with my son, who for the past seven years has been working in Bonn, Germany, for Deutsche Post. He suggested I take some time this past summer to walk a portion of the Camino Trail in Spain with him and our two grandsons. But as time grew near, there were too many competing activities for the Camino to become a reality for them.
After studying the history and culture of the Camino, it caught my imagination: why not walk myself the entire Camino this fall for them? Over 250,000 people walk the Camino on an annual basis from many different points in Europe. Actually, The Way of St. James (or El Camino) was more heavily traveled by "pilgrims" in the middle ages. St. James, now the patron saint of Spain, had preached often on the Iberian Peninsula. It was believed St. James, one of Jesus's top apostles, who was beheaded in Jerusalem, was buried at the Cathedral of Santiago de Compostela. According to one myth, his body was washed ashore following a shipwreck off the Spanish coast, when his body was being transferred to Spain.
Today, people walk the Camino for a variety of reasons: those who need direction in the purpose of their life (spiritual or simply need a personal change, etc.), time alone for reflections/ purification on challenges being faced or burdens being carried (emotional), all to gain fulfillment in their pursuit of life. My reasons were not so magnanimous: I love the outdoors; observing or experiencing nature like walking the Pacific Crest Trail (or AT), meeting a variety of international trekkers from different backgrounds and the physical exercise of a stimulating challenge. My objectives were all fulfilled in a grand, almost unbelievable style.
To begin with, one of the attributes of walking El Camino is that you do not have to carry shelter or cooking equipment as there are five types of accommodations spaced along the way, each normally no more than 5 or 8 kilometers (3 or 5 miles apart): municipal hostels owned by local authorities, parish or monastery hostels run by the church, private hostels, hotels (pensions) and/or casa rurales.
Most of the hostels were composed of dormitory bunk beds (sometimes up to 50 in a large room) offered at 5 to 7 euros per bed ($6-9 US) or two bed single rooms at 20 euros ($23), with the hotels or casa rurales between 25-40 euros ($28-40) for more luxury, private, less sleep interruption accommodations. Most auberges served similar pilgrim meals with a full bottle of local wine per person for 9 to 12 euros ($10-13). Many restaurants along the trail or through the cites or hamlets also offered a "pilgrim meal" at reduced prices. While the three course meals — normally soup or salad, French fries and either pork, chicken or beef grilled flat as a pancake and a choice of dessert — were filling and quite good after 6 to 8 hours of walking, the local wine was outstanding. Sitting at a long table with other hikers, the conversation was often chaotic, loud and boisterous.
•
On an average, most pilgrims walk 20-30 klms (12-18 miles) per day for 30 to 40 days to traverse the full 500 miles. A few have started in northern Europe, and walk through France to St. Jean Pied de Port, the beginning of the Camino Frances. This was the specific route that I chose and is the most popular route crossing the Pyrenees (1,400 meters or 4,600 feet) and several mountains, including the highest point of the journey, Cruz de Ferro at 1,505 meters (4,940 feet) to finally conclude at Santiago de Compostela. Expect crowds in the summer months, which is why I chose October to walk the Camino.
The people that one meets along the trail were a continuing cast of intriguing characters, young and old.
To help visualize this long trail, the Camino Frances can be best thought of in three distinct sections: the rolling hills of the Basque country, the hot, flat relatively empty section of the Meseta, and the lush green hills and pastures of Galicia. I choose to bypass the Meseta, and took a bus between Burgos and Leon as the Meseta terrain was simply too repetitive for my liking and besides, I wanted to spend extra time in Burgos and Leon to explore more in depth some UNESCO World Cultural Heritage sites in these two cities. Therefore, I only walked about 400 miles in 32 days, but that was enough.
The trail itself is marked excellently with both trail and city signage. The scallop shell, often found on the shores in Galicia, has long been the symbol of the Camino de Santiago. The shell symbol is found embedded in the concrete of city street sidewalks, painted on sides of buildings where trail direction changes, and signposts along remote wooded paths in the forests. It is hard to get lost, unless you hike the first hour in darkness because of decreased daylight hours, like I did, without the advantage of a headlamp, which some did carry. Backpacks should be pared down to 10 kilos (or 22 pounds), so I tried to avoid any excessive items not absolutely necessary. Many older walkers forward their packs via inexpensive courier service (5 euros) to the next night's lodging location, but I never did because I wanted to allow my body and lodging selection to be my sole guide as when to stop.
•
One of the great things about the Camino is the wide variety of the trail, the terrain and the villages. As you climb the mountain ranges, the views and patch quilt work of the valleys and agricultural fields below is absolutely stunning. The rows upon rows of the vineyards of Rioja in the midst of harvest was overwhelming. Walking through the covered trails within forests was always enticing, especially in open areas with the fall colors out in full display. The number of rural farm hamlets which might only consist of four or five buildings with unique slate roofs among other ancient, abandoned buildings, was a frequent scene in Galicia. At times, the trail did run along a main road, but more often it was along quiet secondary roads or outright forest paths that were well maintained. The surface of the trail was often pesky rocks, sometimes exposed ones in a thin, vertical uplift fashion. It seemed each morning the trail started with a long climb out from the auberge and within a half an hour, your clothes were sweaty. But luck was with me in that it only rained three or so times, once of course at the crossing of the highest mountain peak on the trail, but the warm fire inside the one and only watering hole quickly dried out soggy gear.
•
There were numerous highlights of my journey. The first occurred at the first auberge (D'Orrison) where I stayed just starting out from St. Jean Pied de Port. I had a late start out of town so I didn't arrive at the auberge until just before dinnertime, somewhat exhausted from the steep climb up the first portion of the east side of the Pyrenees. I was assigned to a 10-bed, double bunk dorm room with eight French women and their one male companion, all already in sole possession of the space. Returning from dinner, the dorm room door was closed and I thought perhaps I heard some Gregorian chants being sung. Opening the door, all the gals were in their beds, but softly singing magically French lullabies for half an hour. They had even made up my upper bunk bed as only sheets and a blanket had been laid out. What a way to start out on my Camino adventure.
In Leon at the Gothic splendor of the XIII Cathedral, by luck I happened to arrive on the same day that an organ recital as part of an international festival concert series was being performed at the Cathedral in the evening. Can you imagine a repertoire ranging from Franck to Saint-Saens being played by the huge organ in the monstrous church interior? The unbelievable impressiveness of the unique location and young virtuoso playing the clarity of the powerful organ in dim light brought tears to my eyes. Another magical moment.
Yet another World Heritage cathedral site in Burgos also spellbound my senses in a three-hour, self-audio guided tour. The French Gothic styled cathedral, which took 40 years to complete in the 13th century and had several additions and improvements over several following centuries, contains the tomb of El Cid, the fabled Spanish hero who defended Christian Spain against the Moors. The magnificence of endless architectural, sculptural and pictorial treasures inside was fantastic and difficult to fully absorb.
And finally, the people that one meets along the trail were a continuing cast of intriguing characters, young and old. People either travel individually, or in familiar small groups recently acquainted, or less occasionally couples. At this time of the year, 70 percent of the travelers were young people under the age of 28 and of that group, almost three-quarters were young female gazelles, as I called them, because the girls sprinted past me doing their 30-40 kilometers a day. The middle-aged group was a wide diversity of individuals, like the Brazilian owner of a chain of hairdressing salons both in Brazil and Miami, a well-known sailing book how to writer, a gal who had some emotional burdens to unload like her brother being killed in 2010 and herself a victim of merger downsizing for which she successfully sued and won against her city government employer, a younger entrepreneur from Romania who had set himself up in a distribution business, so on and so forth. One morning, imagine an older fellow from Dublin bemoaning the fact that an older 89-year-old guy past him going uphill.
It is very standard that one meets individuals or a small group at one time and then re-meets them again several days or even weeks later in another section of the Camino to renew acquaintances. This particularly happened to me with two Japanese ladies, both attorneys, in their 60s and from Berkeley, Calif., whom I met the first day of the trip, frequently on and off during the journey and again the last day in Santiago. They were intrepid walkers but often took bus rides to permit a more leisurely and investigative travel pace. I even encountered a flamboyant transgender female who was extremely captivating and popular with the Camino walkers.
Then there were several serendipitous meetings which continue to acknowledge the sometimes smallness of our world. One afternoon as I stopped for my normal two soft drink recharge, I met a gal from Sweden. When she asked where I had traveled in Sweden, I said my wife and I plus granddaughter had stayed three days in the small town that was pronounced like "You." She exclaimed she was from that very town also and in fact lived next door to the place we stayed. She raises expensive event horses and even occasionally sells them over here in the States. Again, when I traveled to Samos on an alternate route to see the huge Benedictine monastery with the Brazilian acquaintance, the auberge he chose was run by a young 30-something lady who had just leased the four room auberge from its owner for two years. She use to be a school teacher in a small town next to Vail, Colo., starting in 2006 and even knew several of my old associates when I started out my second career in the ski business there in 1969. And finally, hard to believe, one evening at dinner I chatted with a lady from Venezuela who was traveling a few days on the Camino before joining up with her developer husband doing business somewhere in Spain. It turned out he is a current business partner with one of my Yale college classmates, who currently lives and resides in Cuba, all the years that his country was under the no travel to the Castro regime in Cuba. These were eerie coincidences for me with intertwining pasts.