Adrianna Vaca and Elizabeth Bricker, both Hood River Valley High School seniors, have been selected as Elks December Students of the Month. Both were presented checks for $100 in recognition of their volunteer efforts in the community and their achievements at school during a Lodge meeting.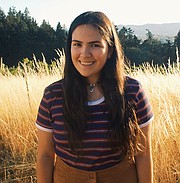 Vaca is a student at Hood River Valley High School and is active in school activities, maintaining a 3.976 GPA. Vaca participates in various community volunteer organizations and events as well.
Vaca is in Honors Pre-Calculus, AP U.S Government and Politics, Writing 121, journalism, and was a member of the year book staff for three years. She has a talent for gathering information through interviews for the journalism class and for editing and organizing photo spreads for the yearbook. She is an excellent student and diligent worker.
She is a member of the HRVHS Asian Club and served as a LINK Leader for incoming freshmen, helping them acclimate to the school. She has volunteered for HRVHS's Community Work Day and the annual Red Cross Blood Drive held at the high school. Vaca has been a member of the HRVHS tennis team throughout high school. As a sophomore, she and her doubles partner received the "Promising Doubles Team" award. Outside of school, she is an active community volunteer. She volunteers at the Hukari Animal Shelter, walking and playing with dogs and preparing their kennels. She volunteered to help transport food to the FISH Food Bank and worked at Paws for a Cause, a fundraiser held by Adopt A Dog. She has been active in Young Life, where she did yard work, cleaned and painted at Wy'east Middle School, and worked at the Blossom Festival and First Friday. Vaca served as an interpreter for families and teachers during parent–teacher conferences at Wy'east Middle School and babysat children for parents who attended the community JUNTOS meetings. She is currently interning at Pacific Northwest Federal Credit Union, where in addition to her regular tasks, she serves as a Spanish speaking interpreter when needed. She is an employee of the Mt. Hood Railroad as well, as a greeter and server for train passengers.
Vaca is the daughter of Alberto and Monica Vaca. Her brother Diego attends the Oregon Institute of Technology. She has applied to many colleges, and is hoping to attend Willamette University or the University of Portland. She exemplifies what it means to be able to balance academics and extra-curricular activities. She is an excellent student and an involved and caring community member. She is highly deserving of this award.
•
Bricker, the second honoree for December, has always taken the most challenging classes offered at HRV, including Survey of American Lit, Medical Biology, and Writing 121/122. She is a veteran journalist for The Talon, HRV's school newspaper, and has been critical in implementing its new video broadcast format, known as "What's Up." She is an accomplished dancer who has taken jazz, contemporary, modern, and ballet at the local dance academy. She was invited to join the elite Columbia Gorge Dance Academy Company Dancers as a junior. She was a member of the HRVHS Chamber Singers as well. She was inducted into the National Honor Society, and served as co-secretary this year.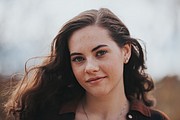 Bricker's community service shows her creative and nurturing sides. She has performed many times as a dancer and singer for community events, both in Aurora and as a CGDA Company member. She has performed in numerous musicals at HRVHS, most recently in "Catch Me If You Can," Fall 2016. She served as a LINK Leader, helping to orient incoming freshmen to the high school. She has participated in Bowled for Kid's Sake and worked on Community Work Day, donating her salary to community charities. She's volunteered in the Family Birth center, and babysits children at various events. She is an AVID tutor, helping under-resourced college-bound youth meet their potential. Bricker has also worked as a hostess and lifeguard.
Bricker is the daughter of Monique and Dale Bricker. She has two sisters: Ansley, who attends Boise State University, and Kate, who is enrolled in Mid-Columbia Adventist School. She has applied to several colleges, but her first choice is the University of Utah.
Elizabeth is a true Renaissance woman, capably balancing art, academics, and athletics with a full and vibrant social and service life. She has certainly earned the title of Student of the Month.