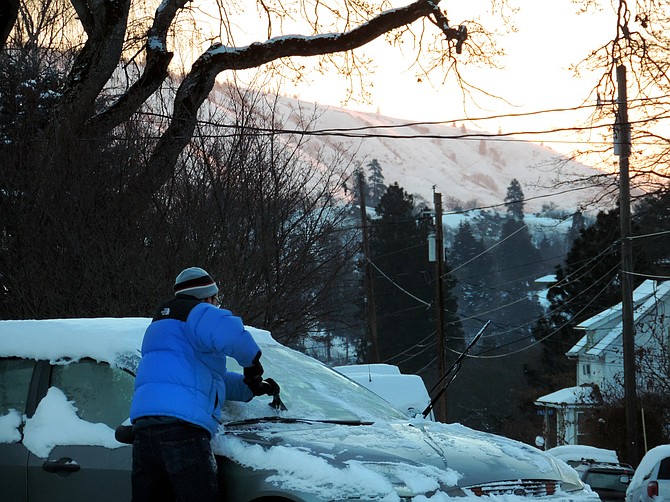 Transportation officials are urging Gorge residents to stay home if possible amid a snow and ice storm hitting the region Saturday.
The National Weather Service station in Portland anticipates 3-16 inches of snow in the region, depending on storm severity — and up to an inch of ice. The snow will fall Saturday and Sunday, with increasing east winds that will heighten wind chills.
Oregon Department of Transportation officials said it was "likely" they will close certain routes through the Gorge this weekend.
"We will likely have to close the Gorge for an extended period of time," ODOT spokesman Tom Fuller told co-workers in an email Thursday, referring to a list of agency talking points.
ODOT said in a press release Friday the agency will close Interstate 84 east of Troutdale "if road conditions are unsafe and will keep it closed until it's safe again for traffic." Such closures in the past have lasted for several days.
Precipitation begins Saturday morning in southern Oregon, spreading northward through the day to the Gorge. Heavy snow will give way to freezing rain, NWS meteorologists said. There's potential for a "long-duration freezing rain event" in the upper Hood River Valley and western Gorge.
Travel will be difficult throughout the region. Chains or traction tires are recommended. When Interstate 84 closes due to weather — which may be the case this weekend — traffic is typically diverted to other highways including Washington State Route 14. For weekend updates, check www.tripcheck.com.
Frigid weather has contributed to an abnormally intense winter for Hood River County, and has yet to break. Freezing temperatures will likely persist for the next few days.
Temperatures on Wednesday, Jan. 5, fell to a record low of one degree — breaking that day's record of three degrees in 2004, according to an NWS report. In the Mount Hood community, a resident told the News the temperature at her home dropped to minus-seven degrees in the morning.
The Hood River Warming Shelter extended its hours this week to 10 a.m., at which time the Hood River Library opens its doors (Tuesday through Saturday).
ODOT is urging families to stock up on candles and non-perishable food because the region might lose power.
Barb Ayers, Hood River County emergency manager, gave the following safety tips: "Limit travel, plan for emergencies, keep an emergency kit in the car and at home, monitor your water pipes, outdoor activities and animals, and keep an eye on utilities for possible power loss and for falling trees."
Similarly, Hood River Police Department recommends carrying flashlights, blankets, batteries, radio, a full tank of gas, and a charged cell phone.
The American Red Cross has posted an emergency preparedness guide that lists steps people can take to brace for storms and other emergencies at www.redcross.org/local/oregon/preparedness/resource-guide.