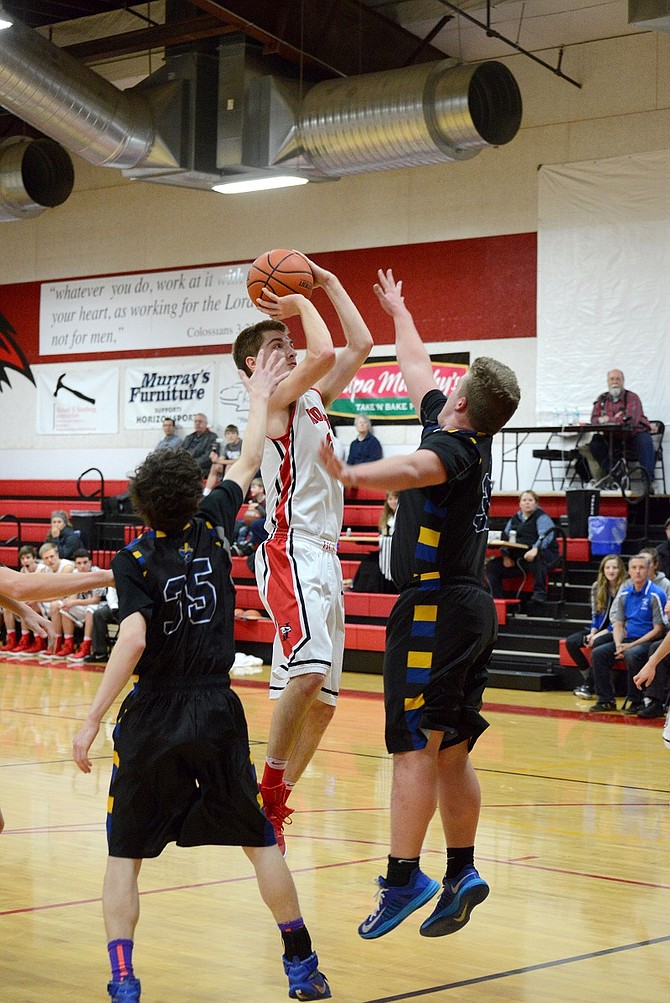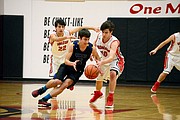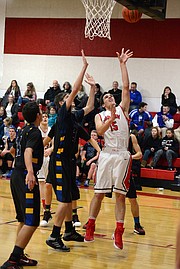 The Horizon boys basketball team extended their win streak Tuesday night to four games with the defeat of North Clackamas Christian (2-5) in what was a low-scoring affair for both teams. The Hawks took down the Saints 37-24 in Hood River, marking the fewest points in a win for Horizon this season.
The contest with the Saints was the final nonleague game of the season for Horizon, with the exception of a crosstown battle with Hood River Valley High School Thursday evening at 7 in Hood River (the girls game was canceled due to "overbooking," according to HRVHS Athletic Director Tom Ames). Horizon enters Big Sky Conference action with a 7-3 record, although only two of those wins (Open Door Christian Academy and league rival Arlington) came from teams that have a .500 record or better. The Hawks currently have a No. 14 ranking in 1A basketball, putting them only behind Dufur (No. 13) and 2016 1A state champions Sherman (No. 7).
While Horizon beat North Clackamas by double digits, the game wasn't a gimme by any stretch. Both teams struggled to get their offense clicking in the first quarter and Horizon only edged North Clackamas by a point in the first eight minutes.
The Hawks were able to make a little more headway in the second quarter, but North Clackamas continued to hang around and Horizon went into the locker room at the half with an 18-13 advantage over the Saints.
In the second half, Horizon poured it on, their lead stretching to 20 at one point, as the team took advantage of their opponents' 19 turnovers, which helped give Horizon 11 more field goal attempts. The Hawks struggled from beyond the arc, missing all five of their attempts, but dominated the paint and went 17 for 38 on two-pointers (45 percent).
Ian Walker and Bailey Holste were the workhorses for Horizon, each leading the team in points (eight each) and steals (three), while Walker added a team-high nine rebounds and two blocks. The two combined for seven of the team's 12 assists on the night. Luke Holste and William Decker chipped in with six points apiece, while Holste also had a team-best five assists. Other scorers included Quinn Roetcisoender (five) Derek Johnston (two), and Kyle Brown (two).
Horizon was thrown headfirst into the Big Sky pool Friday evening with a tough road matchup with the 4-4 Sherman Huskies (results not available at press time), then, depending on the much-hyped SnowSleetPocalypse that's supposed to strike the Northwest this weekend, the Hawks will host the Condon/Wheeler Knights (5-4) Saturday at 4 p.m.
Horizon has so far faced two Big Sky teams in nonleague competition this season: the 1-5 Mitchell/Spray Eagle/Loggers (No. 65), whom they defeated 61-15 Dec. 2 and the 5-4 Arlington Honkers (No. 20), whom they edged 55-51 the next day.