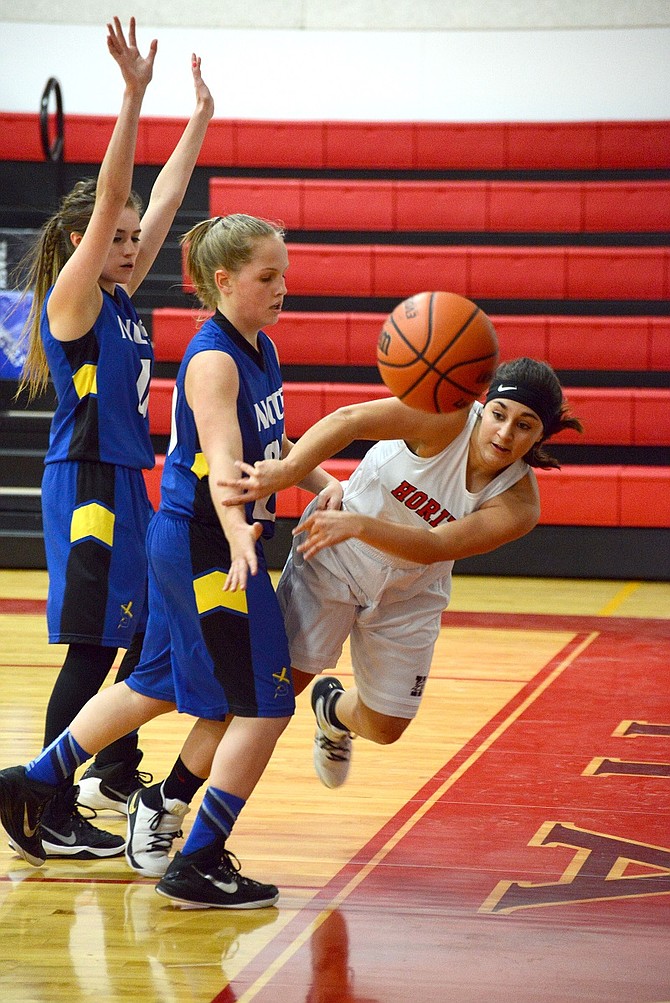 Last season was a breakout one for the Horizon girls basketball program, as the Hawks saw the team's first postseason win since it formed 14 seasons ago.
The young team is still dealing with this new identity and some teams haven't gotten the memo yet. At The Valley 10 tournament at the end of December, the Hawks were matched up against struggling teams because traditionally, Head Coach Brian Stevens explained, Horizon has been one of those teams too.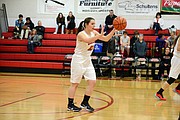 The matchups turned out to be no match at all. The Hawks rampaged through the tournament, outscoring their opponents by absurd margins, including a 75-10 routing of the winless Stephens Academy Archers — currently ranked dead last out of the 62 1A teams.
Horizon had a similar game Tuesday night, hosting the 1-6 North Clackamas Christian Saints. The Hawks marched to a 50-17 victory, concluding their nonleague schedule with a four-game stint of blowout wins and a 6-4 record.
Stevens and his players know that tougher games lie ahead, with Big Sky play starting this weekend. Whooping smaller teams may inflate point differentials and win/loss records — Horizon currently has the highest number of points scored in the conference (501) — but those games don't help the team's ranking (29th as of Friday morning), nor do they help prepare the team for adversity. Not a single one of the teams Horizon beat in the nonleague season currently has a winning record. The girls have played Big Sky teams twice this season in nonleague games: a 55-20 rout of the 2-3 Mitchell/Spray Eagle/Loggers on Dec. 2 and the 5-4 Arlington Honkers, whom the lost to 34-27 in a close game that was played Dec. 3. Though the last four games "have killed our ranking," according to Stevens, only Arlington (No. 18) and Condon/Wheeler (No. 28) are ranked higher than Horizon heading into league competitions.
Players know they have work to do. Horizon came out against North Clackamas with a fast start, with the team's defense forcing numerous turnovers that the Hawks parlayed into points, at one point stretching to a 20-3 advantage. But Stevens said he switched the team to a "vanilla 2-3 zone" in the third quarter and the Saints began to close the gap. While the lead was never in danger, Stevens said the girls voiced their displeasure with themselves during a timeout.
"The first thing that the girls said coming into the timeout was, 'If we play like that against Sherman, we're going to lose.' So, they're well aware," he noted.
The team continues to adjust without starting point guard Chantelle Carter and starting forward Jasmine Stevens (leading assister for Horizon), both of whom are sidelined with injuries. That gave more playing time for reserves Alexis Ruiz (junior), Morena Decker (sophomore), and Fiona Marsalis (frosh) in the North Clackamas game. Ruiz had five points while Decker had two and four boards.
"That really allowed those girls to get a lot of playing time. I was a little nervous trying to fit them in since they don't have a lot of basketball experience, but they came in and played well in our system," he said.
Key absences also mean some big games for the remaining starters. Both Jodee Hicks and Paulina Finn achieved double-doubles, recording 15 points, 11 rebounds, and five blocks and 14 points, 13 rebounds and four blocks, respectively. Kaitlin Wenz (eight points, 10 rebounds) and Haley Becnel (six points, five rebounds, four steals) also contributed.
Horizon was at Sherman (2-5) on Friday (results not available at press time) and then hosts Condon/Wheeler (3-6) Saturday at 2:30 p.m.