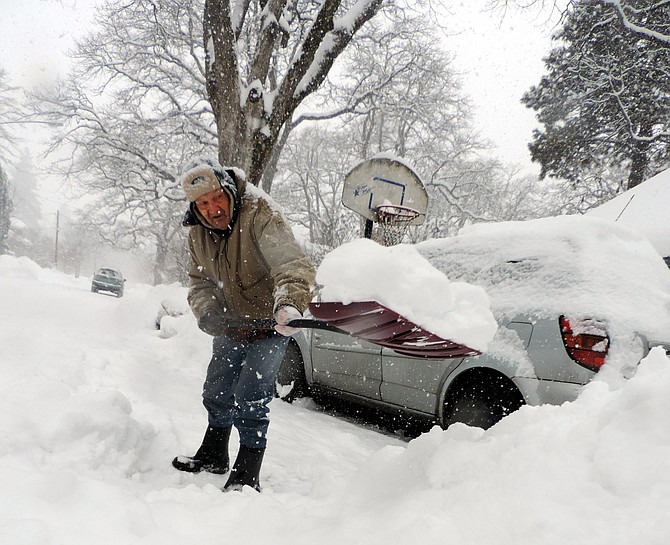 Heavy snow will return tonight, Tuesday Jan. 10, keeping up until tomorrow. Hood River County Sheriff's Office released the following storm update at 2:18 p.m.:
---
Storm warning highlights:
NWS has high confidence there will be a high impact, all elevation snow event in Hood River and the Gorge tonight and tomorrow AM.

Gusty, cold east winds arrive in the Gorge tonight, bringing temps in the teens to low 20's, and another snow storm, lasting overnight into tomorrow.

The forecast warns Hood River County will most likely receive 10-15 inches of snow.

Like today, Wednesday morning's commute on I-84, Highway 35 and 14 corridors will be impacted. Streets in town, especially on slopes, will be slippery. It is likely that the high call volume for weather related car crashes will continue.

NWS also forecasted widespread snow over most of Oregon, however in much smaller accumulations.
Safety reminders:
Transportation impacts: Today's I-84 commute required traction tires or chains through the Gorge — road snow accumulation is already heavy in downtown Hood River as well. Roads are very slippery — stay home. Please go slow on the road — allow extra time, shift gears down when approaching slopes, where braking can cause sliding and spin outs
Snow plow drivers, for Hood River City, County, Port, ODOT and other agencies start plowing at 4 a.m. and work throughout repeat storms, maintaining roads in order of snow route priority. With continuous snow, accumulation on roads piles up again quickly. Please be patient and understand top priority roads get plowed and sanded first; those that are less traveled get plowed as time allows.
If you're traveling on I-84 or other state roads, be sure to check ODOT's https://www.tripcheck.com before you go, for the latest updates.
Please call 911 only in a life threatening emergency. We know you have problems to report -- if they are not life safety or urgent, please call the 911 dispatch center 24 hours a day on the non-emergency call line: 541-386-2711
Utilities: Do you know how to shut off water to your house if your pipes freeze? Please familiarize yourself with where your water shut off value is. And review your utility company phone numbers -- water, power, natural gas, internet, etc. Please call these key contacts first, then the non-emergency 911 line if the situation escalates.
Do you have a family emergency kit, with backup water, food, flashlights, blankets, first aid and cooking utensils at home, and a smaller kit in the car? You could be stranded on the road or at home without power. Your emergency kits will help you stay warm, hydrated and fed. Be sure to include backup prescriptions and glasses in your kit. Make sure your kit considers your family's unique needs, for kids, animals, seniors, the medically fragile.
Think about a backup heating supply and/or generator if power fails at the house.
Hood River Warming Shelter is opened at local churches in our county to serve overnight shelter needs. Visit www.HoodRiverCares.org or call 541- 399-2057 during evening shelter hours.
This winter snow season seems excessive; however, locals will tell you this was the "norm" a couple of decades ago. Let's plan ahead, be prepared, be patient and help each other. The Hood River County Sheriff's Office reminds you, we're all in this together.
---
For a list of closures, check out the Hood River News' ongoing list.