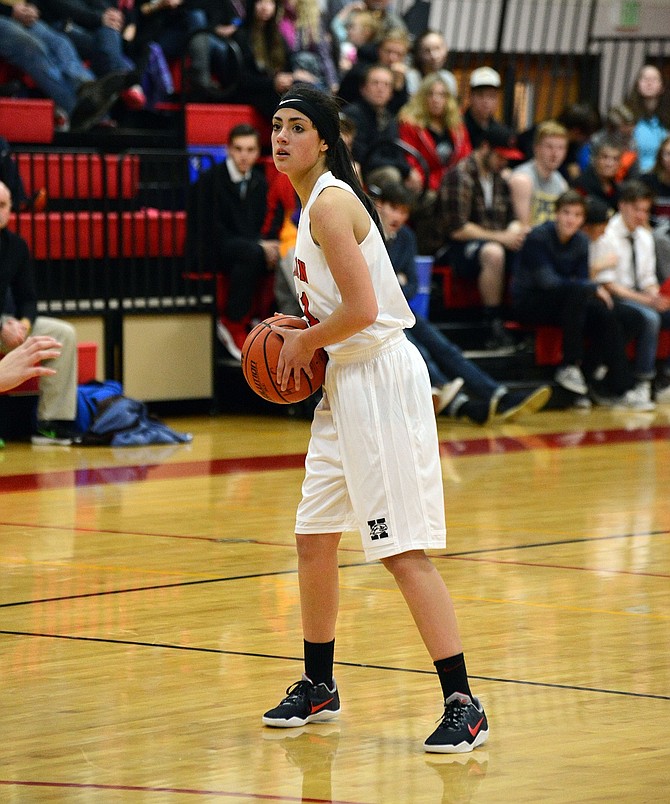 Editor's note: This story has been updated to include Paulina Finn's comments, which weren't available at press time.
Junior guard Paulina Finn had the performance of a lifetime Friday evening in Horizon's Big Sky debut against the Sherman Huskies. In fact, it was likely the best performance of any Hood River basketball athlete in quite a long time.
Finn recorded a rare quadruple-double in the Hawks' 62-33 defeat of Sherman on the road Friday evening, with a stat line of 14 points, 15 rebounds, 11 steals, 10 assists, and just for good measure, four blocks. Her rebounds, steals, and assists tallies were all team-highs.
Head Coach Brian Stevens was in awe of Finn's performance, especially considering how much of a target she was for the Huskies, who went through defensive scheme after defensive scheme in a futile attempt to contain her, who Stevens said "controlled the entire game." It wasn't anything particularly new for Finn, who, as Horizon's lead scorer this season, has been heavily pressured by opposing defenses in earlier nonleague games. On the other end of the floor, Stevens said Finn flustered Sherman's ball handlers, picking off passes and tossing them ahead to her teammates for easy buckets.
"With all that, she earned a quadruple-double," he said. "I never thought I would be able to say I was in a gym in the Gorge and saw a player get a (quadruple-double)."
Records have been hard to come by regarding when the last time a quadruple-double has been recorded in Hood River, but neither Stevens nor Hood River Valley High School Athletic Director Tom Ames could remember the last time the achievement occurred, if ever. Longtime Hood River basketball coach Phil Hukari also could not recall a time when a quadruple-double had occurred in the Hood River Valley. The Oregon School Activities Association (OSAA) was also contacted for information about quadruple-doubles, but Sports Information Director Steve Walker said that the agency didn't have a reference for that statistic.
Finn said she knew the game was going well for her, but didn't know she had a quadruple-double until it was over. She added that it would have been difficult to achieve a quadruple-double without the support of her teammates.
"I couldn't have gotten that great opportunity without teammates rebounding, hustling, passing me the ball, and being all-around ready for the game. I didn't know I had a quadruple-double until my coach had told me; I thought I would get a double-double, but a quadruple double was amazing for me to hear," she said. "I think it was the overall focus of everyone working together as a team — not one person doing it all and getting credit for it. We have worked hard to become the team we have been — everyone found the open person, we moved the ball well and were patient, which was a key to getting the shots we wanted."
Outside of Finn's offense, Horizon (7-4, 1-0 league), held Sherman (3-6, 1-1) to just a single made free throw in the first quarter. The Hawks also put up 16 points of their own that effectively put the game out of reach from the beginning. The Huskies had a better showing in the second, but still trailed 31-11 at the half.
Although the game saw the return of Jasmine Stevens (four points, seven rebounds, three assists) from injury, bad luck once again befell Horizon, as Kaitlin Wenz (four points, six rebounds) twisted her ankle and couldn't play the second half. For the second game in a row, Stevens had to rely on his reserves Morena Decker (two points, three rebounds), Alexis Ruiz (four points, two assists) and Fiona Marsalis (three points, six rebounds), who Stevens said "contributed with great box-outs, rebounding, and solid passing." Horizon's lead was always safe, as the Hawks outscored the Huskies 31-22 in the second half.
Although Finn stole the show with her quadruple double, she wasn't the only Hawk to get into double figures Friday night, nor was she the team's lead scorer. Haley Becnel, the beneficiary of seven of Finn's 10 assists, led Horizon with 17 points and added four steals, while Jodee Hicks, who Stevens said "dominated the paint," had a double-double with 14 points and 11 rebounds, adding a team-high five blocks.
The team was supposed to play against Condon/Wheeler last Saturday night, but that game was rescheduled to Jan. 31 due to inclement weather. The girls will travel to Dufur (2-5, 0-1) Friday evening and then will host Arlington (6-4, 1-0) Saturday at 4 p.m.