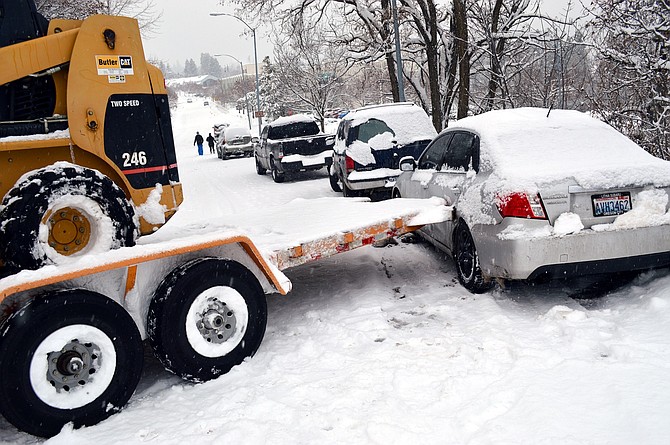 Nobody was injured in a jackknife crash at a slick curve near Full Sail Brewing Co. The accident blocked traffic on a snowy Monday afternoon — one of many non-injury crashes around the region.
Around 2 p.m., a GMC pickup truck pulling a Cat skid steer loader on a trailer was heading southbound on Wasco Street, just north of the Columbia Street intersection. On Wasco's uphill curve, the trailer spun out and struck the door of a parked Lithia Subaru, which had Washington plates. The edge of the trailer pierced the left rear door, embedding itself inside.
Nobody was in the parked car. Occupants of the pickup, which had an Oregon plate, weren't harmed.
Adding to the commotion, a refrigerated Sysco food company semi-trailer with a Portland plate got stuck heading down the Wasco hill, in the direction of the jackknifed trailer. The driver braked in time to avoid hitting the pickup. However, the semi got stuck on the incline, several yards uphill from the crash site.
Hood River Police officer Sal Rivera said a tow truck had been called. The intent, he said, was to pull the semi back up the hill because it couldn't reverse its way out. Public works was called in to sand Seventh street south to Oak Street to help move the truck.
The street was temporarily closed while police investigated the crash and awaited the tow truck.