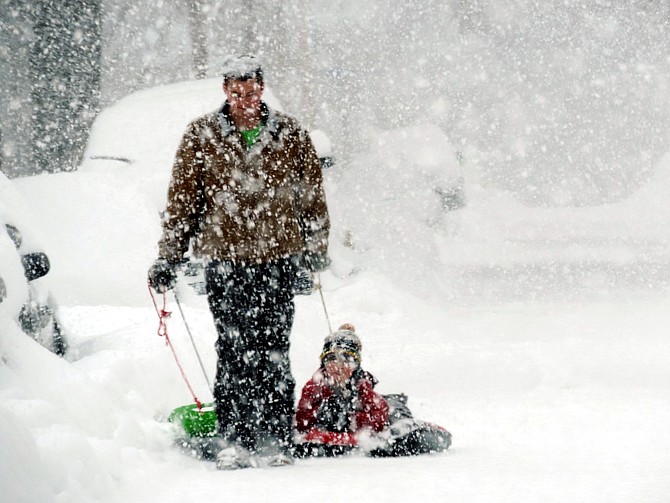 Let's talk storm mobility.
Two points to make on the subject, the result of vexing factors on the ground.
You see more and more pedestrians out, in the snow, and in snowy weather. In true Hood River style, the term expands to include skiers and snowboarders on city streets, along with people pushing through it on snowshoes.
That and parents tugging their kids along on sleds and tubes.
Watch out for all — between the falling snow, berms and piles everywhere, and hulking snow-covered vehicles, visibility is increasingly and frequently limited. Stay mindful that people are finding all kinds of ways to get around in this stuff.
Second, kudos go to all our law enforcement, public works, and emergency responders for the way they have aided, assisted, responded, plowed, directed, sanded, plowed again, sanded again, and otherwise done their best throughout this five-week storm to help the community.
These men and women are working overtime and often putting their lives in danger to see that roads are cleared, vehicles extracted, trucks are chained, intersections and hills are sanded, and all manner of efforts to keep people moving in trying circumstances. They deserve our thanks.
Tuesday morning in particular, with four to eight inches of new snow falling (and causing a second day of school closure) our public works, fire and law enforcement folks were hopping from one place to another dealing with issues often involving drivers who were ill-equipped or traveling too fast. Certainly, folks get stuck for reasons out of their control — snow and ice conditions seem to change from day to day and place to place — but many of the incidents respondents must deal with are cases of misjudgment and poor preparation.
More snow is expected on Wednesday and the full ramifications are yet to be seen (the school board meeting is already postponed to Thursday — see page A9 for details), but we can be sure of continued hazardous traveling conditions.
Suffice it to say — no pun intended — freezing conditions will continue for a while to challenge us all.
As best you can, shovel your walk to help your neighbors or your postal carrier.
Be patient when driving, and give yourself extra time to travel, if you must travel.
Smile at officers working an accident, store clerks dealing with long lines, delivery people struggling with loads, and anyone else whose life in this snow-covered time might actually be a little rougher than yours.