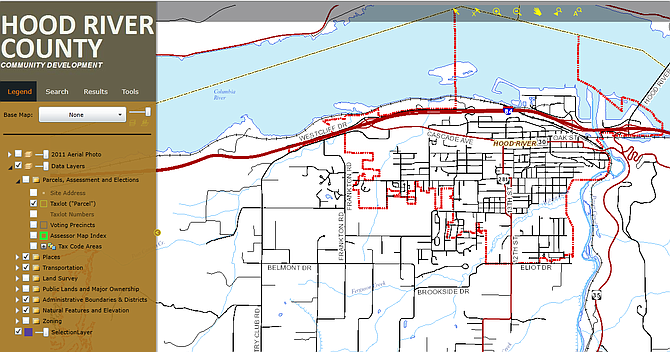 Hood River County Geographic Information Services (GIS) Department is set to unveil a new version of its interactive online WebMap in January.
The WebMap is a tool that's widely used by the community to answer basic questions related to property, land use or particular geographic places of interest in the county. Over the years, the popularity of WebMap has grown. In 2016, it received over 33,000 visits.
The upgraded WebMap will be online and available within the next few weeks, according to a press release from the Hood River County Planning Department. The new tool will improve the system, removing several compatibility and navigation issues.
"We're constantly trying to improve accessibility of information to the public. We had already taken measures to update this tool last spring but some issues remained," Community Development Director John Roberts said.
"We've addressed those through a more advanced technology that, quite simply, works the way we've always wanted it to. It's a nice improvement."
The new WebMap application will include:
• Better browser compatibility and options for mobile devices.

• More intuitive or simpler public use.
• More features and tools.
• Ability to use 2016 aerial photography, as well as other historical imagery.
• Significant cost savings resulting from a partnership with the City of Hood River.
"Like almost all computer software applications, web-mapping platforms and technologies continue to evolve and are invariably a challenge to keep updated," County GIS Coordinator Mike Schrankel said. "Our previous web browser technology unfortunately provided some impediments for many users in the community. The new updates will make the use of our WebMap much easier to use and navigate."
The county is using a product the City of Hood River recently implemented. Latitude Geographics, the company that develops the software used by the city, has thousands of implementations throughout North America.
"We feel confident that this platform will continue to set the standard in web-mapping technology and be easy to configure for our users," Schrankel said.
The county and city worked with Latitude Geographics to form an intergovernmental agreement that allows both entities to share a single license, saving costs.
For a look at the updated desktop version of the application, visit the Community Development Department website at www.hrccd.co. hood-river.or.us/county-webmap. Mobile versions will roll out soon after.