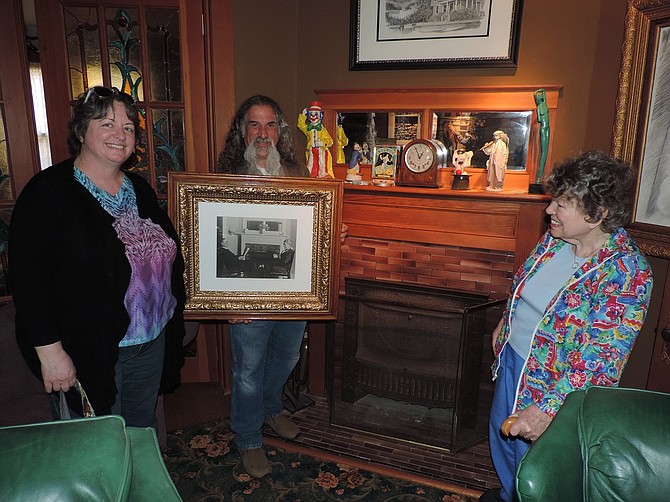 Sometimes, you can go home again.
Even if the home is far different than you remember.
Depends on the different.
For Mary Anne Copple Willcocks, it was a classic revisiting situation: taking a trip to her grandparents' hometown and calling up the current owner of their home.
Can we have a look inside?
Cold call met a warm welcome, thanks to Stephen Datnoff, owner since 1983 of the 1906 Simpson Copple house, at 10th and Montello, with a panoramic view of the Columbia River. Datnoff, a professional photographer, shares it with two or more long-term boarders, a tradition he has kept for years.
According to Wikipedia, Simpson Copple (1842–1933) was a Civil War veteran and pioneer orchardist who was important in the growth of the apple industry in the Hood River valley. He purchased the house shortly after its construction and lived there until his death.
Mary Anne well remembered her summer visits to the home, saw a photo of it on the National Register website, and planned a trip to Hood River.
"It stirred my imagination," said Mary Anne, whose father was Simpson Copple's son, Robert Copple.
One day in October, Datnoff got a call from the Chamber of Commerce; Mary Anne's daughter, Janice, called asking if they knew the name of the owner of the Simpson Copple House, and could they put them in touch?
Chamber staff knew Datnoff and connected him with Janice and her mother.
The house is filled with Datnoff's photos and others' art, including a 1970s photo of the ramshackle house taken before he bought it. It hardly looks like the same house. Both outside and inside, Datnoff has gradually transformed the home over the years, repairing doors and window settings, stripping away interior wallpaper and wainscoting, and stripping and refinishing all the white paint from the balustrade and fireplace woodwork using a marine oil mix he created. He laboriously retained the distinctive oil cloth linoleum floors, a patchwork of early-20th century designs. Datnoff pulled off layers of plywood and standard linoleum to reveal the oil cloth.
During her tour of the home, Mary Anne said, "It feels good. You have a feeling of roots. My parents didn't talk much about roots."
"I feel honored," Datnoff said. It was not the first time he has had a surprise encounter with the history of the house. The hallway contains another old photo — this one of the Copples in the living room sitting in front of the fireplace which still looks much the same.
A few years back, Datnoff answered a knock at the door and a woman whose name he did not get handed him the photo and left.