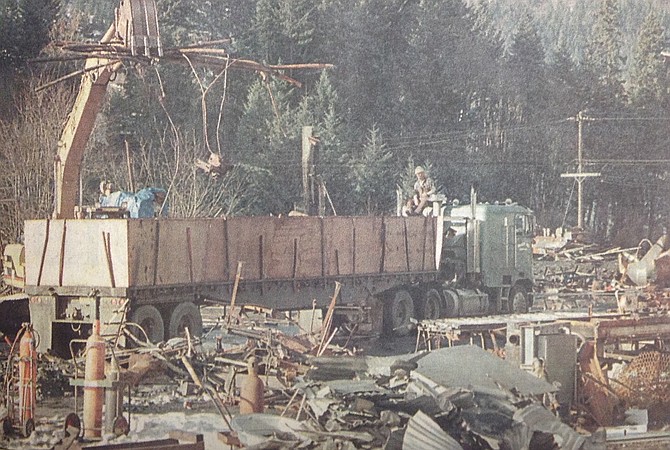 VERBATIM: 'Women Not Better, But Different'
The "Farmers' Week News," printed daily at the O.A.C. during Farmers' Week, last week featured an address by Mrs. Alexander Thompson, representative in the legislature from this district. Mrs. Thompson told of the part which she expects women to play in politics. She said in part:
"Women work shoulder to shoulder with men and have proven themselves their equals. Men invade the women's sphere first by taking from her home many of her labors and placing them in manufactories (sic). Instead of remaining idle, and sitting upon a pedestal, women entered in turn the men's sphere, and they are there today. The outcome of this arrangement we are still awaiting. I realize that women are on trial so far as the political field of endeavor is concerned, and that the pioneer office holder must make good in order to further the movement."
Further Mrs. Thompson said, "That men and women were not meant to work apart, they are as one each a compliment to the other. The doors opening to the opportunities of furthering the general welfare are opening alike to both and they are entering hand to hand. Woman is the home maker and the thing that affects her home and children lies very close to her heart. Fathers probably claim the right of money making, but the right of disbursement is much higher. Hard as it is to earn a dollar, it is harder still to spend it judicially. There is a woman at the beginning of all great things, but I do not contend that women are better than men but they are different. If there is one point on which men and women differ it is upon some of the moral questions as they are likely to affect our political life."
Mrs. Thomspon firmly believes in the support of men for women in saying: "There is no good work that women are seeking to do that does not receive the commendation of men."
— Hood River News, January 10, 1917
1917 — 100 years ago
County superintendent Gibson and W.H. Alwin, principal of the Cascade Locks school, are planning a parent-teacher rally to be held at that place on the afternoon of Tuesday, Jan. 16. Mrs. Charles H. Henney will sing and talk on school music. Mrs. W. W. Rodwell will talk on hand work in the schools. Miss Etheljane McDonald will talk on parent-teacher cooperation. Mrs. Hosmer Arnold will discuss the value of parent-teacher association.
1927 — 90 years ago
Can anyone name this bird? The other morning, C.G. Lemmon was watching hundreds of robins and blackbirds that were feeding in his orchard and cleaning his trees of all their ailments and pests when he chanced to glance toward a windowsill, where he saw a small brown colored bird with a miniature duck bill. He called Mrs. Lemmon's attention to this strange visitor, and both watched the bird for some time. It was quite tame and permitted both Mr. and Mrs. Lemmon to walk quite close to it. Perhaps some local ornithologist can name this bird.
1937 — 80 years ago
The Hood River office of the Oregon State Employment Service made direct placement of 3,186 men and women on jobs during the year 1936. Of these, 588 were assigned to work on Bonneville and Grand Coulee dams, 74 to the State Highway Commission, 174 to the new PWA, 110 to other public work, and 2,240 to many types of work in private industry. At present, the unemployed files contain names of mechanics, electricians, caterpillar operators, jackhammer operators, truck drivers, tractor drivers, painters, timber fallers, sawmill workers and many other occupational classifications.
1947 — 70 years ago
The Hood River PTA announces that the hot lunch program will go into effect Monday, Jan. 13. The lunches will be served at Park Street school. Coe students will also meet at the Park Street lunch room. The lunch will consist of milk and one hot dish. Menus will be posted on the bulletin boards a week in advance. The program lasts throughout a two-month period, and the cost will be $2 a month per child.
1957 — 60 years ago
Beard-growing Jaycees, bowling for dimes, coffee parties and a Crag Rat-Fireman basketball game headline current March of Dimes activities in Hood River County. Junior chamber of commerce members' continued open warfare on razors (electric, straight and safety) has resulted in several well cultivated areas of stubble. The Jaycees refuse to shave until Jan. 31 or, preferable, until a goal of $5,500 is reached in the Dimes drive.
1967 — 50 years ago
The past 12 months were booming ones, and the outlook for 1967 is just as good. That, in capsule, was the report to members at the annual meeting of the Hood River County Chamber of Commerce Monday noon. "It was," Chamber Manager Mike McLucas said at the luncheon meeting, "the type of year most chambers of commerce dream of, but seldom experience." Gains were many and varied. Among those cited were a $2 million hike in assessed valuation, increases in industrial capacity, a two percent population gain, a big increase in retail capability with the opening of new stores and remodeling additions to others, and a big step forward in the area's recreational and tourism capacity with the new ski area started, Hood River Village, and continuing park work.
1977 — 40 years ago
School staff and architects were laying groundwork this week for a start on construction of a 425-seat little theater during March at Hood River Valley High School. Their final preparations started after Superintendent Frank Lariza went to Seattle Friday to confirm details of a $660,786 Economic Development Administration grant issued to Hood River's school district to pay 100 percent of the costs. The facility is basically a re-vamping of plans for part of the original high school. But the building has been move to the east, and provisions made for a glassed-in area between a present music building and the theater.
1987 — 30 years ago
As of Monday, the Waucoma Center was "home" to the Columbia Gorge National Scenic Area management team of the U.S. Forest Service. At least temporarily. It would be an exaggeration to say the 10-member staff was "settled in." But the group, whose numbers will expand to about 14 during the first phase of the work, was busy moving furniture that arrived Monday to space in the Waucoma Center. That space was still being remodeled only a matter of hours before the Jan. 12 move-in operation began. Until Monday, the staff had been working out of the U.S. Forest Service Regional Office in downtown Portland.
1997 — 20 years ago
A private group's plan to construct a waterfront hotel gained momentum Tuesday when Port of Hood River authorized a development agreement. The impetus may lead to D.M. Stevenson Ranch's creation of a 75-unit hotel, plus public and private development of a 15,000-square foot conference center near the Hood River Expo Center, before the turn of the century. D.M. Stevenson Ranch estimates the hotel, called Hood RiverFront Lodge, will cost between $4 million and $5 million to build. The private group will assume that expense.
The Hood River Planning Commission granted tentative approval Wednesday to the Hoodery mixed use development planned for Parkdale. The commission voted 5-1 to approve a conditional use permit for the project, which includes a hotel, restaurant and production facilities for a variety of beverage products such as beer, wine and cider.
2007 — 10 years ago
Horizon Christian School will dedicate its new 51,000 square foot facility at noon on Friday. The public is invited to attend the ceremony. Speakers include Hood River Mayor Linda Steich and County Administrator David Meriweather. "The dedication ceremony will reflect our desire to use the new facility and campus to carry out the vison of Horizon Christian School: that of spiritual and academic excellence, modeling the Christian life, and enriching our community," said Don Hoffman, board of director's chair.
— Compiled by Trisha Walker, News staff writer