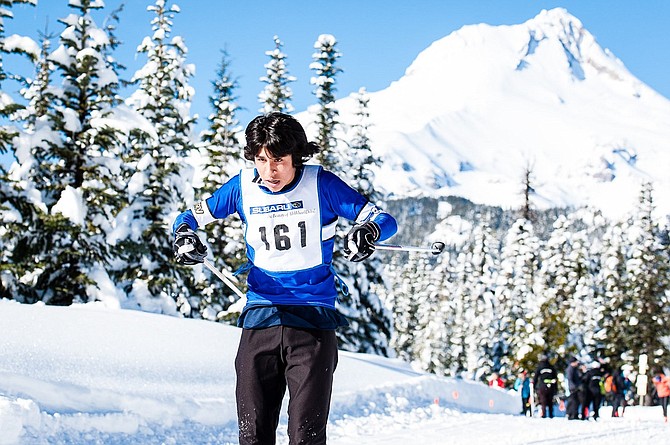 Hood River Valley Nordic was joined by Summit, South Bend, Redmond, St. Mary's Academy, and Corvallis at last Saturday's Teacup Classic race, hosted by St. Mary's Academy. The morning brought numb fingers and rosy cheeks, the sky was clear, it was a cool 7 degrees, and no wind was present.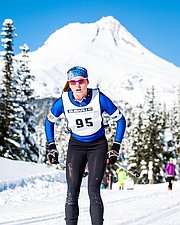 The day began with the girls 5k interval race; the boys followed. The course was a combination of fast downhill and slow grueling climbs. With temperature fluctuating heavily, the shade was 13 degrees, while the sunny spots were 25 degrees or warmer, making the waxing difficult and speed inconsistent.
HRV Nordic's new recruits shined despite the snow conditions, with Aiden Wood placing 36th and Leo Kissinger placing 53rd in the boys' race. Alina Watt placed 24th, Celia Acosta in 26th, Silva Sankari in 29th, and Lyric Emmons in 34th.
Veteran skiers placed well with Elkin Parker coming in 12th, Muir Emmons in 15th, Finn Peterson in 16th, Jesse Wiley in 20th, and Ben Kaden in 22nd. On the girls' side, Daisy Dolan placed eighth, Samantha Thompson 19th, and Davis Mackintosh, 65th.
Team scores put HRV in third place behind Summit and South Bend's fantastic scores. After the 5K short course, relays were held. Each school presented teams of three for varsity and JV races involving a one-lap sprint of a 1K loop on the Stash Tea Time trail. Fun was had in the warm sun as racers attacked the course, vigorously double-poling to assure their respective teams the lead.