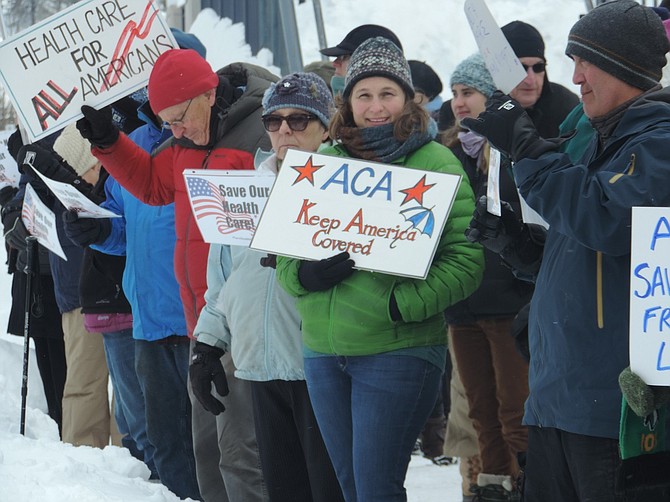 More than 80 people attended an outdoor rally for health care Sunday in Hood River, braving 15 degree weather and standing in the snow at Overlook Memorial Park at Second and State streets.
The event was one of many throughout the United States in a coordinated day of action to show support for the Affordable Care Act (ACA). People of all ages joined chants and held up printed and hand-made signs protesting Republicans' planned dismantling of the ACA (aka Obamacare).
"Single-payer now!" gained the largest volume and applause among the chants.
Organizers read a joint statement from Senators Jeff Merkley and Ron Wyden, both Democrats, supporting the ACA and committing to work to preserve the benefits it has provided. Rep. Greg Walden, a Republican who lives in Hood River, did not provide a statement, according to Bonnie New, who organized the event with fellow Hood River resident Fran Finney.
Finney said, "I have family and friends that will lose health care if the pre-existing conditions clause is scrapped. Preventive care and equal care for women are imperative and cost-effective, as is mental health care. Plus, we have the slippery slope potential of cuts in Medicare and Medicaid."
Rebecca Brochu attended the rally and stated, "I do not want to lose Obamacare because I am self-employed and cannot yet afford health insurance otherwise. I appreciate tremendously the preventive care that I have been able to access through the program."
Robbie Lapp of Parkdale said, "The health of the whole community depends on the health of each of us. We need access to medical care that Obamacare provides."
More than 85 people submitted written testimonials explaining why they would not want to lose benefits they have received from ACA, some online and some writing them at a table set up on the sidewalk at the rally.
Medical providers spoke, saying the ACA literally saves lives, noting that many Gorge residents are facing serious health situations that could go untreated without the ACA or equivalent.
"I don't ever want to have another patient suffer and possibly die from a lack of access. I have been a primary care provider for 21 years and before the ACA, I saw this happen repeatedly to care," said Jennifer Hanlon-Wilde of Hood River, a nurse practitioner.
"It's fair and provides hope to every American," said one speaker.
Rally participants' hand-made sign messages included "ACA saved my friend's life," "Protect Women's Health," and "Health Care is a Human Right."
Other comments included:
"I don't want to lose my insurance coverage! I have previously been denied coverage because of a 'pre-existing condition.'"
"I am pregnant and don't want to lose coverage of pregnancy related expenses ... or have my pregnancy be considered a pre-existing condition."
"To build anything close to a community of well-being, everyone must have access to affordable health care. It needs to be a foundation and a right guaranteed for every resident. It is a step toward the single payer plan that really breaks the lock of profiteering pharmaceutical interests."
"Under the Affordable Care Act, children's vision was defined as one of the 10 essential health benefits. This means children can now receive comprehensive eye exams under their medical plan. Every child deserves to see."
"I am a young woman who depends on my mother's health insurance. I'm worried about having to find and afford my own insurance years before anticipated."
"My son was diagnosed with cancer shortly after his first birthday. This pre-existing condition made him uninsurable before the ACA."
"We recently had a conversation with our doctor about the ACA. He told us that he is seeing hundreds of patients that lived for years without healthcare."
"I have a heart that thinks it is a drummer in a reggae band, knees that look like rejects in Geppetto's shop, lungs that suck (ineffectively, alas) and take medications for all three. Repeal of the ACA will render people like me to bankruptcy, homelessness, and an early death."
"When my COBRA eligibility ended in 2013, I hadn't been a resident in Washington long enough to get health insurance right away. With a congenital heart defect and gap in coverage I was not insurable, but now I have Obamacare."