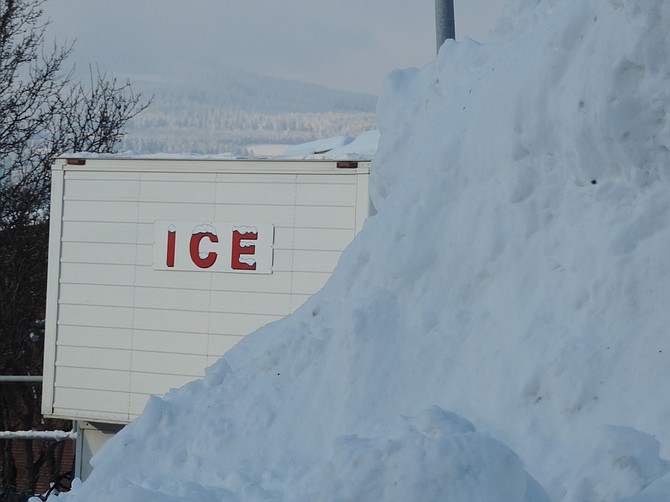 NEWS ITEM: "The Coast Guard Cutter Polar Star arrived at the National Science Foundation's McMurdo Station Tuesday after cutting a resupply channel through more than 60 miles of Antarctic ice. The Polar Star is America's only operational heavy icebreaker that is capable of conducting the Antarctic resupply mission ..." Writing this on Thursday, if feels as if the way things have been going, we might need the Coast Guard here in the Gorge.
Envision the rescue call:
"The Polar Star is now rounding the bend at Viento! We're saved!"
Everything's closed. Everything's cancelled. That might as well be the News' mantra here in this frigid, grinding mid-January.
Trisha Walker worked throughout Tuesday through Thursday posting notices online about the long and seemingly-endless string of cancelled or postponed meetings, events, speakers, parties, classes, sessions, seminars, workshops, and confabs of all types.
Confab is old newspaper-ese for a meeting. Of course, no one calls anything a "confab" anymore.
But if they did, this week it would be cancelled.
In fact, I looked up the word confab and learned it is short for "confabulation," which means both "casual conversation" and "a plausible but imagined memory that fills in gaps in what is remembered."
As such, I definitely think "confabulation," if not "confab," should come back into use. For starters, it is a lot of fun to say. That, and its meaning — both of them — is still relevant for our times. We all engage in confabulations, and is not "a plausible but imagined memory" one way to describe what's happening to us all? Everyone's schedule is off-kilter between cancellations and closures and the extra time and effort it takes to do something as simple as drive across town. Or walk 50 feet from your front door to your car. I definitely have gaps in what is remembered.
It was so slick in our front driveway Wednesday afternoon that I took up our snow shovel (actually, a heavier beast designed for gardening, but it works great) and made my way from car to front door and back by using it as a combination cane and ice breaker.
The Polar Star was not available.