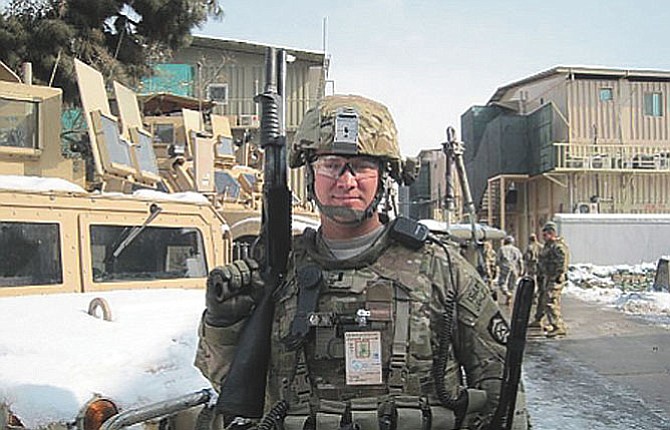 Fifty members of an Oregon National Guard unit with a presence in the Gorge travelled this week to Washington, D.C. to support the inauguration of Donald Trump as the 45th president of the United States.
Capt. Brian Fike, commander of the 1186th Military Police Company, which has one platoon in Hood River and others in Salem, said the citizen soldiers are augmenting the District of Columbia National Guard as part of a joint task force.
Crowd management, traffic control and communication are duties that just a couple of the duties that military police train for, he said. The Oregon soldiers will support events such as the opening ceremony, swearing-in of Trump and Vice President-elect Mike Pence, inaugural speech and parade, as well as other public activities.
A crowd of 800,000 to one million is expected to attend the inauguration, which will draw both supporters and protesters.
More than 7,500 National Guard soldiers and airmen from 44 states, three territories and the District of Columbia will be present to help with crowd management, traffic control, communication, security, medical evacuations and any other support that is needed.
All Guard forces supporting the inauguration have been sworn in as special police by the D.C. Metropolitan Police Department, but will not be armed.
Fike said the Guard routinely support civil authorities during major events and have been trained to seamlessly integrate with partners from numerous law enforcement and civic organizations.
"We're here to shore up and help out anytime something happens," he said.
Fike took charge of The Dalles armory as a second lieutenant from 2010 until spring of 2011. He left to assume a platoon of MPs and train for a 2011-12 deployment to Afghanistan.
In November, the MPs replaced an infantry unit that had trained out of the Hood River Armory.
"It's nice to be back in the Gorge," said Fike. "The people here are great and they are very supportive of the Guard, which is greatly appreciated."
---
According to information provided by the Guard's public affairs office, citizen-soldiers have been supporting presidential inaugurations since April 30, 1789. At that time, local military members and U.S. Army and Revolutionary War veterans formed an honor detail to escort Gen. George Washington during the procession from Mount Vernon, Va., to his inauguration ceremony in New York City.
The Guard has continued the tradition of inaugural support ever since.
Over the years, Guard involvement has grown and is designated to honor the commander-in-chief, recognize civilian control of the military and celebrate democracy, states the Guard's Jan. 17 press release.
Fike said MPs are mixed-gender units, which put female soldiers on the front lines of combat long before a national discussion about the role of women in combat began.
While in Afghanistan, MPs of the 1186th handled prisoners, collected and disseminated intelligence information, provided base defense, performed reconnaissance missions, and provided security for high-value assets.
"We rolled heavy out there," said Fike of the well-armed vehicles the MPs travel in.
On the domestic front, Fike said MPs are trained to respond to both natural and manmade disasters.
He said strategically, Hood River is a good place to have an MP unit because quick response can be provided to either Portland or more rural parts of the state in the event of a major earthquake or other catastrophe.