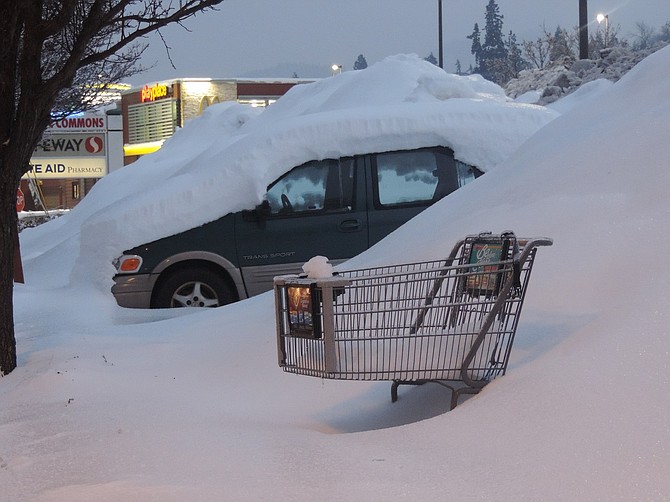 Giving into the juggernaut winter, here is an all-weather, chains off edition of The Porch, asking the question: Will we now add "Yaktrax" to that list of standard Hood River equipment?
WELL DONE: City put up "closed" signs on the Second Street stairs, but someone carefully shoveled all 416 steps. (Could it be the same person who several years ago laboriously numbered the steps — each one — in blue chalk, labeling them 1-416 going up and down, and in the middle the interval numbers between each section of road? I tried to find this out two summers ago and never could learn the author.)
WELL SAID: "I shouldn't have taken the shortcut." — A skier after tumbling over the sheer 20-foot embankment on the south side of Serpentine, finding it much steeper than expected.
MAROONED: Consider the green Pontiac Trans Sport in front of Safeway. (Photo.) The van has been engulfed in towering piles of snow for two months. Some folks have left their cars parked along roads, by choice, but this car is just plain trapped by tons of snow, and has been since around the time people were starting to put UP their Christmas trees. An added forlorn note is that the van is not alone; for weeks it's had a shopping cart sidekick, also waiting for the thaw.
IS THERE NO greater futility than shoveling your walk, tossing the snow onto the frozen mounds already surrounding the trench, and watching the snow slide right back down?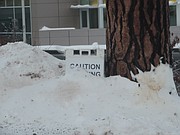 FROZEN IMAGES: Woman "walking" her dog on May Street, while on skates … pools of water on lobby floors and counters … doctor's office with narrow shoveled path to its front door, not wide enough for a walker … hatchets, axes, pick-axes, and sharp garden tools used to break up ice … restaurant worker helps motorist get car unstuck by bringing out a large kitchen floor mat as gripping surface for the tires … the Hospital's "Caution: Sidewalk Stripes Are Slippery When Wet" sign boards (photo) at May and 12th, long covered in snow, the crosswalks virtually inaccessible … intrepid snow shovelers and snow-blowers … postal carriers in shorts despite 20-degree weather … couple moving into a new home with basic furniture, all they could carry over the snowdrifts surrounding their house … Heights restaurant and store owners meeting produce delivery people at neutral locations when the drivers could not get up the hill … parking lot periodically closed at Kickstand Café/Dirty Fingers bicycle repair, due to tricky access even without piles of snow … snow crews sliding on their rears down mountains of parking snow, or jumping from a roof they had cleared, onto deep piles …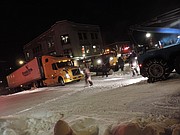 HE WOULD KNOW: "These guys either don't want to or don't know how to chain up," said tow driver Jose Guzman (photo), who spent three hours in his heavy-duty rig helping a semi up the First Street incline in front of Celilo Restaurant Jan. 9.
DIS-PATCHES: Driving up the smooth, well-graveled 13th incline at Sherman, it was a wonder that suddenly the car was shaken by a brief string of bumps in the road. The reason was clear later in the day: a homeowner was clearing his driveway and tossing snow onto the road. Each shovel-full turned into a potent little bump. This made navigation suddenly difficult coming up the hill, but is little worse than cases where the private property owners plow the snow off their property and across the street, creating a six-foot berm directly in front of a stop sign, or the mountain that literally takes up half the street at 10th and June next to May Street School. We all wonder where to put all that snow …
(Post Script: that same 13th Street homeowner was again seen Wednesday shoveling his drive – and tossing the snow onto his own yard.)
STUCK, NOT PARKED: Verbatim email from Deborah Jaques: "Jan. 12 — A Greyhound bus sized private tour bus is stuck at the corner of Park and Montello. Can't go up, can't go down. Sparks fly from under the tires when the driver attempts to drive ahead. It's just a block east of PHRMH's new parking garage."
POWER PLAY: For Paul Lindberg, coming home to the snow was like … going home to Minnesota, because going home to Minnesota at Christmas was like … being in Oregon?
Paul and his wife, Shelley Toon Lindberg, traveled to Paul's home state in hopes of seeing a good ol' fashioned freezing holiday time in the Land of 10,000 (usually frozen) Lakes. Instead, it was mild and rainy, at least until the last few days of the visit, when conditions did chill down enough so that Paul could pursue his love of hockey by knocking a puck around the pond on his trusty skates. He got in some ice time but then —snap. One of the skates broke.
"I thought, where am I going to get a pair of skates in Oregon? I'd better get another pair while I'm in Minnesota," Paul recalled, never imagining he'd get more use out of them in Oregon than in Minnesota. But that, happily, is what happened. Returning home, Paul was among the many ice mavens who found a rare haven along the Columbia, slapping pucks and slicing figure-eights on The Hook and Nichols Basin.
To paraphrase Rodney Dangerfield, they went to the waterfront and a hockey game broke out.