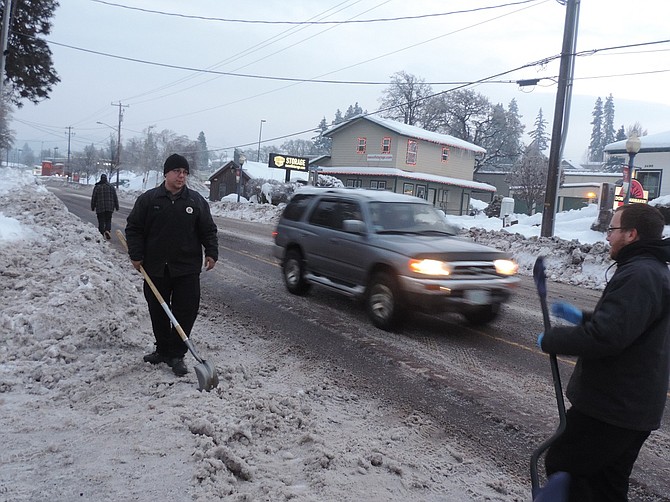 Hopes of a mid-week thaw were dashed by persistent freezing rain that became sheets of ice throughout the Gorge, prompting officials to close Interstate 84.
Authorities shut down the highway for about three days between Hood River and Troutdale — a roughly 45 mile stretch — stranding truckers and travelers. Local schools, government offices, and many businesses shut their doors.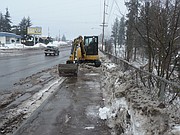 Local and state crews scrambled to clear roads of debris and snow , and get the highway grid back in action — I-84 reopened at about 11 p.m. Thursday .
"Hats off to ODOT, the Port (of Hood River) and all the other folks that helped with this Herculean effort," Hood River County Emergency Manager Barb Ayers said Friday, after the highway was reopened.
Ayers noted there's still heavy accumulation of ice on some sidewalks and roads, despite the improved conditions overall. Drivers are advised to carry chains or tractions tires. Warmer temperatures have emerged, with snow falling Friday morning.
Forecasts say Hood River will pick up an inch or two of snow over the weekend. Highs will be in the low 30s.
The mid-week storm hit the west Gorge the hardest, with Cascade Locks getting the full brunt of icy and windy conditions. Trees toppled onto key powerlines. About 200 households went without electricity for two days amid sub-freezing temperatures.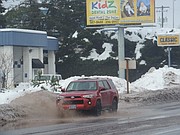 "We have had multiple power outages due to ice and tree limbs knocking down power lines," City Administrator Gordon Zimmerman said. By Friday morning, most users' power had been restored, he said.
However, about 60-70 people to the west of town were still awaiting service. (The city operates its own public electric utility that supplies customers in the city and surrounding area.)
The City of Cascade Locks requested emergency aid from the State of Oregon via Hood River County to help repair their electrical infrastructure. The agency wasn't able to match up resources for local aid, Zimmerman said, so Cascade Locks and ODOT crews led their own recovery effort. The city brought on three emergency utility crews to help restore service.
Across the river, Washington State Route 14 also met challenges. An avalanche slid down onto the roadway near Dog Mountain Wednesdaymorning,promptingofficials to temporarily close the highway from Washougal to the Hood River-White Salmon Interstate Bridge. Fallen trees continued to hamper drivers.
Traffic on the bridge created a serious jam Thursday evening, the port noted, due to truck weight restrictions on Highway 14 that forced the vehicles to turn around.
Oregon State Police spent much of the week responding to crashes. According to police logs for the week of Jan. 13 to Jan. 20, the agency took report of eight motor vehicle crashes in Hood River County and 14 in Wasco County . That includes wrecks on I-84, Highway35, and Highway 197. Most were non-injury accidents.
Weekend cancellations
• The Hood River Library Children's Library renovation celebration set for Saturday, Jan. 21, has been canceled.
• The 2017 Hood River Chamber of Commerce Member Appreciation Gala, set for Saturday, Jan. 21, has been postponed due to ongoing weather events. New date will be announced shortly.
• SAT testing at The Dalles High School, scheduled for Saturday, Jan. 21, has been postponed to Feb. 4 at 7:45 a.m.
• The FTC First Robotics qualifier events, scheduled at Hood River Valley High School this Saturday and Sunday, Jan. 21-22, have been combined into one big event for Sunday only, noon to 5 p.m.
Volunteers are still needed for a variety of jobs, ranging from Dean's list interviews, judges and referee assistants. Time commitment varies from all day to just a few hours. If you can help, call Jeff Blackman at 541-806-0505.
WEEKEND WEATHER OUTLOOK CALLS FOR MORE SNOW IN THE GORGE
National Weather Service: Snow began Friday morning and was expected through the night with a high in the low 30s and an east wind of about 5 to 7 mph.
New snow accumulation of 1 to 3 inches is possible.
On Saturday, rain and snow showers are predicted with snow level at 1,000 feet and highs 35 to 40; chance of precipitation 55-75 percent through Sunday.
Snow showers could persist through Sunday.
•
Hood River County Emergency Management public information line — 541-387-6941 (recording only). This will be used for regular emergency updates.
Driving on ice and snow: brake slowly and never slam on the brakes. Do not use cruise control and avoid abrupt steering maneuvers.
Drivers are reminded to remain at least three car lengths away from snow plows and not to pass them. Snow plows travel well below the posted speed limit.