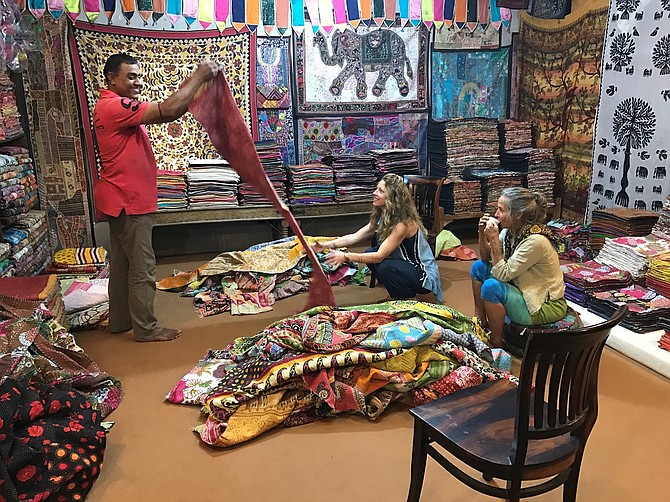 Thirty-one years ago, we bought the dilapidated 1893 house across the street from Bette's on Oak Street, betting that one day (once our kids were grown), we would fashion the old house into a boutique in which to sell treasures we might collect while traveling the world.
The Ruddy Duck opened 11 years ago, stuffed with furniture and handicrafts from Tonala, Mexico. To our utter amazement, it has been contemporary shoes and clothing that sell like hotcakes. Still, we have not lost our passion for collecting interesting items while traveling to exotic places and for injecting U.S. dollars onto struggling village economies in developing countries.
•
This fall, for six weeks, we explored two ancient trade routes of India: three weeks following the silk road of camel caravans through the desert of Rajasthan, then trekking a Himalayan passage to Tibet for three weeks.
Mike Kitts' favorite town in India, Bhopal, is situated smack in the middle of the subcontinent. The building of lakes was a popular solution to water scarcity among India's Maharajas. Two huge lakes occupy a lot of Bhopal's real estate. One far end of the biggest lake is wild enough to support leopards. Veiled women fill the narrow lanes of the old market in the Muslim quarter. From a white bearded, white turbaned shopkeeper in white pajamas, we buy little beaded handbags. Muslim women observing Purdah (a religious and social practice of secluding women in their homes) make these precious evening bags. With one wall open to the lane, the beaded bag shop is typical of tiny market stalls everywhere in India: eight feet wide by 20 feet deep. We find a few dozen bling bangles that might slip over an American hand. The price of both bags and bangles had doubled in two years. India is developing!
•
We traveled next to another lake built by another Maharaja as his hunting retreat. Ten years of villagers piling earth, by the bowlful, yielded a dam strong enough to hold back an impressive little lake. The Maharaja's grandsons stake 11 luxurious tents atop the dam and run a seasonal eco retreat for birdwatchers. We visited the farm growing the gourmet food we were eating in the dining tent. The farming family lived in two grass huts and slept close to the earth. Their organic produce arrived at the tents on a cart pulled by their camel. At night, a hundred candles were strewn about the dam to light the tents. We made a note to collect the cool candleholders when we made it to Jaipur.
Domestic tourists are not guests at the tents; Indians do not like so much quiet as exists in a bird sanctuary. Our driver, Sahil, from Delhi, was too ready to fetch Cecily at the Jodhpur Airport. Four days of peacefulness at the tents was three days too many for Sahil. Closing Mike's Ice Cream at Halloween kept Cecily in Hood River; she met up with us in Jodhpur and began working about ten minutes after landing, jetlag and all.
Village women near the border with Pakistan sew old Saris into small quilts, called "Gudris." We sorted a hundred Gudris from a wholesaler outside Jodhpur who also stocked block printed rugs and pillow covers. Sajil then drove us five hours across the Thar Desert of Rajasthan State to the walled city of Jaisalmer.
Merchant families accumulated great wealth owing to Jaisalmer's location on the camel caravan route between Persia and Delhi. Much of this wealth built small sandstone palaces of open courtyards called "havelis." When shipping ports were established in Bombay and Calcutta, putting camel caravans out of business, merchants abandoned their havelis to move to the big port cities. Hindu Jewelers fled Bangladesh, many settling in the abandoned havelis in Jaisalmer. Downstairs in one such haveli, we spent an afternoon buying jewelry from a family of silversmiths. One can stay inside the fort with old stone cannonballs lining your patio walls. We stayed quite out of town in a hotel whose motto is, "You don't have to be 200 years old to be a palace." Indeed, it was brand new, made to look old, all carved sandstone and marble and ridiculously beautiful.
•
Continuing east on the silk route on our way to Churu, we spent one night in Bikaner in an art deco palace. The Indian army maintains a camel cavalry; an important breeding facility for their camels lies in Bikaner.
In Churu we lodged in a restored palace that was looking very much like a birthday cake. The palace staff kept us busy for three days and three nights of desert sunsets, moonlight dinner on the edge of a reservoir, visiting local tie dye textile operations, a potter, a farm, and most of all havelis, as Churu lies in the Shekawati region: ground central for rich merchant families who erected havelis of all sizes, hundreds of them, most of them now crumbling into the ground though their walls were once covered in gold leaf murals and nearly every slab of sandstone was carved into flowers or geometric designs of intricate beauty. Occasionally we toured a haveli in which the family still occupied some of its rooms … living so simply with no furniture save dining table and chairs and a rope bed.

•
Our final destination in Jahasthan, Jaipur, is its capitol and biggest city. It is in Jaipur that we purchase the bulk of our textile collection. It is in Jaipur that you see so many elephants and camels and tiny donkeys pulling giant carts. We stayed in another brand-new palace hotel. The polo playing prince who built it was in residence; he told us tales of playing polo for two hours on elephants with Brad Pitt.
In Jaipur we bought jewelry from a family with a small factory for faceting and setting gems. Table cloths, placemats, baby quilts and comforters were not easy to find at wholesale prices, but we purchased a small collection. And a huge collection of clutches and totes, block printed cotton sarongs for shawls or swimsuit cover ups. And we did find those spring-loaded brass candle holders; we bought three dozen.
Our final discovery was producer of cotton indigo quilts, also making kimono jackets and Christmas stocking from these quilts. We see that finding cotton blankets is challenging in America where most covers are made of fleece or feathers which some people are finding to be too warm. As well, we could not resist collecting a cashmere "throw" or two.
•
India has been a democracy since 1947. For a hundred years before that, the British Raj ruled India. For thousands of years before that, India was ruled by princely states and some major dynasties like the Mughals. Right up until independence from Britain, Maharajas were still building opulent palaces and receiving support from their realm. The "royals" had their own schools, taught in English; they traveled the world. They were fabulously wealthy, particularly in precious gems.
You can see it right before your eyes: what rulers can accomplish in public works such as temples, forts, palaces, lakes, monuments… when they employ free labor from the subjugated citizens over which they rule. This can be compared to the development now taking place within their democratic system. High-rise apartment blocks and hotels going up everywhere, the people who build them and staff them living in a field next door in cardboard shacks with tarps for roofs. Nothing beautiful is being built. Nothing ancient is being preserved. But the hope and optimism among the masses … that they might rise from the lowest caste to middle class is very much evident and this is democracy working its magic on a billion people.