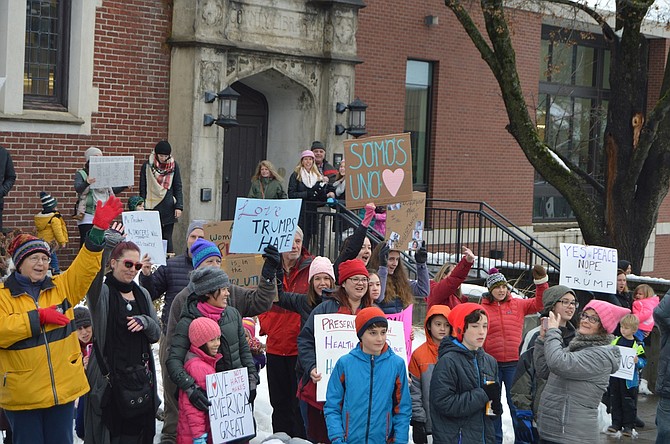 The Hood River Women's Stand on Saturday might never have happened had it not been for inclement weather. In fact, you might call it Plan B.
The Columbia Gorge Women's Action Network organized a charter bus from Hood River to Portland for that city's Women's March on Washington rally — but as the Jan. 21 date grew closer, the weather got worse. With a week to go and Interstate 84 closed, member Kate Dougherty suggested meeting at the Hood River Library at noon instead.
Long story short: The interstate reopened and the charter bus trip was back on.
But the idea for an event at the library stuck with those not able to attend the Portland event. Members quickly advertised by word of mouth, posting to Facebook and getting a press release to the News.
Dougherty was quick to point out that she became leader by default that day (no one else wanted to do it), but she had definite ideas of what she hoped the stand would accomplish.
"I wanted it to be respectful, peaceful, non-threatening and positive," she said. And she knew it was important to keep the message on point.
"It's called a 'women's march' because it pertained to issues women are concerned with," she said. "But (ours) was a stand, not a march — we didn't have a permit (to march), and with the snowpack, I did not want to march for safety reasons. And I wanted to follow the legal protest rules."
Those rules meant the gathering could occur, but marching could not.
Driving to the event with her daughter and two of her daughter's friends, Dougherty didn't know how many people would show up.
"I hoped for more than four," she admitted.
The News estimates there were roughly 200 in attendance — women, men and children of all ages.
"I'm here because I'm raising two boys," said Jessica Vincenzo, who came with husband, Chris, and sons Eamon, "almost 10," and Eli, 3. "I want them to understand that women's rights are human rights, that one, we live in a democracy, and two, when women come together, there is no greater force to unify and energize.
"To stand here with my husband and two boys means the world to me," she added. "I know they will honor women's rights and women's voices."
Chris Vincenzo said he was additionally there "to protect families, protect immigrant families. This community is diverse and interdependent," he said.
"And we want to let our sons know fear will not win," Jessica Vincenzo added.
Ann Harris was "heartened by today's gathering in Hood River and what I saw on TV and across the nation," she said. "Women are coalescing. People are looking at all of the issues.
"I feel like a sleeper who has awoken."
Several members of Hood River Valley High School came to support a variety of issues.
"I'm here because I believe in equality and justice for all," said senior Emily Rodriguez.
Nia Lopez, also a senior, said she came "mostly because I want to learn (from the women) and listen to what is happening in the world — and because love trumps hate."
A couple of women declined to comment to the News about participating out for concern for retribution, but still wanted to come out and show support.
Crowd numbers ebbed and flowed over the course of the hour event that saw cold temperatures and a rather decent downpour at one point. Standing on a high perch of snow, Dougherty announced she was looking for positive chants and didn't mind taking requests. She began by reading the messages on the signs people had brought with them, and ended with the songs "America the Beautiful," "This Land Is Your Land" and "God Bless America," the last two started by marchers.
Honks and shouts from passing vehicles over the hour-long gathering drew cheers from the crowd. Only a couple of negative comments were reported shouted by passers-by.
Dougherty is most proud of how peaceful and positive the Hood River event was — and how no trash was left behind. Some people requested chants that she felt weren't on point with the march's message, and she respectfully declined to lead those. But for the most part, the event stayed upbeat: Chants ranged from "Call your representatives" and "Women's rights are human rights" to "Support public education" and "Civil rights for all."
"I'm glad I live in a community where men come to a women's march," she said. "It was noticeable on TV and Facebook, too — this clearly was not just a bunch of angry women."
She sees the worldwide event as a wakeup call and says organizers of the Women's March on Washington have 10 actions planned for the next 100 days, the first of which is sending postcards to representatives. (Find the next actions at www.womensmarch.com/100.)
"I'm so proud of the world, for having peaceful marches," she said. "If it's true that over 3.3 million people participated worldwide in these marches and they were 100 percent peace marches — if that's not a message to the government, what more do we need to do?"
Her one regret is that the library received a few complaints about people blocking the walkway and doors.
"I'm sorry people were affected negatively," she said. "I never meant for that to happen."