A 21-year-old man from The Dalles was arrested early Friday morning for the fatal stabbing of an unidentified male victim.
Zoey Austin Pike was taken into custody about 4:22 a.m. on Jan. 27 and lodged in the Northern Oregon Regional Correctional Facilities on charges of murder and unlawful use of a weapon, according to a press release prepared by The Dalles Police Chief Pat Ashmore.
In his report, Ashmore said officers were dispatched Thursday to a 517 Liberty St. residence in The Dalles on a report of a stabbing.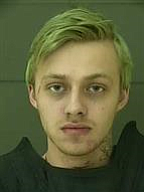 Pike did not resist arrest, said Ashmore.
Officers began administering first aid to the victim until they confirmed that he was deceased. His name will not be released until his family in the Seattle area have been located and notified, said Ashmore.
The Major Crimes Team was activated to investigate the homicide. The team is comprised of city officers, deputies from the Wasco County Sheriff's Office and troopers from the Oregon State Police.
The OSP crime lab out of Clackamas came to the scene to assist in the investigation.
Wasco County District Attorney Eric Nisley said Pike is expected to be arraigned on the charges Monday.
In 2015, Nisley prosecuted another case involving a stabbing death. Esther Wilkerson, 71, of Home Valley, admitted to cutting the throat and stabbing her husband in the neck and causing his death on their 40th wedding anniversary.
The victim, James Wilkerson, 67, was disabled and living at the Oregon Veterans' Home in The Dalles when the homicide occurred.
Esther claimed that she and her husband had a "murder-suicide" plan to end their lives. She took action to cause his death while they were alone in his room on Bravo Wing the afternoon of Oct. 18, 2015.
Her attorneys, Jack Morris and Richard Balsley told Judge John Olsen that Wilkerson was acting under "extreme emotional disturbance" when she took her husband's life.
Nisley said the killing was done in a "very precise and surgical" manner. He said James, as a quadriplegic who was confined to a wheelchair, would not have been able to fight back. He had moved into OVH in 2014 because of his severe health problems.
"There is no evidence she did this out of mercy," said Nisley when Wilkerson was sentenced.
One murder in recent history remains unsolved and that homicide involved blunt force trauma.
Scott Erlenbush, 46, of Dallesport was found dead Aug. 24, 2012, in the AmeriTitle parking lot in The Dalles.
Police investigators say the last report of Erlenbush being seen alive was at the Shell gas station in the 800 Block of East Third Street. He was reportedly a passenger in a vehicle driven by an unknown male. Nisley said the investigation into Erlenbush continues and law enforcement officials follow up on every lead that comes their way.
People who submit tips on the case through Oregon Crimestoppers may be eligible for a reward of up to $1,000 in the event of a conviction. Information may be submitted online at www.crimestoppersoforegon.com or via phone at 503-823-HELP. Tips may also be submitted directly to The Dalles Police at 541-296-2613.