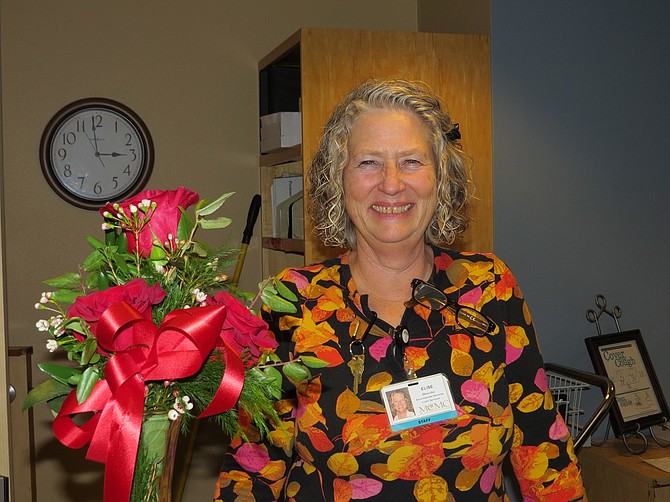 Elise Bailey started smoking at the age of 18 and tried for years without success to conquer the addiction.
"Nothing worked — I even chewed (cessation) gum while I smoked, and I thought, 'That can't be good for me,'" she said.
Lung diseases ran in her family, so Bailey knew it was vital to her health that she stop puffing a pack of cigarettes every day.
Plus, she knew from working in environmental services (housekeeping) at Mid-Columbia Medical Center that the risk of a heart attack is reduced by half about one year after someone quits smoking. The risk becomes the same as someone who has never smoked at the 15-year mark.
Bailey's biggest motivation for a lifestyle change was to keep her young daughter from following in mom's footsteps.
"My dad smoked one cigar a week and he would take the band off and put in on my finger for a ring and then say that I was his little princess," she remembers of her own childhood. "When I was 10, he quit smoking and when I asked him why, he said, 'Because of you. I don't want you to smoke.'"
The problem was that, no matter how bad Bailey wanted to kick the habit, she couldn't stay with any program she tried.
"I tried to quit, and did quit, a couple hundred times — sometimes for half a day," she said. "I was never really comfortable with smoking — I just started doing it because it looked so glamorous when the movie stars did it. And a pack of cigarettes cost only 35 to 50 cents back then so it was a cheap habit."

Bailey finally dug deep and figured out her own way to overcome the addiction. She decided to train herself out of smoking by making the practice as uncomfortable as possible, like a boot camp experience.
Even though it was not really the cultural norm at the time, Bailey began smoking outside, and alone.
Removing the pleasant social aspect of gathering with other smokers, she focused solely on what she was doing.
"I did not allow myself to think about anything other than inhaling and exhaling," she said. "I made it a personal, solitary, unpleasant and lonely experience. I'm a doer so it drove me crazy to just sit there and think of smoking."
She planned how to handle situations when there would be other smokers around, such as how to break time at work.
"I would say that I had something to finish up or look for another reason not to join them," she said.
Bailey didn't tell anyone she was quitting because she didn't want to hear their comments, whether positive or snide.
"You did not want the word to even be mentioned, or thought about. Talking about smoking makes you want to do it — as you think so you become. In your mind, you need to drop it and walk away," she said.
After deciding that smoking added little value to her life, Bailey hung on during bad times when the urge to relapse was strong.
"For me, personally, this was a spiritual issue," she said. "How was I going to explain when my life was over why I had wasted so much time, energy and money on something that brought no added value to my life; that actually took value away? That made me feel guilty and it was exactly what drove me to hate my smoking."
Also on Bailey's training program was avoidance of drinks and desserts, as well as caffeine, that had sparked her craving to smoke.
"I learned to drink water, lots of it," she said. "I ate a lot of vegetables and apples, but I didn't snack then I would want to smoke."
She sucked on ice chips, learned to hum, chewed on toothpicks, straws and gum to fill the desire for a smoke.
"I went on a lot of walks when I was stressed and learned how to take deep breaths to calm down," she said.
Bailey kept her mind off cigarettes at home with crafts and lots of home projects. While at work, she looked for new ways to get the job done better and faster.
"Visit someone and use your mouth to talk. Volunteer. Stay busy," she recommends.
When she had a bad day, and was plagued with cravings, Bailey polished her nails because she couldn't hold a cigarette with wet lacquer.
She brushed her teeth with peppermint toothpaste after eating — a regular smoking time — because the taste did not mesh with tobacco. Milk was another taste that worked as an avoidant.
As with any addiction, Bailey said, you will start another habit — so it needs to be a good one.
She learned that lesson after substituting food for cigarettes and gaining weight that she then had to lose.

Bailey was cranky for the first few weeks and found herself sleeping more. She also fell ill from colds more often the first year, which she believes might have been part of her body's detox process.
It has been 26 years since Bailey went through that painful process. She has never stopped taking for granted the more intense smells and tastes of her nonsmoker life. She doesn't miss the stale smoke smell on her clothes and in her car.
Bailey figures the money she once spent on the habit can now be used for other things, such as a vacation. At $5 per pack (a low price today), she said the savings are $1,825 per year.
Although Bailey provides information to co-workers and friends who smoke, she works hard not to lecture them, which always irritated her.
Bailey simply supplies them with facts, such as research showing that a smoker loses three months of life expectancy for every year of continued smoking after the age of 35-40.
Today, Bailey is in a supervisory role at MCMC, where she has worked since 1976. The more she has learned about how smoking contributes to heart disease, the number one killer of women, and other illnesses, the more thankful Bailey is to have overcome the addiction.
"I used to get a craving every occasionally, but I haven't had one for years," she said.
When a smoker tells her they are thinking of quitting, Bailey relies on an old adage for advice: "If at first you don't succeed, try, try again."