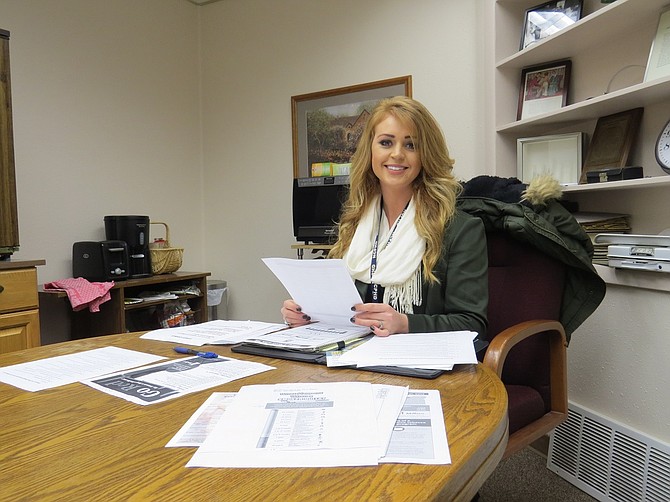 Hayli Eiesland is armed with dozens of facts and stats about why people should quit smoking for heart health and to prevent other major illnesses.
She plans to share some of her information at the Go Red for Women's Heart Health expo on Friday, Feb. 3, on the second floor of Water's Edge, 551 Lone Pine Blvd. in The Dalles.
People from around the region are invited to the expo from 10 a.m. to 1 p.m. Eiesland will be one of the presenters in her role as tobacco prevention and education coordinator for the North Central Public Health District, which serves Wasco, Gilliam and Sherman counties.
Most of Eiesland's statistics are grim, including estimates that $12.1 million in productivity is lost each year in the district due to premature tobacco-related deaths.
In addition, $15.2 million is spent annually on tobacco-related medical care.
There are an estimated 4,200 adults who regularly smoke cigarettes in the district, or about 14.2 percent of the population of 29,500, and 1,485 of these smokers have a serious illness caused by their addiction.
At the state and national levels, cigarette smoking accounts for about one-fifth of all deaths from heart disease.
Smokers have a 70 percent higher death rate from coronary artery disease than nonsmokers because tobacco use is a major cause of atherosclerosis, a buildup of fatty substances in the arteries, which causes them to clog up.
Smoking also decreases oxygen to the heart and other tissues in the body and increases both blood pressure and heart rate. And there are many other life-threatening illnesses caused by tobacco use, said Eiesland.
In fact, she said smoking is the number one cause of preventable death, accounting for 440,000 of 2.4 million deaths annually.
About 37,000 to 40,000 people die from heart and blood vessel disease each year that is caused by other people's smoke – another reason that people should quit, said Eiesland.
"This is a true addiction and I don't think that people who aren't smokers really understand that," she said.
She said nicotine is so addictive that it takes an average of seven times of trying before a smoker can finally kick the habit.
On the local level, she wants the Quit Line number, 1-800-784-8669, posted anywhere there are no-smoking signs.
Eiesland and other health officials are also pushing to get local governments, as well as the state, to require licensing for tobacco products, something required for alcohol and marijuana sales.
That would allow requirements to be put in place about where tobacco products could be displayed in stores. Currently, Eiesland said colorful packages are at the eye level of children and look like candy.
That is especially true for e-cigarettes, which have become very popular among teens due to a diversity of flavors. Studies show that youth seem to be abandoning traditional cigarettes for equally harmful "vaping" practices, said Eiesland.
"It's really alarming. We'd really like our elected officials to do something to protect our youth from these products," she said.
She said Mid-Columbia Medical Center has a smoke-free campus and tobacco use is not allowed on Northern Wasco County Parks and Recreation District properties. The health district wants to see all businesses and public agencies follow these models and prohibit tobacco use.
"There's just nothing about it that's good," said Eiesland.
She is willing to speak to any organization that wants more information and keeps educational resources on hand to provide to interested parties.
Eiesland can be reached at haylie@co.wasco.or.us or via phone at 541-296-7536.