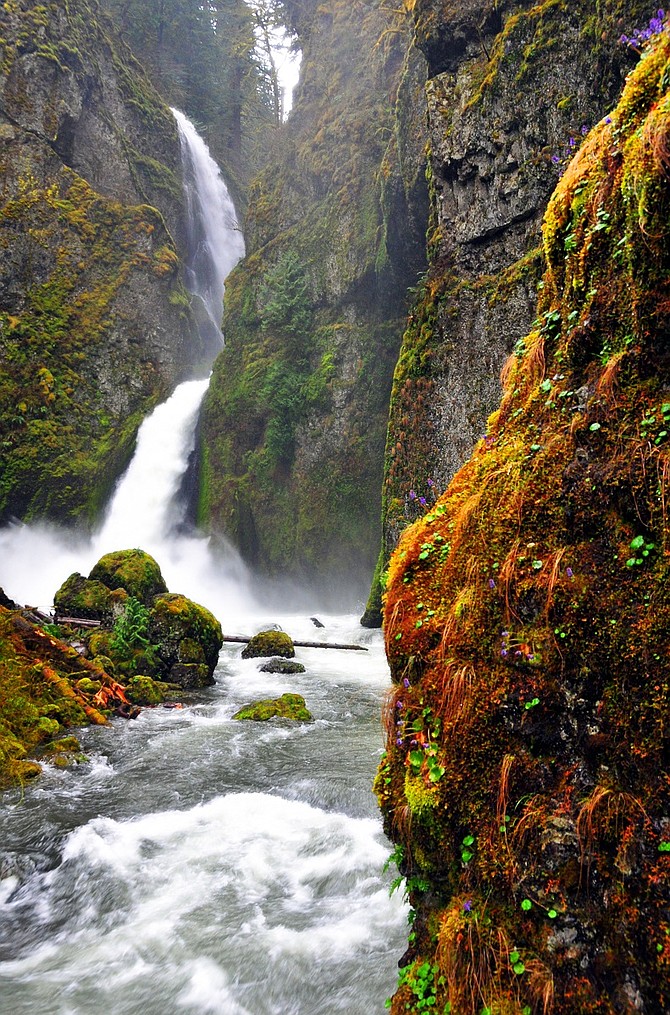 Hood River travel kudos keep coming from the national media. Two weeks ago, Hood River News reported on the Culture Trip website's designation of Hood River as "The Most Beautiful Town in Oregon."
Now, a similar online service, Thrillist, has ranked Hood River on its list, "The Best Small Towns to Visit in All 50 States."
(Notably, the "small towns" range from places such as Helen, Ga., with 536 people, to bustling San Luis Obispo, Calif., with nearly 50,000.) Typically, the towns on the list average something like Hood River's "7,376." (Thrillist also chose Edmonds, Wash., and Driggs/Victor, Idaho.)
Safety tips
Anytime you are hiking, bring the 10 essentials, respect signs and closures, and take precautions near steep drop-offs.
Pack out your pet's waste; although leashes are not required on all trails, they can help keep your pet safe near the many steep slopes and cliffs in the Gorge.
More tips at ReadySetGorge.com.
Says Thrillist of Hood River: "With much respect to Cannon Beach and Astoria … and the high-desert oases Sisters and Bend, no small town captures the beauty of the Pacific Northwest quite like Hood River. The town rises out of the mighty and scenic Columbia River Gorge — one of the most breathtaking natural areas in the West — and climbs steadily into the foothills of Mount Hood. This is a kitesurfing capital thanks to the steady winds, and a gateway to endless wilderness for hiking, snowshoeing, and mountain biking. You can cruise the area's sea of orchards, called the Fruit Loop, or just stroll by the old buildings that make up the hilly, walkable downtown. Oh, and because it's Oregon, there's beer. Lots of beer. Five breweries — including Full Sail, pFriem, and Double Mountain — call downtown Hood River home. That's a brewery per 1,700 residents. No wonder people here are so friendly."
The "climbing steadily" part is interesting, a familiar travel-writing motif that has that vaguely realistic quality even it it's not exactly the case. Also arguable is the "endless wilderness" reference, and local merchants are certainly hopeful people will do more than "stroll by" the historic buildings.
Meanwhile, in waterfall news: msn.com listed the Gorge waterfall trail on its top 10 of U.S. waterfalls, and CNN ranked Triple Falls as second in the American top 10, after Havasu Falls, in the Grand Canyon, Ariz.
Of Triple Falls, this is what CNN had to say:
"High in the Multnomah Falls area of the Columbia River Gorge in Western Gorge, Oregon, is the aptly named Triple Falls. The Oneonta Creek that runs through the Gorge splits into three channels, which make their way around rock formations before they take the 64-foot plunge over the ledge.
"A moderately steep 5-mile round trip hiking trail takes visitors to an overlook above the segmented waterfall, but hikers rarely venture to the base. There are 10 other waterfalls within a few miles, but take the time to see Triple Falls. It's one of most beautiful falls in the Gorge because of its unusual, segmented pattern."
Rounding out the top 10 were Waimoku Falls: Maui, Hawaii; Blackwater Falls: Davis, West Virginia; Shoshone Falls, Twin Falls, Idaho ("Known as the Niagara of the West, the height of Idaho's Shoshone Falls is 212 feet, 36 feet taller than Niagara Falls."); Bridal Veil Falls: Valdez, Alaska; Cascade Falls: Giles County, Virginia; Vernal Falls, in California's Yosemite National Park; Potato River Falls: Gurney, Wisconsin; and Bond Falls: Paulding, Mich.