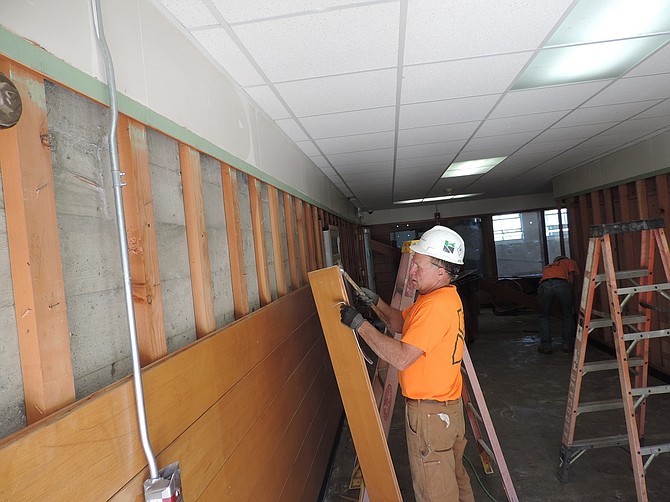 The east parking lot of Wy'east Middle School serves as an important public space, and not just for school activities.
The transformation of that area is the most prevalent, but far from the only, work being done this summer at the Odell school. Fencing around the construction area went up on Friday. It's all part of what will be the most visible construction bond project done this summer by Hood River County School District. Others are at Hood River Middle School, Hood River Valley High School, and Parkdale Elementary.
The Wy'east parking lot will be inaccessible for the rest of the summer; contractor Kirby Naglehout Construction is working with fair manager Clara Rice to provide alternate parking at the north end of the Wy'east campus.
Crews moved in right after school got out, June 17, and subcontractor PAS of Portland completed asbestos abatement July 1. Kirby Naglehout employees are now busy with demolition.
Removing asbestos meant pulling up all the old flooring and carpeting from the rooms being remodeled, to create a clean substrate for new flooring.
"It's in everything," project supervisor Mike Carter said. "Products we're installing could need to be abated 30 years from now." For now, "we're getting all the nasty stuff out of the building," down to glue used to adhere flooring, and the putty in the window frames, all laden with asbestos.
Inside, demolition encompasses salvage; materials such as the foot-wide hallway panels, original from the 1952 construction, are being carefully removed and stored.
"It's beautiful material," Carter said. "We're removing and salvaging as much as we can and reincorporating it back into the school."
In addition to renovation of existing spaces, also coming to Wy'east this summer are new science labs, a "Maker Space" — it's a wood shop for the 21st century — also known as the STEAM wing (Science Technology Engineering Art and Mathematics), along with two new classrooms.
In addition, by fall the school will feature a covered commons area connecting the Performing Arts Center to the main building, with seating areas and interactive space. Rollup doors let the outside environment complement the instructional space.
Crews are also revamping two classes on the west side, and creating a north-end outdoor learning area including a garden and, potentially, a solar complex to create energy.
Getting back to the east exterior of the building: the area is virtually unrecognizable now (photos this page.) The redesign meant pulling out the garden areas next to the main entrance and the library exterior access.
Carter calls it "a major gut in front of the school.
"It wasn't much for a teacher-parent drop off," Carter said. The emphasis on the new design is to segregate parent-teacher parking from bus drop off, with a canopy for protection from the rain.