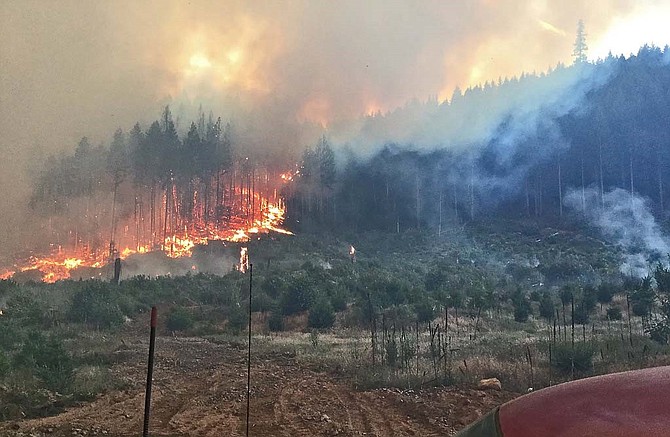 Heralding the official start of fire season, a handful of large wildfires have burned in the Gorge since July 4.
The Dry Creek Fire, burning about 12 miles north of White Salmon since Friday, was still not contained at 322 acres Tuesday morning, staff at the multi-agency team leading fire suppression reported.
Passersby and residents from as far as Hood River saw a cloud of smoke pluming above Mount Adams over the weekend.
Officials ordered road closures due to the fire danger. Highway 141 — the route that leads north past Husum — is closed at BZ Corner and Trout Lake. A detour between the communities is available through Glenwood. The closure did not affect motorists on State Route 14, which remained open.
Flames broke out around 10:30 p.m. Friday, July 7. The following day, the fire spread rapidly due to gusting winds, low humidity, and high temperatures. It scorched steep and timbered land.
A Level 1 evacuation notice was issued for people living north of Meyers Road and south of Pine Flat Road on both sides of Highway 141, meaning residents should be on alert.
The blaze peaked at 500 acres Sunday, but crews made strides to check its growth — a Monday report estimated the fire's perimeter at 15 percent contained. About 385 total personnel were assigned to the incident, which has combined ground and aerial approaches to combat the wildfire.
"Fire will continue to move northwest, and west, in the timbered drainages. Fire is mostly wind and terrain driven at this time," said the Northwest Incident Management Team, led by incident commander Shawn Sheldon, in a Tuesday web post.
Authorities are investigating the fire's cause, which is yet unknown. Crews have slated an estimated containment date: Monday, July 24.
In westernmost Hood River County, a seven-acre fire continues to smolder atop a basalt cliff just west of the popular Eagle Creek Trail.
The fire, dubbed the Indian Creek Fire (not related to the Hood River pedestrian trail), ignited Tuesday. It did not increase in size over the weekend; firefighters continue to monitor the fire while a helicopter drops water on the fire as needed.
The Forest Service has set up signs marking the following closures:
Eagle Creek Trail No. 440, starting at the boundary with Mark O. Hatfield Wilderness (to the north) and extending south to its terminus at the junction with the Pacific Crest Trail. The closure will include adjacent trails Eagle Benson No. 434, Indian Springs Trail No. 435, Eagle Tanner Trail No. 433, and Tanner Butte Trail No. 401 south of Tanner Butte.
"It is a difficult balancing act," said Janeen Tervo, Hood River District Ranger, regarding the competing challenges of allowing visitors to access the trail while also providing for public and firefighter safety at the active fire.
The Mt. Hood National Forest will continue to reevaluate the closure to determine when it is safe to allow people into the area again.

The fire is expected to continue to burn for the foreseeable future, the Forest Service said, and a cause hasn't been determined.
On Monday afternoon, another wildfire — Hartland Fire — broke out in Klickitat County about seven miles north of Dallesport. Officials with Washington Department of Natural Resources said on Twitter that evening, "14-15 acres, but making good progress." Three engines and a helicopter responded to the scene. By early next morning, the fire had been extinguished.
Fire conditions
Jim Trammell, West Side Fire Marshal, said conditions in the Mid-Columbia have ranged around "Moderate" in severity. He advises homeowners to keep down grass and brush in the perimeter of their homes — especially around electric fences, which can "short out" and cause unexpected fires.
"It's a good learning experience," Trammell said at a pasture fire in south Hood River Monday evening as crews sprayed jets of water on scorched patches of grass.