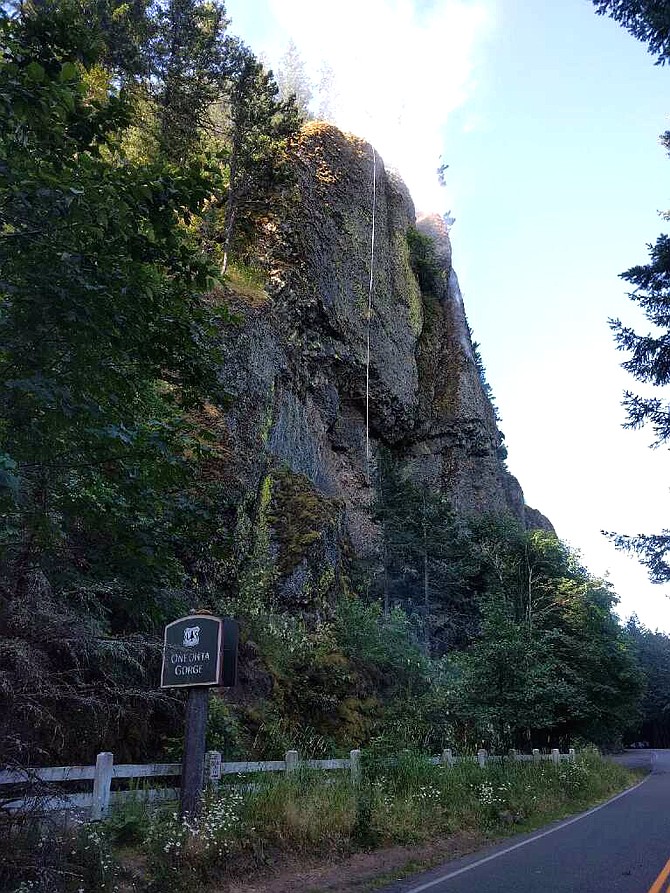 A one-acre fire on the cliffs west of Oneonta Gorge has closed the Historic Columbia River Highway and surrounding trails until further notice from the Mount Hood National Forest Service.
To protect public safety, Oregon Department of Transportation has closed U.S. Highway 30 between Multnomah Falls and Ainsworth State Park. However, Multnomah Falls remains open to visitors.
The fire started between Oneonta Trail and the cliff west of Oneonta Gorge late Tuesday July 11, and is currently estimated at one acre, MHNF said in a news release.
As of Wednesday, July 12, the fire is not contained, but Forest Service firefighters are using helicopter bucket drops and a hose lay to suppress it.
The Forest Service has closed hiking trails surrounding the fire, including:
Oneonta Trail #424, Horsetail Falls #438, and Gorge #400, making Horsetail Falls and Triple Falls inaccessible to visitors until further notice. A Temporary Flight Restriction (TFR) is in effect over this same area from ground surface to 2300 feet above ground level.
People should refrain from flying drones in vicinity.
"Remember, if you fly we can't," the news release said.
Visitors are asked not to enter the closed area to protect their own safety, as well as that of the firefighters and pilots.
Oneonta Gorge is a slot canyon located just south of Highway 30, in the part of the Gorge waterfall corridor within Multnomah County.