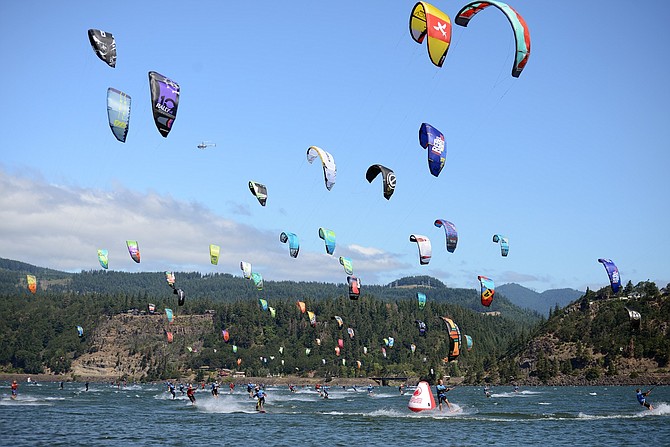 The ever-popular Kiteboarding 4 Cancer (KB4C) event returns this weekend for an 11th running, turning the Hood River Waterfront into a sea of colorful kites as participants do laps on the Columbia to help raise money for those who have survived cancer, as well as those still fighting the disease.
Event organizer Tonia Farman started the event in 2007 as a tribute to her brother, Scott Farman, who passed away from leukemia at age 19. Money raised from the event and donations goes to Camp Koru: an adventure retreat camp for cancer survivors and battlers aged 18-39. The event has continually drawn more supporters and more donations every year. In the first iteration of KB4C, Farman expected the event to be a one-off and raise $5,000. It ended up raising $30,000 that first year, and over the life of the event, has totaled over $1 million in fundraising, crossing that threshold last year. It is now known as North America's largest kiteboarding event.
Much of the event will be the same as last year. The fun begins Friday evening with an athlete and volunteer dinner at the Hood River Event Site, with food provided by Apple Valley BBQ and Ahi's Ohana Catering. On Saturday, Taiko drummers will open up the main event, the kite derby race, which is anticipated to get going at 10:30 a.m. and go throughout the afternoon. Other live music acts will follow, as will the annual silent auction, live auction, and Boards of Hope exhibit/auction, where recycled athletic boards are turned into works of art. Sunday sees the return of the Relay on the Green and the Never-Ever-Kiteboarded-Before race.
However, there will be some changes and some new elements this year, including:
• A kickoff party at KickStand Coffee & Kitchen Friday evening at 7:30, featuring live music, a caricature artist, and a live graffiti artist.
• A rubber ducky race Saturday at 1 p.m. Farman explained that participants will purchase rubber duckies that vary in size from a couple inches tall to four feet tall (Farman said the big ones cost more; if wind conditions are desirable, she expects the larger duckies will be able to catch more wind and move faster than their fellow fowl), and race from the west jetty to the east jetty at the Hood River Waterfront — about 100 yards, Farman estimated.
• Letters to Me Booth. Hood River resident Gavin Behr has spent the past several years compiling a book called "Letters to Me," telling the true stories of 49 cancer survivors from 49 different countries around the world. With each story is also an illustration drawn by a child with cancer, also representing 49 countries. Behr started the project in memory of his sister, Jennifer, and his mother, Hilda, who both died of cancer. Behr will have a booth at KB4C to promote the book and has a Kickstarter (kickstarter.com/projects/letterstome/letters-to-me) that went live this week to help with costs associated with printing and distributing the book. Behr says on the book website (letterstome.org) that "15-percent of our global in-house online retail sales go directly towards cancer research, cancer organizations and other important cancer causes."
• A slight rebranding. KB4C's parent nonprofit, Athletes 4 Cancer, is now called "Project Koru," with Farman explaining that "Camp Koru" more clearly represents the focus of the nonprofit.
One major change that Farman was originally considering and is no longer on the table is moving KB4C from Hood River to San Francisco. Farman explained that the Bay Area has a contingent of kiters who come up to the Gorge for KB4C, and she wanted to get a larger reach for the KB4C mission.
However, that did not sit well with Gorge residents; Farman noted that "we received so much overwhelming feedback" from people requesting the event stay in the Gorge that Farman decided to nix the move, although she said she does plan to add a KB4C event in the Bay Area at some point.
"If anything, that confirmed for us that this event will never leave Hood River, because this community is so ingrained into that event and seems to truly love that event on many levels," she said. "I know people who plan their summer vacation around Kiteboarding 4 Cancer… It's become an event that people really go to no matter what is happening on their weekend or in their daily lives in the summer. Whether there's wind or not, it doesn't matter — it's not about the wind."
•
For more information on KB4C and for the complete schedule of events, go to kb4c.org.