DaisyDoo has been selected by volunteers as Adopt A Dog's adoptable pet of the week. This dog never stops smiling. She's about 8 years old, and she's got that spunky Westie terrier in her and the mischievousness of a Pug all rolled into one happy, peppy girl! DaisyDoo weighs in at 15 pounds, but her vet would like to see her drop a few. DaisyDoo would not!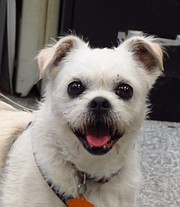 She's a playful, sparkly pup and has no problem finding something to play with ... sometimes it's a squeaky toy, sometimes a rolly ball ... sometimes a piece of paper will do the trick! She keeps her foster family grinning and wondering what she'll do next! DaisyDoo LOVES kids, but she likes to romp around and jump up, so little kids might not be a good fit. She's lived with 8-year olds and up, and was fine.
Leashed walks are, shall we say, a work in progress — she has too much to explore to go slowly! DaisyDoo is a cuddler, lover, car ride enthusiast, and treat motivated gal. Cats? Sure, what the heck. She ignores them, unless they're tossing treats her way!
DaisyDoo is current on shots, microchipped and spayed. The adoption fee for DaisyDoo is $205. The fee to adopt is charged to recoup standard veterinary expenses. We are a small, busy group of volunteers, and, since many of our dogs are in foster, we ask that applications be turned in from our website (hoodriveradoptadog@gmail.com) ahead of time; we'll be in touch to schedule a meet and greet and answer questions. Adoption hours at Hukari Animal Shelter in Odell, 3910 Heron Drive, are Wednesday, 5-7 p.m. and Saturday, 9-11 a.m.
We offer 24PetWatch microchips, which include free registration into the 24PetWatch pet recovery service. For more information visit www.24petwatch.com or call 1-866-597-2424.