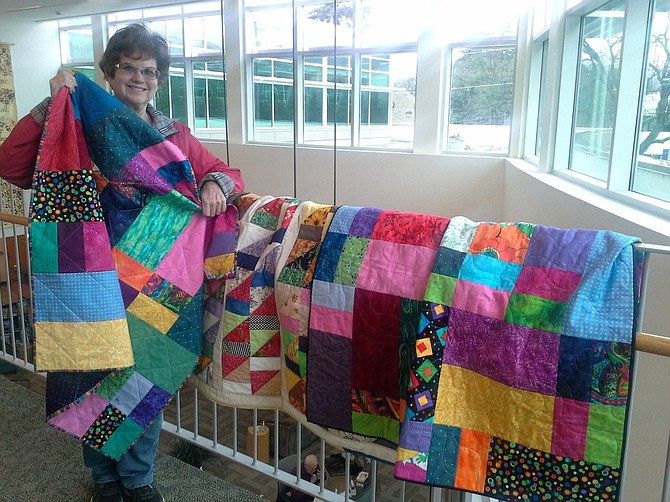 The Comfort Quilt Project is now underway by the Spiritual Care Department at Providence Hood River Memorial Hospital. Mirroring the Passage Quilt Project begun at Providence Portland Medical Center some years ago, this ministry gifts patients nearing the end of their lives with a comfort quilt.

While serving their year-long CPE residencies a handful of years ago at PHRMH, Chaplains Andrea Cano and Sung Man Kim were introduced to the quilt ministry managed by the PPMC Spiritual Care Department and observed how meaningful the quilts were, especially for families.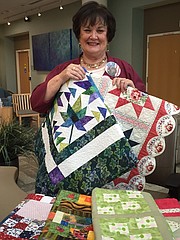 They knew that the quilts would be as well received in Hood River.
The first step was identifying quilters in area who would be willing to be part of this effort. Cano discovered that there was a Columbia River Gorge Quilters' Guild and made sure to attend the Guild's Annual Quilt show held at the Hood River National Guard Armory last October.
"I was so awed by the creativity, beauty, and skill demonstrated in quilts of all sizes, motifs, colors and textures, so I hoped the guild might have members willing to produce a handful for us," Cano said.
By December, Cano sent a letter to Kim Vogel, president of the guild, to discuss the possibility, and in early 2017 between snow and ice storms, spoke on the phone and met several times with Vogel to talk about how quilters were integral to this project, the unique dimension of spiritual support to which they would be contributing, and ways the project could take shape. It seemed doable, agreed Vogel, especially with instructions that standardized the quilt making.
Quilts are essentially lap size, 42 inches square, from 100 percent cotton fabric, with lightweight batting (cotton or polyester), cotton thread or cotton covered polyester thread, embroidery floss or perle cotton for tying.
They also sport a small square label on the back to say where the quilt came from and how to care for it. Quilts must be mobile and light enough as not to complicate or compromise medical care.
Vogel spoke to guild members, and by the end of winter a stack of quilts arrived and continued to be dropped off at the hospital through spring by Vogel and other quilters. In addition, Hood River resident Cindy Sheppard also called the Spiritual Care department and left word that her late mother-in-law Betty had been a quilter, and Sheppard had boxes of remnants to donate to the project. Originally from Iowa, Betty quilted for over five decades, as she married, packed fruit, worked as a hair dresser, and raised a family. "Quilting was her passion," explained Sheppard.

Cano promptly contacted Vogel for the guild to receive the donation, who shared that "Betty was well known in the valley as a traditional and prolific quilter, who hand-pieced large quilts."
In May, Cano was invited to the guild's quarterly meeting held in Stevenson, Wash., where about 75 quilters came from throughout the Gorge, and as far as Salem and Battle Ground, Wash. There she shared poignant quilt stories and explained how quilters with their designing, blocking, basting, batting, stitching, and more, were imbuing something very special.
"I wanted to share our deep gratitude for the way they envisioned grace and meaning making into every fabric and image selection and into every stitch of these quilts, and that they would be happy to know that in the future, patients and their loved ones would remark how each quilt was 'just the right one,'" she said. "I also explained how we selected and provided the quilts."
Quilt selection and giving
The process begins with a chaplain taking the time to know the person or learn from them or family members about what brought them joy in life, challenges and celebrations, hobbies, special memories or interests, favorite colors or motifs. This discernment happens in all instances, from a lengthy hospitalization to an urgent trauma in the emergency room. No matter the constraints of time or urgency, with this knowledge, a special comfort quilt is chosen.

"I can't begin to tell you how serendipitous this selection can be; it is as if we chaplains are led to pick the right one out of the quilt closet," said Cano. One daughter found swatches of her mother's kitchen curtains in the quilt blocking, another realized the prints were uniquely Chinese that matched the décor of the family home. For another family member, pink roses and peonies were garden favorites.

"Once in a great while, I'll share this task by inviting a grandchild or teen to select the quilt, as a small way to help process their anticipatory loss," added Cano.
When the quilt is initially presented to the patient, often a simple ceremony takes place. A prayer or blessing may be said in keeping with the patient's faith, spiritual, cultural, or ethnic tradition, and the family is invited if they wish to help take a corner and place the quilt on their loved one. If the person is actively dying, a moment of silence may be observed to honor the life of the person receiving the quilt.

The quilt giving also marks moving from a medical event to a sacred event, and for some people it is experienced as "holy vigil." It also encourages sharing of memories and hope, and offers at times the special opportunity to express last words and goodbyes for their loved one whose heart will remain joined with theirs.

The quilt also brings a renewed sense of color and life to the surroundings in the hospital or ER room, or home. Later, loved ones often find solace in the quilt as they grieve their loss. Some also think it holds some of the life force of their loved one. Wives or husbands say they will place on their beds that night. Big families or siblings, for example, take turns caring for the quilt.
Quilting and guild background
The Guild has about 120 members who reside on both sides of the Columbia River from Battle Ground to Dufur, and a few who live on the Oregon Coast and many are retired or work part-time. Some are fiber artists who have taken quilting to a new level with layered compositions.
What prompted their interest in quilting for many was a mother or grandmother who sewed, and especially during the 1950s and '60s, when woman sewed their own clothes. Vogel explained she started quilting 37 years ago after watching Saturday morning programs on Oregon Public Broadcasting and learning the basics.
Quilting is cathartic and helps reach an inner peace, relax enough to create. "It is so rewarding — taking bits of fabric to create something whole, representing life, in the same way people's lives are comprised of bits and pieces," Vogel said.
Long ago, quilts were made of old clothes, bits of shirts, wedding dresses, or whatever was at hand. Fabric wasn't purchased. Later designs and styles were codified, and quilting also became quite competitive. It was the one place where women could create, come up with specific patterns and blocks, with many early ones named out of the Bible — like Jacobs's Ladder, Rose of Sharon, Balm of Gilead, Joseph's Coat, Garden of Eden, etc.
Quilting also brought women together as they hand stitched, hemmed, finished quilts for special occasions, like weddings, while the men raised barns.
Now with sewing machines and special computerized quilting services, women are making quilts by themselves, and not so much in groups and in "quilting bees." Also, new tools like plastic rulers and rotary cutters ensure precision and accuracy.
Vogel notes, "For the guild, a 501C-3 non-profit organization, this is our way of supporting our community fulfilling a need to be involved.
"When I make a comfort quilt, I have in the back of my mind that I don't know who will receive it in the future, a child or an older person. I can safely say for anyone who does this work, the blessing starts with the very first piece."