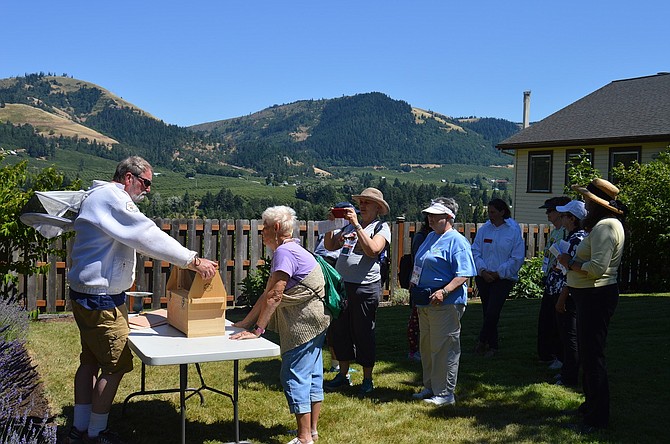 Central Gorge Master Gardeners hosted two tour busses July 12 at OSU Extension. The gardens at the experiment station were part of a Gorge tour for participants at the International Master Gardener Conference, held last week in Portland for master gardeners in the U.S. and Canada; other stops included Multnomah Falls and The Dalles Imagination Garden, said Rachel Suits, master gardener program coordinator.
Director Steve Castagnoli welcomed the afternoon bus and gave a brief overview of fruit production in the Hood River Valley. Suits and Charlie VandenHeuvel (top), extension volunteer, manned a special beekeeping section — the two are working on a 2018 Oregon Master Beekeeping program — while Master Gardener members, including Sandi Rousseau, at left, fanned throughout the gardens to answer questions and serve lemonade.
"It's pretty exciting for us to get to showcase our garden," Suits said before a tour bus filled with International Master Gardener Conference members made their stop at the OSU Extension Office.
The grounds are home to many different gardens and features, including the Japanese Heritage Garden, herb garden, small space garden, compost area and native garden.